United Kingdom Strauss, Capriccio: Soloists, Garsington Opera Orchestra / Douglas Boyd (conductor). Garsington Opera House, Wormsley, 9.6.2018. (MB)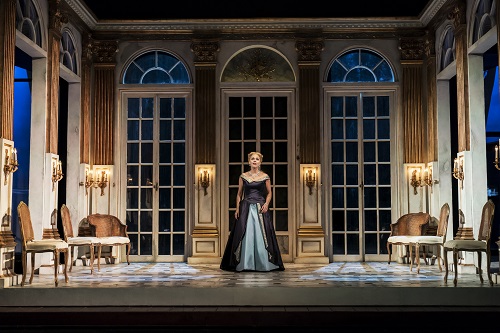 Cast:
Flamand – Sam Furness
Olivier – Gavan Ring
La Roche – Andrew Shore
Countess Madeleine – Miah Persson
Count – William Dazeley
Clairon – Hanna Hipp
Major-Domo – Benjamin Bevan
Italian Soprano – Nika Gorič
Italian Tenor – Caspar SinghServants – Richard Bignall, Dominic Bowe, Robert Forrest, Andrew Hamilton, Emanuel Heitz, Jack Lawrence-Jones, David Lynn, Kieran Rayner
Monsieur Taupe – Graham Clark
Young Dabicer – Lowri Shone
Production:

Tim Albery (director)
Tobias Hoheisel (designs)
Malcolm Rippeth (lighting)
Laïla Diallo (choreography)
Who among the younger generation can really imagine a great city like Munich in total darkness, or theatre-goers picking their way through the blacked-out street with the aid of small torches giving off a dim blue light through a narrow slit? All this for the experience of the Capriccio première. They risked being caught in a heavy air raid, yet their yearning to hear Strauss's music, their desire to be part of a festive occasion and to experience a world of beauty beyond the dangers of war led them to overcome all these material problems… Afterwards it was difficult to relinquish the liberating and uniting atmosphere created by the artistic quality of the new work. But outside the blackened city waited, and one's way homewards was fraught with potential danger.
With those words, the director Rudolf Hartmann recalled the 1942 Munich premiere of Richard Strauss's final opera, Capriccio. They are not without sugary romanticism, which tells its own contemporary as well as subsequent story, yet by the same token, would surely touch all but the stoniest of hearts. (Of the many, there are alas far too many – especially when it comes to Germany.) Since first reading them, I have found it difficult to put them and their implications – some, to borrow from Nietzsche, beyond good and evil – out of mind when listening to and thinking about Capriccio.
Perhaps, then, it is merely my problem that Tim Albery's new production seems strangely uninterested in what for me has become very much part of the work. That despite a strange claim quoted in the programme: 'I've worked with Tobias Hoheisel, a London-based German designer, who has a real sensibility for Strauss's world and language. We talked a lot about the political context of the opera and decided that we should not set it in the ruins of a collapsing Europe. We set it in the time in which it was composed, when so many people were forced into exile.' I am far from saying that a performance of any work should always concern itself with origins, the conditions of its first performance, or indeed any one time or place. Albery's distinction, though, makes little sense, for Capriccio was composed during the Second World War: Europe was – again – collapsing. It was not 1945, but nor was it 1935, let alone 1925. One might accuse Strauss of evasion – although, by this stage, what on earth was he supposed to do? – but there seems to me a degree of evasion here too.
What we are left with is a typical rococo palace with more modern touches: costumes and artwork. The action and conversation – are they the same thing, somewhat different, even in some respects opposed? should we not at least ask? – proceed straightforwardly. Everything is well directed on stage, but there is little edge: which only the ignorant and/or hostile could claim of the work itself.  This might seem facile, but the very setting of the work in France has – and had – resonances. To have, moreover, the Countess comparing the musical merits of Rameau vis-à-vis Couperin is more telling than many might think: Brahms might have edited Couperin, but one will struggle to find his name or his music in Third Reich performances and musicology. Indeed, many composers, let alone others, would not necessarily have been well acquainted with the music of eighteenth-century France. Strauss certainly was – and showed through his composition that he was: sometimes through direct quotation, for instance the 'Air italien' from Les Indes galantes, when the composer is mentioned, at other times through allusion. Likewise for Gluck – what are we to make here of a 'German' composer acting as a 'French' one? – and much else.
The apolitical, especially at times such as this, may actually be read as highly political, whatever Strauss's – or anyone else's – straightforward intention. Perhaps the beauty of the costumes, the Countess (Miah Persson) truly resembling a star from the Golden Age of Hollywood, the servants' livery truly impeccable, hints at something more; perhaps it does not. That ambiguity is welcome, but might we not have had a little more? One need not have Baldur von Schirach on stage to listen to the opening sextet – although why not? – to hint at something more troubling. (The sextet had its private premiere at Schirach's villa, the Vienna Gauleiter having helped Strauss secure his Viennese Belvedere home. In return, moreover, for the composer playing his part in furthering Viennese musical life, Schirach, the only defendant other than Albert Speer to speak against Hitler at Nuremberg, had offered protection for Strauss's Jewish daughter-in-law, Alice, and his grandsons.) A challenging work, ever more so the more one gets to know it and think about it, deserves perhaps rather more challenge than this. Otherwise, the updating might as well not have happened; it does not seem in any way to shape, to comment, or even to frame the drama. More fundamentally, though, I missed the achievement of Christian von Götz's Cologne staging, which I saw at the 2007 Edinburgh Festival. There, not only was one forced to confront the work's political difficulties; one emerged, at least I did, with ever-greater admiration for it. (Indeed, it was the aftermath of that experience that set me on the road to writing a chapter on Capriccio in my book After Wagner.)
If Albery's production comes across as something for those as unconcerned with such matters as many have erroneously claimed Strauss to be – non-, even anti-metropolitan opera – there were many musical rewards to enjoy. That was true above all for Persson. Her musical line, subtly inflected brought into greater relief than anything on stage the central question of 'Word oder Ton?' This was in every respect, certainly verbal, yet not only so, a superior performance to that heard in concert from Renée Fleming a few years ago. (Why are Covent Garden and still more ENO so hostile to staging Strauss, or at least so reluctant to do so?) The vocal bloom of her final scene was well prepared, prefigured perhaps more subtly still than the theme on which Douglas Boyd had proved perhaps just a little too insistent in his orchestral highlighting. That said, if sometimes apparently viewing Strauss's motivic technique a little too much as concerned with reminiscence, and not quite enough as 'the binding together of a music drama through a dense web of motivic connections from within' (Carl Dahlhaus on Wagner), Boyd handled and communicated the ebb and flow well: no easy task. It was doubtless no coincidence, given his background as an oboist, that the woodwind of the excellent Garsington Orchestra were afforded especial opportunity to shine. If a few more strings would at times have been appreciated, there were no real grounds for complaint here either; the section certainly came into its own at climaxes.
Otherwise, there was a fine sense of vocal ensemble, Andrew Shore's typically characterful La Roche, Hanna Hipp's rich-toned Clairon, and Graham Clark's properly scene-stealing Monsieur Taupe (even without Götz's yellow star, the escape carriage having been missed) for me the pick of the bunch. If Albery's staging perhaps serves La Roche's caricatured aesthetics better than his broader role as impresario and indeed spokesman for broader theatrical values – Max Reinhardt his obvious (Jewish) inspiration – the opera is such that a thinking audience member cannot help but reflect upon such matters. Capriccio is a good deal less fragile, as well as a great deal more political, than it might seem and than it might have been 'intended' to be.
Mark Berry