United Kingdom Rossini, Grieg, Tchaikovsky: Sunwook Kim (piano), Philharmonia Orchestra / Shiyeon Sung (conductor), Royal Festival Hall, Southbank Centre, London, 15.6.2018. (AS)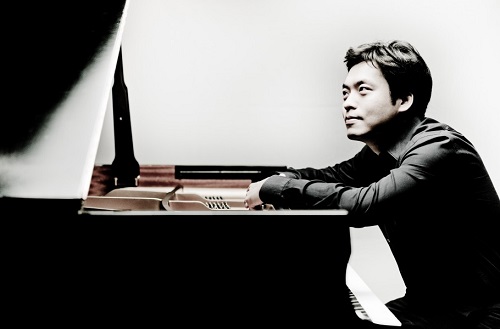 Rossini – Guillaume Tell, Overture
Grieg – Piano Concerto in A minor Op.16
Tchaikovsky – Symphony No.5 in E minor Op.64
This concert was given by the Philharmonia Orchestra in partnership with the Korean Cultural Centre UK as the closing event in the 2017-18 Korea-UK Season.
Readers may remember the furore caused in September 2014 when Han-Na Chang led the Qatar Philharmonic Orchestra in a very successful Prom concert and then resigned as musical director of the orchestra the next day after a disagreement with its management. Chang was to have conducted the present concert, and the reason for her withdrawal was announced as being for a completely undramatic and unfortunate reason, that of illness. Her place was taken at short notice by another South Korean woman conductor, Shiyeon Sung, who won the Sir Georg Solti International Conductors' Competition in 2006, second prize in Bamberg's Gustav Mahler Competition in 2007 and was artistic director of the Gyeonggi Philharmonic Orchestra from 2014 until the end of 2017. She has conducted various important orchestras in Europe and the USA, including the Swedish Radio Symphony Orchestra, the Bamberg Symphony Orchestra, Washington's National Symphony Orchestra and the Los Angeles Philharmonic. (Yet another female Korean conductor, Eun Sum Kim, has conducted prestigious European opera companies and becomes Principal Guest Conductor of Houston Grand Opera next year.)
The pianist Sunwook Kim needs less introduction, since he has pursued a successful international career since winning the Leeds International Piano competition at the age of 18.
There was an old-fashioned feel about the programme. The William Tell Overture used to be a staple concert item until overtures became out of fashion, and Grieg's Piano Concerto used to be played more often than it is now. And the traditional overture/concerto/symphony concert format is now largely outmoded.
Here was a chance for Sung to show her mettle in what appears to have been her UK debut – certainly with a major London orchestra – and that she most emphatically did. At once her sympathetic shaping of the solo cello quintet that begins the William Tell Overture told us that a most sensitive musician was at the helm, and her direction of the storm section was taut, controlled yet full of life. The rustic interlude was characterised by warm, shapely playing and the final allegro was excitingly played, but with springy rhythms and not over-drilled. At the end of the piece she strode off the platform with the air of somebody who had set out to make an impression and had succeeded.
Sunwook Kim's playing in the Concerto was a delight. His rhythmically incisive, crisp, clear-cut delivery was highly attractive, his presentation was stylish but unsentimental and perfect for Grieg's delicately wrought music. He brought a notably subtle blend of power and refinement to the virtuosic demands of the first movement cadenza, and his quietly reflective account of the lyrical central movement was supported by some lovely playing from the orchestra, particularly the strings. To the contemplative middle section of the finale Kim brought sympathetic warmth, and he conveyed a cheerfully upbeat manner in the rousingly energetic end of the work. His encore of 'Clair de lune' from Debussy's Suite bergamasque was played in a very intimate, thoughtful manner.
In the first half Sung had used a long baton, held in a slightly unorthodox manner, in support of a very clear, highly expressive technique, but for some reason she dispensed with her stick to conduct the Tchaikovsky. Fortunately, this did not seem to affect the clarity of her direction, but it was a puzzling and energy-consuming change for her.
Sung's projection of the beginning of the symphony had an appropriately lugubrious feel to it, and as the movement opened up she conducted in a straightforward but very lively fashion. There was impressive strength and tension generated, and though there were some interestingly bold choices of tempo set for the opening movement's various sections there were hardly any changes of pulse within those sections. Alas, the horn solo in the second movement was less than immaculate, but there was some lovely burnished tone from the lower strings. Sung created some superbly magisterial, expressive climaxes with her incisive direction, and she managed Tchaikovsky's pregnant pauses very skilfully.
The Valse had a delightfully strong sense of gentle yet insistent rhythm, and the finale possessed all of its needed qualities – a strong opening statement of the motto theme, sharply controlled, very strong playing in the movement's turbulent development, and a thrilling coda.
As an encore Sung directed the orchestra in an arrangement for strings of an attractive traditional Korean folksong.
An unexpected opportunity for Shiyeon Sung, then, and one that she grasped to great effect. I hope that we will hear her again in London before too long.
Alan Sanders