United Kingdom Verdi, Falstaff: Soloists, Garsington Opera Chorus, Philharmonia Orchestra / Richard Farnes (conductor), Garsington Opera at Wormsley, 18.6.2018. (CR)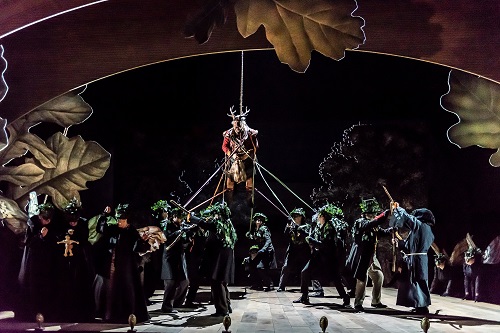 Cast:
Sir John Falstaff – Henry Waddington
Alice Ford – Mary Dunleavy
Ford – Richard Burkhard
Meg Page – Victoria Simmonds
Mistress Quickly – Yvonne Howard
Nannetta – Soraya Mafi
Fenton – Oliver Johnston
Dr. Caius – Colin Judson
Bardolfo – Adrian Thompson
Pistola – Nicholas Crawley
Page (silent) – Ansh Shetty
Production:
Director – Bruno Ravella
Designer – Giles Cadle
Lighting Designer – Malcolm Rippeth
Movement Director – Tim Claydon
All great art, in a sense, represents a triumph of life over death, in that it distils the elements of human experience, comic or tragic, for continued appreciation and admiration. In this new production by Bruno Ravella of Falstaff, those two elements co-exist as life stares death – or at least decline – in the face and seems, for the time being, to outwit it. Verdi famously composed this, his last opera, in his late 70s, with its premiere given in his eightieth year (1893). Ravella draws a fairly clear parallel – if not literal connection – between Verdi and the ageing Falstaff of the opera, by contrasting the vitality of their creative and personal responses to the world around them, and the apparent recession of the values they stand for into the past. In that regard, Ravella points out in the programme note that Verdi and Queen Victoria died within days of each other in 1901, representing the end of their extraordinary eras in their respective spheres. These two parallels, then, are the cue for setting this production around the beginning of the 20th century neatly playing off against each other the Elizabethan colour of Shakespeare's original work (which pays scant realistic regard to the early 15th century of its putative setting) and that late Victorian era of primness and propriety.
An aura of late time and age hangs over this production, with the backdrop for some scenes provided by the reproduction of a glowing evening view of Windsor Castle and the Thames with a golden sun and sky; and Falstaff is grey-haired – though, rightly, far from emaciated! – compared with the portrait of him in younger years in military uniform, with trimmer black hair and beard. Henry Waddington's performance yields nothing to weariness or aged languor, however, as he sings with strength and authority, and crucially does not make Falstaff a mere caricature at the beginning but a figure who knows what he is doing and intends to get what he wants. Even in his self-pitying monologue at the opening of Act III, Waddington incites sympathy for the character's roguish actions, without weakening musical tone.
Falstaff's much earlier life, as page to the Duke of Norfolk, is recalled by the lively presence of Ansh Shetty as a young page boy, who rolls in and out of the trunk in Falstaff's room (pre-empting his master's own fate in the laundry basket). To the extent that death actually stalks the drama, that is in the form of a figure with black robes and cowl who remains behind to raise a scythe once everybody else, except Falstaff, has fled the woods after the concluding chorus, but it turns out to be the mischievous page in disguise, and death is kept at bay for now.
The drama is no exercise in melancholy nostalgia, however, as the vigour of Tim Claydon's choreography maintains an enticing degree of humour and wit, culminating first in the unceremonious tipping of Falstaff out of the laundry basket through the stage, and secondly in Act III with the tricks in Windsor Forest, where some characters dance around the knight, suspended from a tree, as though he is a maypole. Further local detail is provided in the second scene of Act II which is clearly located in Windsor & Eton Central railway station, and female protesters appear both here, and in a later scene, holding placards which draw attention to the Victorian era as one of development and reform, rather than complacency, as they campaign in favour of temperance and votes for women, casting neatly oblique political comments upon the consequences of Falstaff's gluttony and lechery. Mary Dunleavy and Victoria Simmonds as Alice Ford and Meg Page, respectively, more than hold their own against his wiles in any case, the former both strong and attractive of voice without becoming strident, Simmonds cultivating a more measured and cautious characterisation of the latter part.
The remaining cast all turn in performances that are equally vivid, beginning with the comically niggling and whining Adrian Thompson and Nicholas Crawley as Falstaff's put-upon servants Bardolfo and Pistola. Richard Burkhard is Ford, the Victorian gentleman of new money in this production and consequently less of an immediately appealing character than Falstaff, but Burkhard steers his performance with consistency and conviction, showing Ford in the end to be the type of man who would increasingly come to dominate in the social and political world of the 20th century. Soraya Mafi and Oliver Johnston are more straightforwardly lyrical lovers as Nannetta and Fenton, providing moments of ideal relief and lustre amidst the hustle and bustle of the busy dialogue among the characters and within Verdi's ebullient score. Similarly, Yvonne Howard is a serene Mistress Quickly, presiding over the plot of the two younger ladies, and appropriately making the role a figure of some social standing as the opera seems to call for, rather than the earthy, bawdy tavern-keeper of Shakespeare's original inspiration.
From the urgent opening bars, Richard Farnes directs the Philharmonia Orchestra in a performance that sparkles with all the vitality written into the music at just about every bar. On the one hand there is almost Wagnerian heft from the brass when required, to point up some of the more dramatic altercations among the characters, or the ironic expressions of fury or regret. Other sections of the orchestra variously colour the continuous score with their crisp and supple contributions ensuring a suitably brisk pace that illuminates the action on stage without becoming rushed or hectic. Like The Marriage of Figaro, Falstaff is an opera that should pulse with life from beginning to end; this production achieves that admirably not simply through its brilliant standards of execution from moment to moment, but by the clever and harmonious drawing together of its various strands that gives the work its due as one of the great music dramas.
Curtis Rogers