Spain Mozart, La clemenza di Tito: Generalitat Valenciana Chorus, Comunitat Valenciana Orchestra / Nimrod David Pfeffer (conductor), Palau de Les Arts Auditorium, Valencia, 24.6. 2018. (JMI)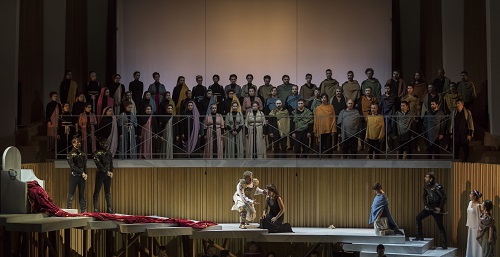 Cast:
Tito – Carlo Allemano
Vitellia – Eva Mei
Sesto – Margarita Gritskova
Annio – Nozomi Kato
Servilia – Karen Gardeazábal
Publio – Andrea Pellegrini
Production:
Director – Albert Aguilera
Sets – Manuel Zuriaga
Costumes – Jose María Adame
Lighting – Antonio Castro
The current Valencia opera season has ended with Mozart's La clemenza di Tito in a semi-staged version – or, if you prefer, a concert version with costumes and minimal sets. The auditorium at the Palau de les Arts was constructed for concerts, not operas, and offers few staging possibilities. In this Albert Aguilera production, the action takes place on a staircase and ramp that run across the stage, with the chorus above and behind it. The stage direction basically consists of having the singers mount and descend the aforementioned staircase and sing their arias.
The musical direction was in the hands of Nimrod David Pfeffer, a young Israeli conductor and pianist, whose reading was fairly routine. I always think that it's very difficult to conduct Mozart's operas – it requires a lot to bring these works to life. Both the orchestra and chorus gave fine performances.
Tenor Carlo Allemano, who replaced the initially announced René Barbera, sang the role of Emperor Tito. His voice is not quite impressive enough to give life to such an important character.
Italian soprano Eva Mei was a surprising choice for Vitellia. The surprise comes from the fact that she has always been a light or light-lyric soprano, while Vitellia demands a voice with a lot more weight. I saw her most recently a year and a half ago, and now find her voice seemed reduced in size and insufficient in the low notes.
The best singing of the cast came from mezzo-soprano Margarita Gritskova in the part of Sesto. Her voice is attractive, and she is a strong singer. She was quite good in the always awaited 'Parto, parto'.
I also liked mezzo-soprano Nozomi Kato in the part of Annio, as well as soprano Karen Gardeazábal as Servilia and bass Andrea Pellegrini as Publio.
José M. Irurzun