United States 2018 Blossom Music Festival [1] – Beethoven, Mussorgsky: Stephen Rose (violin), Mark Kosower (cello), Joela Jones (piano), Cleveland Orchestra / Jahja Ling (conductor), Blossom Music Center, Cuyahoga Falls, Ohio, 7.7.2018. (MSJ)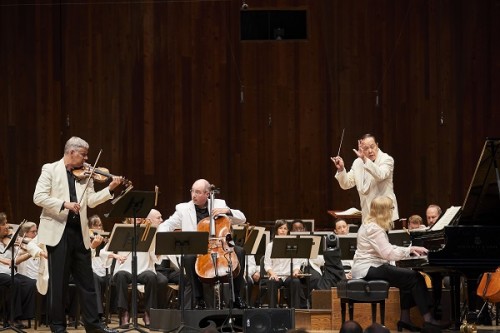 Beethoven – Triple Concerto in C major, Op.56
Mussorgsky (arr. Ravel) – Pictures at an Exhibition
The fiftieth season of the Cleveland Orchestra's summer festival at Blossom Music Center in the Cuyahoga Valley National Park got off to a fine start despite the cancellation of music director Franz Welser-Möst, sidelined with an infection. Happily, long-time Cleveland favorite Jahja Ling was able to step in and take over most of the program.
It would have been welcome if Ling had retained the originally-planned Donna Diana Overture by Emil von Reznicek, or at least substituted another short work. As it stood, the entire concert only offered 70 minutes of music. Expanding the evening was a gracious opening speech by executive director André Gremillet saluting retired orchestra musicians in the audience (plus one 50-year veteran still on stage, acting principal second violin Emilio Llinás) and post-concert fireworks.
Jahja Ling served as a resident conductor for many years in Cleveland under Christoph von Dohnányi, and then as music director of Blossom from 2000 to 2005. He has been a regular visitor since, both at Blossom and in Severance Hall, and audiences cheer him warmly. It's not hard to understand why: Ling delivers straightforwardness, devoid of any exaggeration or posturing, yet with joy and freshness.
Ling's take on Pictures at an Exhibition opened with a suitably broad tread through the first 'Promenade,' mirroring the chunky gait of the composer himself, roaming through an 1874 Moscow exhibition of paintings and sketches by the artist and designer Viktor Hartmann, who died the previous year. Mussorgsky was both an admirer and close friend of the artist, and Pictures was part of his grieving process.
Ling emphasized the bright coloring that Ravel imparted to Mussorgsky's often pensive piano pieces. The opening, in particular, showed off the orchestra's brass section, who can fill up the large Blossom pavilion without ever resorting to brute force. Visible out on the lawn was a new pair of LED video walls on the far sides of the stage, allowing the audience to see a magnified image of the conductor and players. The screens are a permanent installation that will also be used to show films with soundtracks performed live.
The second movement, 'Gnomus', was colorfully dispatched, perhaps a touch more cartoonish than truly threatening. In 'The Old Castle', alto saxophonist Steven Banks gave the troubadour's song a glowing mahogany tone, while the whole wind section made splashes of bright color in 'Tuileries'. Other conductors have underlined the depiction of playing children more than Ling, who only made slight adjustments in tempo moving in and out of the middle section of the brief picture.
'Bydlo', Hartmann's picture of a laden ox cart, was brought to life by the euphonium solo played by Richard Stout, who remarkably filled the hall with a round tone that was never forced or aggressive.
There are two schools of thought on the 'Ballet of the Unhatched Chicks in their Shells', inspired by a costume design sketch. Interventionist conductors have been known to draw out elements of Ravel's chirping woodwinds, or mischievously hold pauses between the outer sections and the middle. Ling was more of the poker-faced puppeteer, controlling the movements without much inflection, which in some ways better fit the composer's tone.
'Samuel Goldenberg and Schmuyle' is a character study based on two of Hartmann's paintings of people he met in the Jewish ghetto in Sandomierz, Poland. Ling's Goldenberg was a little blandly understated, but Michael Sach's muted piccolo trumpet solo brought the beggar Schmuyle to vivid life. On the other hand, 'The Marketplace at Limoges' wasn't terribly busy, tootling along at a relaxed tempo instead of the frantic bustle one suspects Mussorgsky had in mind.
The big brass chords of 'Catacombs' interrupted what bustle there was, with the Cleveland brass again filling the room. Ling's tempo was spacious, continuing into 'Cum mortuis in lingua mortua', an eerie meditation on the preceding gloom. A lively depiction followed of the witch of Russian folklore, 'The Hut on Fowl's Legs: Baba-Yaga'. Here Ling's directness was at its peak effectiveness, as the already eccentric movement too often gets derailed by theatrical underlining. The conductor kept efficient control of textures and rhythms, widening into a broad, steady reading of 'The Great Gate of Kiev', with percussion powering the exhilarating closing pages.
Despite program annotator Eric Sellen's best efforts to convince readers otherwise, the Triple Concerto is not from Beethoven's top drawer. In particular, its finale rambles on quite a bit longer than necessary, but on an evening of perfect weather, with soloists drawn from the Cleveland Orchestra, what's not to like? Principal cellist Mark Kosower and principal second violinist Stephen Rose offered generous decorative blooms, supported by the roots and stems spun out on the piano by principal keyboard Joela Jones.
Given that the concerto is in essence chamber music, it is ideal for soloists from an orchestra known for its chamber music-like characteristics. While players had moments to show elegance and virtuosity, they also showed a skilled ability to dovetail with each other, passing phrases back and forth instead of competing. This helped the discursive first movement remain engaging, along with Ling's alert shaping of the orchestra.
The brief slow movement was glowingly lit by Kosower's opening solo and taken further aloft by Rose and Jones. And if the finale is too much of a good thing, it remains a pleasant way to pass the time, the kind of diversion all to rarely allowed in this frenetic world. The soloists were dapper and fresh all the way through, receiving a warm ovation from the festive audience.
Mark Sebastian Jordan
For more about the Blossom Music Festival click here.