Germany Munich Opera Festival 2018 [7] – Verdi, Les Vêpres siciliennes: Bayerische Staatsoper Chorus and Orchestra / Omer Meir Wellber (conductor), Nationaltheater, Munich, 26.7. 2018. (JMI)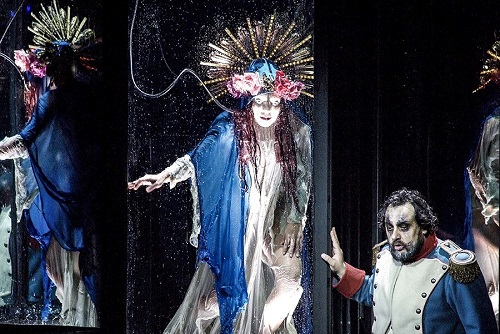 Cast:
Henri – Bryan Hymel
Hélène – Rachel Willis-Sorensen
Procida – Erwin Schrott
Montfort – George Petean
Ninetta – Helena Zubanovich
Danieli – Matthew Grills
Robert – Callum Thorpe
Thibaut – Long Long
Mainfroid – Galeano Salas
Béthune – Alexander Milev
Vaudemont – Johannes Kammler
Production:
Director – Antú Romero Nunes
Sets – Matthias Koch
Costumes – Victoria Behr
Lighting – Michael Bauer
I reviewed this new production in March, and had the same reaction upon seeing it a second time: (review)  As with the earlier staging, the musical direction was in the hands of Omer Meir Wellber. There were many moments in which his conducting offered strength and consistency, but there were others in which the tension fell. The Bayerisches Staatsorchester gave a strong performance, and the Staatsoper Chorus was also very good.
American tenor Bryan Hymel was the only newcomer to the cast; he had cancelled his appearance in March as Henri, and he was missed at the time. His performance was impressive – he has an attractive voice and good phrasing, and he solved the part's difficult tessitura, especially in the Act IV prison scene. In my opinion, this remarkable tenor only lacks a more varied vocal palette to be exceptional.
Duchess Hélène was interpreted by Rachel Willis-Sorensen; she also sang the role in March, replacing Carmen Giannatasio. She was the best in the cast, singing with gusto and a powerful voice, and was particularly outstanding in the second part of the opera.
Procida was again played by bass Erwin Schrott, whose voice is well suited to the part. He had a fair number of open sounds, and was helped very little on stage by this production. Baritone George Petean was a correct Guy de Montfort.
The secondary characters (unrecognizable in their make-up and masks) did well: Helena Zubanovich (Ninetta), Matthew Grills (Danieli), Alexander Milev (Béthune), Johannes Kammler (Vaudemont), Long Long (Thibaut), Galeano Salas (Mainfroid) and Callum Thorpe (Robert).
José M. Irurzun