United States 2018 Opera Saratoga Summer Festival [1] – Little, Vinkensport, or The Finch Opera; Williams, Rocking Horse Winner: Soloists and The Opera Saratoga Orchestra / David Alan Miller (conductor), Opera Saratoga, The Spa Little Theater, Saratoga Springs, 6.7.2018. (RP)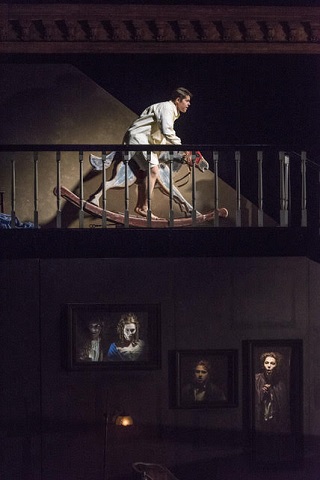 Vinkensport (World Premiere Chamber Opera Version)

Cast:
Farinelli's Trainer – Megan Pachecano
Hans Sachs's Trainer – Quinn Bernegger
Holy St. Francis's Trainer – Christine Suits
Prince Gabriel III of Belgium's Trainer's Son – John Tibbetts
Sir Elton John's Trainer – Kelly Glyptis
Atticus Finch's Trainer – Garrett Obrycki
Referee/Butler – Ellen Leslie
Rocking Horse Winner (US Premiere)

Cast:
Ava – Christine Suits
Paul – Tyler Nelson
Oscar – Scott Quinn
Basset – Sean Galligan
The House – Asleif Wilmer, Christina Scanlan, Zachary Barba, Chauncey Blade
Production:
Director – Michael Hidetoshi Mori
Scenic Designer – Cameron Anderson
Costume Designer – Valérie Thérèse Bart
Lighting Designer – Brandon Stirling Baker
Wig and Makeup Designer – Sondra Nottingham
The surest sign that people had enjoyed Vinkensport, or The Finch Opera, the first half of Opera Saratoga's matinee double bill of contemporary opera, was the absence of grumbling about returning indoors for the second one, Rocking Horse Winner. It was a joy to be outdoors during the intermission enjoying a fine summer afternoon after a week of grueling heat and humidity in the New York City metropolitan area. The setting could not have been more bucolic: The Little Spa Theater is nestled in Saratoga Spa State Park with its classical bath and spa houses, wide lawns and cool, green groves of trees. Nonetheless, return we did.
Vinkensport was composed by David T. Little, Composer in Residence for Opera Philadelphia and Music-Theatre Group from 2014-2017; his works are performed across the US by leading orchestras and ensembles. Royce Vavrek, the librettist for Vinkensport, was awarded the 2017 Pulitzer Prize for Music and is known for his collaborations with a broad spectrum of composers and artists. The pair is currently working on a new opera for the Metropolitan Opera/ Lincoln Center Theater.
Commissioned by soprano Dawn Upshaw for her Graduate Vocal Arts Program at Bard College, Vinkensport was first performed there in 2010 in its original version scored for full orchestra. This was the premiere of a new chamber orchestration of the opera for clarinet (doubling bass clarinet), flute (doubling alto flute and piccolo), string quartet and piano.
Little's score is eclectic, tinged with a bit of jazz and the blues. The musical lines are basically declamatory, often accompanied by obbligato-like solo instruments. The finch's call is captured both in the voices and the instrumental parts by a catch of sorts. Even with such reduced forces, conductor David Alan Miller gets plaudits for maintaining balance while never sacrificing the vibrancy of what is still a rich, resonant orchestral sound.
The plot centers on six idiosyncratic Belgians engaged in a finch-sitting competition; an actual sport in which whosever bird sings the most 'susk-e-wiet' (a distinct call) in an hour is declared the winner. In recent years, cheating scandals have rocked the sport, and the opera zeros in on them. Vavrek's libretto also provides the trainers, who are identified only by the names of their birds, the opportunity to bare their souls, revealing their motivations to engage in the sport as well as their personal heartaches.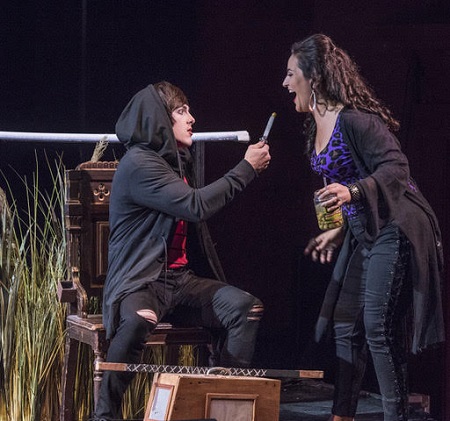 The set was simple, bright and cheerful – a blue sky with billowing clouds, tufts of grass growing out of the sand, folding chairs and two moveable huts that framed the singers during their monologues. For all the characters' angst and frustrations, it was a lighthearted affair. Director Michael Hidetoshi Mori didn't permit any of them to wallow in their sorrows for too long, and interjected humor in all but the saddest of the soliloquies.
The six trainers' costumes were as varied as their personas, ranging from the pristine, perky yellow fifties-style dress of Holy St. Francis's trainer to the dark hoodie and switchblade of the son of the dead Prince Gabriel III of Belgium's trainer. Soprano Christine Suits captured the sadness, desperation and libido of St. Francis's trainer to a tee, while John Tibbetts's baritone took on a dark, menacing quality that was perfect for the twitchy, conflicted young man. The most poignant scene of the opera was when their voices joined, she distraught over her husband's absence and wondering eye and he over a father who was engrossed in his finches but neglected his son.
Sir Elton John's trainer was sung by Kelly Glyptis, the wife of a high-flying executive, who primed herself for the competition by downing martinis. The birds of the two con artists had operatic appellations: Farinelli and Hans Sachs. Megan Pachecano was zany and seemingly guileless as the trainer of the finch named after the famous castrato, gaming the system by substituting a recording for a real bird. Hans Sachs's trainer injected his finch with the same concoction that gave him an angry edge. In his stocking cap, tenor Quinn Bernegger bristled with nervous energy, displaying an impressive voice as the trainer of the finch with the Wagnerian moniker who emerged as the winner.
Atticus Finch's trainer, sung by Garrett Obrycki, was a decent sort, keen on the rules and traditions of the sport. It took Obrycki time to warm up, but his voice seemed to evolve with his character and by the end both were strong, vibrant and engaging. His character, a shy, somewhat awkward man was the object of Holy St. Francis's trainer's wandering eye and her unwelcome advances, which he deftly rebuffed after the match. Sir Elton John's trainer was more direct, walking up to him and literally grabbing him by the balls as the house went dark.
Irish–Scottish composer Gareth Williams' Rocking Horse Winner is based on D. H. Lawrence's short story of the same name, with a libretto by Canadian actor and playwright Anna Chatterton. It was commissioned by the Scottish Opera and Tapestry Opera. Mori, who serves as Tapestry Opera's artistic director, oversaw this production as he did its 2016 Toronto premiere.
Williams and Chatterton pared down Lawrence's dark tale to its essence. Ava is a money-obsessed woman who values luck over riches: the latter can slip through one's fingers, but once lucky always so. Her son, Paul, with his uncanny ability to pick winning horses while feverishly riding his rocking horse, is determined to both make her rich and prove that he is lucky.
William's score is as taut and gripping as the story. The musical textures are thin, almost stringent, played by the small ensemble of strings and piano. Voices singing staccato passages to the accompaniment of pizzicato strings alternate with long chords that suspend time and create a sense of otherworldliness.
There are no arias, but the opera abounds with haunting melodies, mostly heard in the solo violin. Miller led a performance notable for its clarity and tightly controlled emotion, totally in sync with Mori's concept of the tragic story that never wavered in focus or intensity.
The set was dominated a large staircase. The space below was a parlor with a baby grand piano, adorned by a single red rose in a vase, while on the landing above sat an oversized rocking horse. Costumes were of the period. Ava, the personification of the adage that a woman can never be too rich or too thin, was attired in an elegant Edwardian dress of deep purple and black.
Tyler Nelson gave a riveting performance as Paul, a young man of diminished mental and emotional capacities. (In the original story, this character is a boy.) His whole body telegraphed the complex emotions that he was forced to process, as did his voice. Equally captivating was Christine Suits as his mother – tall, erect and unbending – her voice a fascinating column of sound. She added to the seamlessness of the performance by accompanying herself on the piano.
Tenor Scott Quinn was Paul's Uncle Oscar, just as hard up for cash as Ava. A gambler himself, he was quick to exploit his nephew's knack for picking a winner. Baritone Sean Galligan was a benevolent figure as Bassett, the gardener who first discovered the young man's talent but kept the bets small until Oscar entered the scene.
The opera departs from the original story in that Ava as well as her son hears the voices that haunt the house whispering 'There must be more money'. The quartet of singers, Asleif Wilmer, Christina Scanlan, Zachary Barba and Chauncey Blade, were spectral figures who drifted in and out of picture frames, adding a surreal touch to the gloomy, stifling atmosphere that pervaded the house.
Rocking Horse Winner is that rare exception, an opera that succeeds in making comparisons to the original source superfluous. This exceptional work fully stands on its own, and Opera Saratoga turned in a winner.
Rick Perdian