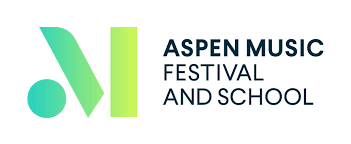 United States Various composers, Aspen Music Festival [5]
Harris Hall, 16 July
Auric — Trio for Oboe, Clarinet, and Bassoon [Elaine Douvas (oboe), Eric Braley (clarinet), Per Hannevold (bassoon)]
Saint–Saëns — Piano Trio No.1 in F major [David Halen (violin), Desmond Hoebig (cello), Anton Nel (piano)]
Fauré — Piano Quartet No.1 in C minor [Robert Chen (violin), Choong-Jin Chang (viola), Eric Kim (cello), Orli Shaham (piano)]
Daniel Hope (violin), Harris Hall, 17 July
Shostakovich/Barshai — Chamber Symphony in C minor
Satie/Debussy — from Gymnopédies
Alan Fletcher — Violin Concerto
Augustin Hadelich (violin), Harris Hall, 18 July
Aspen Contemporary Ensemble, Festival Ensemble
Francisco Coll — Hyperlude V from HyperludesStephen Hartke — Netsuke
Takemitsu — Water Ways [Juan Gabriel Olivares (clarinet), Seohee Min (violin), Richard Narroway (cello), Adam Phan (harp), Deanna Cirielli (harp), Toby Grace (vibraphone), Leo Simon (vibraphone), Conor Hanick (piano), Kerem Hasan (conductor)
Ligeti — Violin Concerto [Aspen Contemporary Ensemble, Festival Ensemble/David Robertson (conductor)]
American Brass Quintet, Harris Hall, 19 July
Kevin Cobb (trumpet), Louis Hanzlik (trumpet), Eric Reed (horn), Michael Powell (trombone), John D. Rojak (bass trombone)
Holborne — Suite of Elizabethan Dances
Dan Coleman — Daybreak
Philip Lasser — Common Heroes, Uncommon Land
John Zorn — Blue Stratagem
David Simpson — Still
De Vivanco, Guererro, G. Gabrieli/Hanzlik — Polychoral Music from the High Renaissance
Music of recent decades took center stage in three Harris Hall concerts this week. Audience reactions were gratifyingly enthusiastic as Daniel Hope introduced Alan Fletcher's 2017 Violin Concerto to Aspen, Augustin Hadelich took on the fiendishly difficult Ligeti Violin Concerto (1992) and the American Brass Quintet presented two pieces that debuted only this year.
Hope was in his element Tuesday night. The British violinist led the ensembles and acted as concert master as music director of both the Zurich Chamber Orchestra and the San Francisco-based New Century Orchestra. An all-student ensemble excelled here in Shostakovich and triumphed with a beautiful rendering of Fletcher's concerto.
The festival's president and CEO, Fletcher combined an ability to conjure arresting soundscapes and thought-provoking musical storytelling in the piece written for Hope and the Zurich ensemble. A pictorial edge emerged from an obsession with water sounds, from gently rocking strings to splashes of harmonic color enhanced by assigning a different line to each individual violin, viola, cello and bass. A lovely rendering of a Reformation-era hymn made for a solid central idea.
The spotlight, inevitably, falls directly on the soloist. With muscle and precision, Hope drew plenty of drama from his Guarneri instrument, alternately immersing its sound into the ensemble's and rising above it. It was ingratiating music that never flagged in its inventiveness.
Although a pair of short Gymnopedie fragments from Satie, in Debussy's orchestration, came off as rough-edged, the opener brought stunning intensity and depth to a Shostakovich masterpiece: the Chamber Symphony in C major, conductor Rudolf Barshai's string orchestra transcription of the composer's Eighth String Quartet. With tremendous presence and subtle communication among the musicians, Shostakovich's nervous energy wrought its emotional power.
On Wednesday night, Hadelich applied the gorgeous sounds of his Stradivarius to the wicked technical demands of Ligeti's fiercely imaginative, theatrical soundscape. Woodwind players arrived at their seats with arms full of alternate instruments (ocarinas, anyone?). Percussionists raced from xylophones to vibraphones and an especially loud bass drum. String players executed unusual bowings, starting with the soloist in the first measures double-bowing open fifths to fashion a unique texture.
Once the soloist gains a foothold it's a fight to the finish with the orchestra to see who prevails. Moments of sweetness, such as the second-movement 'aria' and an eerie intermezzo, interrupt the dissonant melee of the opening Praeludium for a respite. Rather than gliding gracefully, the fourth-movement Passacaglia gets increasingly intense until the finale explodes with orchestral color. Hadelich blazed his way through a dizzying cadenza (written by the composer and pianist Thomas Adès), which gets increasingly manic until the orchestra puts an abrupt end to the proceedings.
David Robertson conducted with vividness and fervor, drawing intensity from the two dozen musicians, mostly students. To calm things down, Hadelich's encore traced the slowly evolving complexity of the simple-on-the-surface Warabande from J.S. Bach's unaccompanied Partita no.2.
The program opened with the violinist alone playing a four-minute ultra-quiet Hyperlude by Francisco Coll, and with Conor Hanick on piano, a set of intriguing Japanese-inflected miniatures, Netsuke by Stephen Hartke—both written in this decade. The Aspen Contemporary Ensemble, enhanced with extra harps and vibraphones, concluded the first half with a ravishing interpretation of Toru Takemitsu's quietly dissonant Water Ways (first performed in 1978).
Thursday's annual appearance by the American Brass Quintet opened with a lively and charming set of Elizabethan dances by Holborne. It closed with roof-rattling Renaissance polychoral pieces in which the four brass ensembles in the quintet's new initiative joined forces with the ABQ. The thrilling finale, Gabrieli's Canzon XVI à 12, took the notion of sonorous brass to its quintessential level with 26 players involved.
The two brand-new works, Daybreak by Dan Coleman and Common Heroes, Uncommon Land by Philip Lasser, fashioned amiable music around programmatic ideas. Lasser used fragments of Langston Hughes poems as a jumping-off point toward nobility, and Still, by David Sampson (from 2013) proved an incident-filled meditation—on meditation.
Blue Strategem, the spikiest music on the program, called upon the players to juggle as many as five mutes, none for much longer than a few measures. It made for comical visuals as composer John Zorn's spasmodic dissonances sped past. (One audience member wondered aloud what Zorn had against the members of the quintet.) Over the piece's 8 minutes, the musical interplay was stimulating.
On Monday night, three French chamber works made for an ingratiating faculty-artist adventure. It's hard to pick a highlight. George Auric's jaunty woodwind trio featured oboist Elaine Douvas, clarinetist Eric Braley and bassoonist Per Hannevold in a sprightly mood. Violinist David Halen, cellist Desmond Hoebig and pianist Anton Nel lavished supple rhythmic energy on Saint-Saëns Piano Trio No.1. Pianist Orli Shaham anchored a sinewy, lively Fauré Piano Quartet No.1, abetted by violinist Robert Chen, violist Choong-Jin Chang and cellist Eric Kim.
Harvey Steiman