United Kingdom 2018 Munich Opera Festival [2] – Wagner, Der fliegende Holländer: Bayerische Staatsoper Chorus and Orchestra / Bertrand De Billy (conductor), Nationaltheater, Munich, 2.7.2018. (JMI)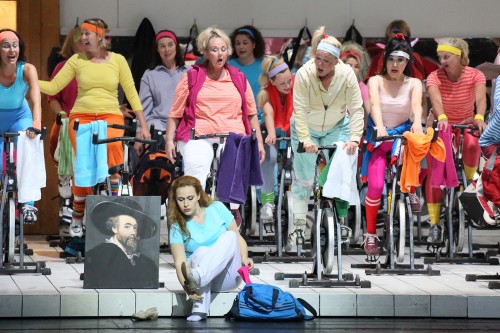 Cast:
Holländer – Wolfgang Koch
Senta – Elena Stikhina
Daland – Franz Josef Selig
Erik – Tomislav Muzek
Mary – Okka Von Der Damerau
Steuermann – Dean Power
Production:
Direction – Peter Konwitschny
Sets and Costumes – Johannes Leiacker
Lighting – Michael Bauer
The Munich Opera Festival is once again presenting the well-known Peter Konwitschny staging of The Flying Dutchman. I reviewed this production two years ago, and my comments on it still hold true:  review
The performance definitely met one's expectations: solid musical direction and a strong cast with the outstanding Elena Stikhina as Senta. Conductor Bertrand de Billy's reading was successful once he got past an excessively noisy overture, and he enjoyed a fine collaboration with both the orchestra and the chorus of the Bayerische Staatsoper.
The Dutchman was played by Wolfgang Koch, who returned to the Munich stage after having sung the role of Klingsor in Parsifal a day earlier. His performance was good, but I expected more from this remarkable singer: he fell short on mystery and emotion, and his voice seemed less powerful than before.
Soprano Elena Stikhina in the part of Senta was the best in the cast. She is a frequent presence at the Mariinsky, and now seems to have launched her international career: she will be appearing this season at the Bastille in Paris, the Semperoper in Dresden and the Metropolitan in New York. Indeed, her attractive voice responds to the characteristics of a full lyric soprano, magnificently projected and reaching perfectly throughout the house; it is homogenous throughout the whole range with powerful high notes. This was the first time I had seen her on stage, and she left a very positive impression.
Bass Franz Josef Selig in the part of Daland was convincing in terms both of singing and acting. Erik was played by Tomislav Muzek, who did well though he struggled with the tessitura, like so many others, in the third act.
Okka von der Damerau in the part of Mary was irreproachable on stage. The Steersman was a correct Dean Power, though his high register becomes too narrow.
The Nationaltheater was once again sold out. The audience gave a warm reception to the artists at the final bows, with the biggest ovation going to Elena Stikhina.
José M. Irurzun