United Kingdom Donizetti: Soloists, Chorus & Orchestra of the Royal Opera House, Covent Garden / Sir Mark Elder (conductor). Royal Opera House, Covent Garden, London, 17.7.2018. (CC)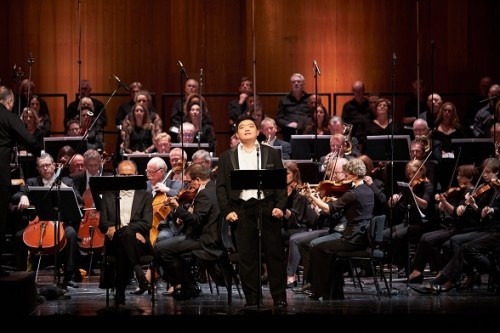 Donizetti – L'Ange de Nisida (concert performance, ed. Mantica; World Premiere)
Cast:
David Junghoon Kim – Leone de Casaldi
Laurent Naouri – Don Gaspar
Joyce El-Khoury – Countess Sylvia de Linares
Vito Priante – Don Fernand d'Aragon, King of Naples
Evgeny Stavinsky – The Monk
The concept of a world premiere – by the Royal Opera in association with Opera Rara – of a mature opera by Donizetti is both strange and mouth-watering. The opera L'Ange de Nisida, precursor to La Favorite, the beneficiary of many of its pages, received its first performance thanks to the decade-long toil of musicologist Candida Mantica. Looking backwards in time, L'Ange di Nisida itself used material from the unfinished opera Adelaide. The way was cleared for Mantica's work by another musicologist, Mark Everist, Professor of Music at Southampton, in a 2005 article. Martin Fitzpatrick has lent a hand in the orchestration, fleshing out some of Donizetti's patchier passages. Even putting the pages of the score into some semblance of order was a challenge, as they were scattered across multiple locations.
L'Ange was completed in 1839. Donizetti's opera was due to be performed at the Théâtre de la Renaissance in Paris (the character of the King and in particular the issue of his mistress caused problems with Italian censors, hence the French location and language); apparently Donizetti's work was chosen there over Wagner's Das Liebesverbot. Sadly, the theatre went bust and hence the need for a world premiere. The implication, perhaps, is that we have La Favorite and L'Ange could therefore be relegated to textbooks. While no-one would pretend this is an undiscovered masterpiece, it holds much that is musically satisfying and provides a vital link in the tracing of Donizetti's operatic path.
Classified as an opera semiseria (primarily because of the comic part of Don Gaspar, Chamberlain to the King of Naples, with its numerous examples of 'patter'), L'Ange de Nisida is indeed set in Nisida (an island off Naples) and in Naples itself, in 1470. At the heart of the plot is miscommunication. Don Gaspar is a kind of self-proclaimed 'fixer', the only one really with a clue what's going on, while all other characters exist in varying degrees of ignorance of their surroundings. Sylvia, known as the Angel of Nisida for her charitable leanings, and mistress to the King, is worshipped by the young soldier Leone, who has fled to Nisida from the court of Naples. Nothing can unfurl simply as this is after all 1470 and the Church, headed by the Pope, meddled in everything. Cue an arranged marriage for Sylvia to none other than Leone (so Sylvia thinks, erroneously, that Leone is not in fact infatuated with her), a jealous King, a furious Pope threatening to send Sylvia to a nunnery if she marries Fernand, public humiliation for Leone, and a last-minute reconciliation when all becomes clear to the lovers, immediately prior to Sylvia's collapse and death. That's a lot of white-heat emotions to project over the space of some three hours-plus.
Having the orchestra on-stage brings into focus the sheer timbral variety of Donizetti's writing. Tropes for which Donizetti is often castigated ('rum-ti-tum' accompaniments, even at times of death or deepest need) are few and far between. Ensembles are expertly managed in a piece where the differences in thought processes between characters is a vital part of the action. Sir Mark Elder, an acknowledged authority on this period of opera, revealed in-depth knowledge of the score at each turn, and ensured not only clarity and balance, but also allowed us to savour the novelty of Donizetti's expert orchestrations.
The soprano, Canadian-Lebanese soprano Joyce El-Khoury, has provided two Violettas reviewed by me on Seen and Heard: Glyndebourne and Covent Garden; she also took the role of Pauline in Meyerbeer's Les Martyrs at the RFH (again under Sir Mark) in November 2014. Here, her voice was reedy to begin with; a recurring trait seems to be that she needs time onstage to inhabit a role. Yet she has all the equipment required, and at its best her top gleams. Her agility, too, was never in question.
The evening might have had an unintended but nevertheless positive other aspect that brought something other than the score to our attention: the launching of a major career, on this evidence, for the Korean tenor David Junghoon Kim as Leone de Casaldi. Kim has been seen a multitude of times in smaller roles (Lerma Don Carlo, Flavio Norma, Ruiz Trovatore, Gastone Traviata, Lamplighter Manon Lescaut, for example) but this must be, surely, his stepping stone to far greater things. Ardent and, in the final moments, eloquent, this was the role that truly caught the attention. There was a frisson of excitement, once one realized just how good he is, every time he sang, the sense of new beginning, of a palpable step up the ladder. Lyric lines (there are many) had proper cantabile, Kim's voice was never forced. A triumph and maybe, just maybe, the first of many on the international stage.
Laurent Naouri was in his element as Don Gaspar. His reading of the part of Méphistophélès in Berlioz's Damnation de Faust at the Proms in 2017 (review) spoke of all his strengths, as did this performance. Clarity of diction was masterly at a frequently taxing velocity; character-wise, he was frequently funny, sometimes hilarious. His duet with Fernand in the third act was superbly managed, Vito Priante's Fernand there, as elsewhere, was strong and confident. Priante also has plenty of character (witness his Count Almaviva in Rossini's Barbiere and his Mozart Figaro at the 2011 Glyndebourne Prom). That character was ever on display here, along with laudable vocal security. Finally, Russian bass Evgeny Stavinsky, a member of Moscow's Novaya Opera, was a notable but brief presence as The Monk.
Professor Roger Parker of King's College London and repertoire consultant to Opera Rara has stated that 'L'Ange de Nisida will make people think about Donizetti's late style in a different way. It will rewrite how we think about him as a composer, in particular about the breadth of his musical inspiration.' Nothing to take issue with there. L'Ange di Nisida is notable for its compositional ambition.
Opera Rara's work continues apace. There will, of course, be a recording of this (the stage was awash with microphones) and there is a recording of Rossini's Semiramide due with Albina Shagimuratova (see review of the Proms performance). In November, there will be a performance at the Royal Festival Hall of the original version of Puccini's Le Villi. The field is fertile, so one hopes for a never-ending stream of revelation while in the meantime being unutterably grateful for L'Ange.
Colin Clarke
For more about Opera Rara click here.