United Kingdom Rodgers and Hammerstein's The King and I: London Palladium, 4.7.2018. (JPr)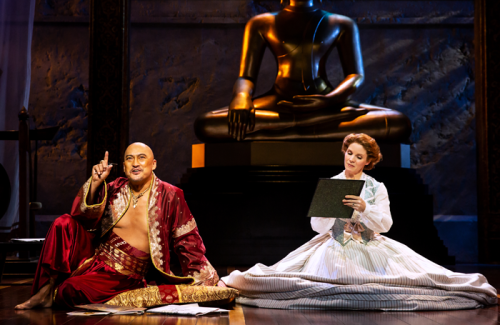 Cast:
Anna Leonowens – Kelli O'Hara
King of Siam – Ken Watanabe
Captain Orton/Sir Edward Ramsey – Edward Baker-Duly
Prince Chulalongkorn – Jon Chew
Tuptim – Na-Young Jeon
Lun Tha – Dean John-Wilson
Lady Thiang – Naoko Mori
Kralahome – Takao Osawa
Production:
Director – Bartlett Sher
Musical Director – Stephen Ridley
Sets – Michael Yeargan
Musical Supervisor – Ted Sperling
Choreography – Christopher Gattelli (based on the original choreography by Jerome Robbins)
Costumes – Catherine Zuber
Lighting – Donald Holder
This production has very many Asian performers and The King and I cannot be – quite rightly – put on in 2018 without them. Again, this highlights the difference between straight theatre, musicals and opera. In Glyndebourne's current Madama Butterfly there was no one with the 'correct' heritage as far as I could see. This is something to ponder on, but maybe not here. I have only one other comment on this and that is about Yul Brynner who I saw as the King of Siam at the London Palladium in 1979. In the lavish and informative programme we read how he 'clung tenaciously to the title role rather like a real king refusing to let go of power. He died a few months after his 4,625th performance, 34 years after his first … Nowadays it would not be possible to cast a non-Asian like Brynner.' This tends to do him a little disservice since there definitely seems to be some Mongolian ancestry on his father's side.
Anyway that was then and this is now, and I returned to the wonderful London Palladium for what was my third The King and I there after Brynner and Virginia McKenna (1979) and Jason Lee Scott and Elaine Paige (2000). The staging is magnificent from the jaw dropping moment the prow of Anna Leonowen's steamboat appears against the red glow of an 1862 Bangkok sunset until the King's bittersweet 'final curtain'. Notwithstanding, Michael Yeargan's occasionally kitschy scenic splendours – including a shimmering front curtain, an imposing palace wall, tall columns and a golden Buddha –  the question that must be uppermost is, does this The King and I truly dance? The answer is most definitely does yes and especially during 'Shall We Dance,' when Ken Watanabe's gruff, puzzled, implacably stoic King of Siam finally puts his arm around the waist of governess Anna (Kelli O'Hara) and there is intimacy and a palpable erotic frisson. Truthfully the musical does take a long time getting to this moment. This follows a version of Uncle Tom's Cabin as a Siamese theatre dance, and the assumption that having everyone in western dress and eating an English dinner is the only way to impress the visiting envoy, Sir Edward Ramsey. It does underscore the King's determination for Siam (now Thailand) to remain independent by modernising it somewhat, as well as, his personal struggle to come to terms with this. The story then takes on a much darker tone that I had forgotten about: (spoiler alert) illicit lovers, Princess Tuptim and Lun Tha, do not live happily ever after and nor does the King.
Catherine Zuber's detailed and colourful costumes threaten – along with the sets – to steal the show at every turn, especially during 'The Small House of Uncle Thomas'. Nevertheless, this The King and I – which is so high on these production values – is a little low on pace. Until Anna and the King make that connection in Act II there is also a lack of any real chemistry between the two of them despite O'Hara and Watanabe having first appeared in this Tony-winning production on and off since it was first put on at New York's Lincoln Center in 2015. This is not the fault of these accomplished performers who together bring the musical to an emotionally affecting – if slightly downbeat – conclusion. The King dies and his heir, Prince Chulalongkorn, suggests he will be a more enlightened ruler thanks to Anna's influence.
Of course, the story can seem somewhat patronising to many given our 2018 PC world. We hear 'Western People Funny' which is often cut, and it is given a more ironic take in a superb rendition led by Naoko Mori who brought nuance and great depth to her portrayal of Lady Thiang, the King's head wife. It almost becomes more like 'Eastern people funny'. Indeed the director, Bartlett Sher, argues how 'When we address a classic, we must address what is the immediate significance of the work right now. The question of education of women in the Third World, the position of women moving from a patrilineal society where power is maintained through marriage and he's got millions of wives – and how a schoolteacher comes in and transforms that – it's a complete reason to do the show. It's what theatre does.' So to sum up, The King and I is what it is and provides much food for thought for modern audiences.
The glory of this revival is Kelli O'Hara's Anna: she has a distinguished Broadway CV, and this is her West End debut. Recent research suggests that the real Anna Leonowens was a mixed-race Anglo-Indian from Bombay who had never been to England and perhaps it is fitting that O'Hara's accent was more New England than home counties. She reminded me so much of her compatriot Katherine Hepburn by making her Anna so principled, resilient, feisty and revelling in the droll acerbic wit that late great actress was famous for. When asked to comment on the wonders of the King's acrobats, Anna's put down about how they are the best she has 'ever seen at a funeral' is all O'Hara of course but also pure Hepburn! This is not to forget her outstandingly natural singing. You mess with this Anna at your peril and 'Shall I Tell You What I Think of You?' was a masterclass of disappointment and controlled anger and I doubt there is anything better to be heard currently in the West End than O'Hara's Act II reprise of 'Hello, Young Lovers': unshowy, truthful, and evocative of the true human heart of this Rodgers and Hammerstein classic.
Ken Watanabe – who was so wonderful in Clint Eastwood's film Letters from Iwo Jima – ultimately triumphs as the King. He is a man-child with a stern mien and the world weariness of someone who has sired 67 children. Eventually his refusal not to seem in control, fast-talking and comical haughtiness garners respect and, surprisingly, a good deal of affection. However, despite having two albums released in Japan Watanabe can't sing as well as those around him. Vocally, 'A Puzzlement' was certainly that but he can move and 'Shall We Dance' was particularly fleet-of-foot and he brought considerable gravitas to the end of the King's story.
Naoko Mori's 'Something Wonderful' was all that and more and apart from her fine performance, the supporting honours must go to the resplendently attired and supremely confident array of small children. Playing the secondary lovers Tuptim and Lun Tha, Na-Young Jeon and Dean John-Wilson, are engaging and sing splendidly and I wish their story wasn't so underdeveloped and didn't have the sad ending for them both which seems perfunctorily glossed over. Takao Osawa was a stern and officious Kralahome and William Mychael Lee an increasingly troubled royal secretary. It is strange that one of the highlights of the whole show is a deathbed scene – the King's dodgy ticker is well signposted — which sees Watanabe at his regal best.
I suspect rarely has this 67-year-old musical sounded better than it did from Stephen Ridley and his obvious talented musicians. 'Was he as good a king as he might have been?' asks Anna's young son, Louis (the excellent Archie Durrant) near the end and one could ask the same of this fundamentally old-fashioned and conventional The King and I. Despite some reservations I enjoyed it immensely, many have before, and I suspect you will too if you are yet to see it.
Jim Pritchard
For more about The King and I at the London Palladium click here.