Germany Munich Opera Festival 2018 [5] – Wagner, Siegfried: Bayerische Staatsoper Orchestra/Kirill Petrenko (conductor), Nationaltheater, Munich, 24.7.2018. (JMI)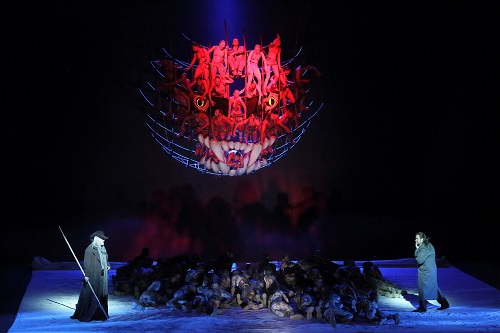 Cast:
Siegfried – Stefan Vinke
Brünnhilde – Nina Stemme
Wanderer – Wolfgang Koch
Mime – Wolfgang Ablinger-Sperrhacke
Alberich – John Lundgren
Erda – Okka von der Damerau
Fafner – Ain Anger
Woodbird – Mirella Hagen
Production:
Direction – Andreas Kriegenburg
Sets – Harald B. Thor
Costumes – Andrea Schraad
Lighting – Stefan Bolliger
Choreography – Zenta Haerter
I was not able to attend the first two operas of Wagner's Ring Cycle which the Munich Festival has mounted. As always, expectations ran high for this Cycle with Kirill Petrenko as musical director. The stage production is the well-known one by Andreas Kriegenburg which premiered here in May 2012, and which I reviewed previously. (review)
Once again, Kirill Petrenko triumphed as conductor. In many cases, the actual experience of a performance is a function of one's expectations. I have to admit that mine were very high, and I was somewhat disappointed with Mr. Petrenko's conducting in Act I where the excessive movement on stage seemed to have an influence. Things went much better in the second act, and in the third act Petrenko was simply tremendous. Under his command the Staatsorchester was again spectacular, as happens whenever Petrenko is in the Munich pit.
Young Siegfried was played by Stefan Vinke. Throughout the history of opera, few tenors have been able to overcome the difficulties of this role; it must be said that Stefan Vinke does it, a merit that cannot be denied. His voice seemed more opaque than when I last heard him in the part, in Berlin less than two years ago, and his voice is not quite as powerful. Despite that, he is still a Siegfried worthy of great respect.
Nina Stemme gave an excellent performance, in terms both of singing and acting. She is probably the best Brünnhilde today, and it is a pleasure to attend her performances. I am counting the hours to see her again in the last opera of the Tetralogy.
Baritone Wolfgang Koch did well as the Wanderer. It appears that he was better here than in Rheingold and Walküre, according to those who attended those earlier operas. He is not at his best now and may be paying the toll on his vocal excesses in recent years. It would be great news to see him fully recovered.
Wolfgang Ablinger-Sperrhacke in the part of Mime was excellent. He is a true specialist in the character, and his voice was more important than usual in this role. Surely, he is the best Mime today – with, of course, Gerhard Siegel.
Baritone John Lundgren did well as Alberich, with a well-suited voice and good acting skills. Okka von der Damerau as Erda was a little disappointing; her voice did not run as easily as it has on other occasions. Ain Anger was well suited to the role of Fafner and sang with plenty of emotion at his death scene. The Woodbird was nicely done by soprano Mirella Hagen.
José M. Irurzun