Germany Munich Opera Festival 2018 [3] – Puccini, Il trittico: Bayerische Staatsoper Orchestra / Kirill Petrenko (conductor), Nationaltheater, Munich, 14.7. 2018. (JMI)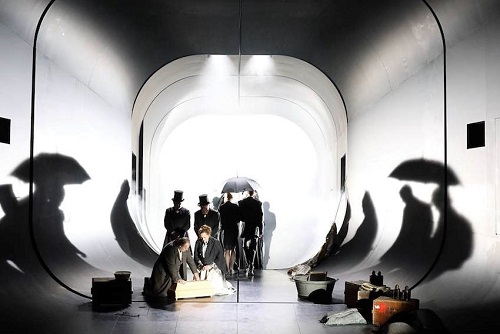 Casts:
Il tabarro:
Giorgetta – Eva-Maria Westbroek
Luigi – Yonghoon Lee
Michele – Wolfgang Koch
Il Tinca – Kevin Conners
Il Talpa – Martin Snell
La Frugola – Claudia Mahnke
Suor Angelica:
Suor Angelica – Ermonela Jaho
La Zia Principessa – Michaela Schuster
La Badessa – Claudia Mahnke
Gianni Schicchi:
Gianni Schicchi – Ambrogio Maestri
Lauretta – Rosa Feola
Rinuccio – Pavol Breslik
Simone – Martin Snell
Zita – Michaela Schuster
Gherardo – Dean Power
La Ciesca – Jennifer Johnston
Maestro Spinelloccio – Donato Di Stefano
Ser Amantio – Andrea Borghini
Production:
Director – Lotte de Beer
Sets – Bernhard Hammer
Costumes – Jorine van Beek
Lighting – Alex Brok
This Lotte De Beer production, which premiered here last December, consists of a simple setting for all three operas: a reduced space enclosed by curved walls with the action taking place at the front of the stage. Different props are added for each opera.
In Il tabarro, clearly we are on a barge; the opera starts with the burial of Giorgetta and Michele's son, which helps clarify the plot right from the beginning. In Suor Angelica there is great intensity in the confrontation between the protagonist and the Zia Principessa, which brilliantly leads to the end of the opera and the death of Sister Angelica. Finally, the added props enliven Gianni Schicchi.
The costumes are attractive, and particularly so in Gianni Schicchi, which is set in the Middle Ages as dictated by the libretto. There is also very good lighting work throughout the three operas.
Once again, Kirill Petrenko led the Staatsoper orchestra and his reading was splendid: he maintained an unimaginable delicacy in the first two operas and then gave a hilarious reading in Gianni Schicchi. A great conductor proves his or her worth regardless of the genre of music, and this is certainly true of Kirill Petrenko. If in German opera he is unsurpassed, I couldn't say if there is anyone better in Italian opera, as least as far as Puccini and this Trittico are concerned. He was simply magnificent.
The casts, which are the same as for the premiere last December, are superbly directed, which enables all the characters, both main and secondary, to shine.
Il tabarro
Eva-Maria Westbroek was a convincing Giorgetta. She sometimes has a problem in the high notes, but they are not dominant in this role. Everything about her, both vocally and dramatically, was impressive. Tenor Yonghoon Lee, with an attractive voice, was well suited to the part of Luigi. Wolfgang Koch in the role of Michele was also very good and gave a moving performance.
In the secondary characters, Claudia Mahnke as La Frugola, Kevin Conners as Tinca and Martin Snell as Talpa did well.
Suor Angelica
Ermonela Jaho triumphed as Suor Angelica. She did not convince me at the beginning, where everything seemed too exaggerated, but she ended up giving an exciting interpretation. She was particularly notable in 'Senza mamma'.
The Zia Principessa by Michaela Schuster was intense and well-acted. Claudia Mahnke was an excellent Abbess, and the secondary characters were nicely covered.
Gianni Schicchi
Ambrogio Maestri was excellent as Gianni Schicchi. The Italian baritone shines in these buffo characters, and he proved it once again.
Rosa Feola as Lauretta sang her aria, 'O mio babbino caro', with brilliance and sensitivity. Pavol Breslik did well as Rinuccio, although I've seen him brighter in vocal terms in the past
The secondary characters were all terrific, especially Michaela Schuster, Martin Snell, Donato Di Stefano and Jennifer Johnston.
José M. Irurzun