Italy Bellini, Il pirata: Teatro alla Scala Orchestra and Chorus / Riccardo Frizza (conductor), Teatro alla Scala, Milan, 12.7.2018. (JMI)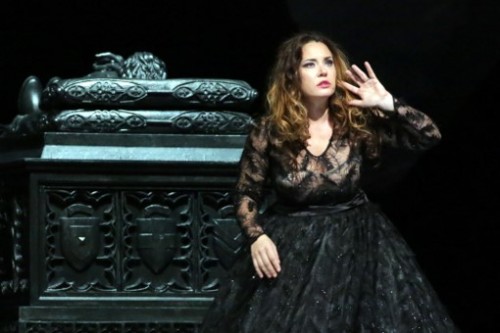 Cast:
Imogene – Sonya Yoncheva
Gualtiero – Piero Pretti
Ernesto – Nicola Alaimo
Adele – Marina de Liso
Itulbo – Francesco Pittari
Goffredo – Riccardo Fassi
Production:
Direction – Emilio Sagi
Sets – Daniel Bianco
Costumes – Pepa Ojanguren
Lighting – Albert Faura
Il pirata is not really part of the basic opera repertoire. As with two other early Bellini operas, Adelson e Salvini and Bianca e Fernando, it has pretty much been overlooked despite the appeal of much of its music. Undoubtedly the difficulty of the score for both soprano and tenor do not encourage famous singers to face its challenges.
The opera premiered with great success at La Scala in 1827. But revivals here were scarce, and the final one in the nineteenth century was in 1840. It took 118 years for the opera to return to La Scala – with none other than María Callas accompanied by Franco Corelli and Ettore Bastianini. These now-mythical performances were the last to be seen in Milan until now, 60 years later.
This new Emilio Sagi production was very satisfying, with an attractive staging, convincing musical direction and an outstanding Imogene. The action has been moved to the nineteenth century with basically the same set for most of the opera; it changes for the final scenes, which unfold in front of Enrico's tomb. There are bright mirrored walls upon which images are projected that reveal landscapes or elements relating to the different scenes. The costumes are appropriate, especially the white dresses worn by the chorus, and the lighting is effective.
Conductor Riccardo Frizza, currently the musical director of the Donizetti Festival in Bergamo, is very accustomed to leading bel canto operas. He provided plenty of support to the singers, a fundamental requirement in this type of opera. The orchestra was remarkable, as was the La Scala chorus.
The great protagonist of this opera is Imogene, played here by soprano Sonya Yoncheva, and her performance was the highlight of the evening. It is now more than nine years since her debut in Spain in Don Pasquale at the Teatro Real and in Pamplona's Baluarte. She caught the attention of opera aficionados, and there is no doubt that she has become an important lyric soprano; she has a dark timbre in the middle register which allows her to tackle certain more vocally demanding characters – like that of Imogene. She sang with gusto and expressiveness, dominating the difficult score, although there was a small loss of control in the top notes near the end.
The pirate, Gualtiero, was interpreted by Italian tenor Piero Pretti who did well in vocal terms. His attractive voice has the characteristics of a lyric tenor, and he can cope with the complicated tessitura of this role, which few tenors past or present are able to do. He can be a bit monotonous and needs to exhibit a little more variety in his voice to be able to excite an audience. He experienced some difficulty at the end of his great scene in the final act, but nothing serious.
Ernesto was sung by baritone Nicola Alaimo whose voice is too light for the character. He would be better in other less dramatic roles. The secondary characters were well covered.
La Scala was only at about 70% of capacity. The audience was rather cold during the performance but gave an enthusiastic reception in the final bows to Sonya Yoncheva and Piero Pretti.
José M. Irurzun