Germany Munich Opera Festival 2018 [4] – Mozart, Le nozze di Figaro: Bayerische Staatsoper Chorus and Orchestra / Constantinos Carydis (conductor), Nationaltheater, Munich, 15.7.2018. (JMI)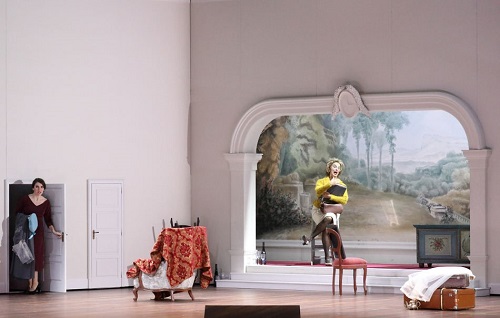 Cast:
Figaro – Alex Esposito
Susanna – Olga Kulchynska
Countess – Federica Lombardi
Count – Christian Gerhaher
Cherubino – Solenn' Lavanant-Linke
Don Bartolo – Paolo Bordogna
Marcellina – Anne Sofie von Otter
Basilio – Manuel Günther
Don Curzio – Dean Power
Antonio – Milan Siljanov
Barbarina – Anna El-Khashem
Production:
Director – Christof Loy
Sets – Johannes Leiacker
Costumes – Klaus Bruns
Lighting – Franck Evin
This Christof Loy production premiered here last October, replacing Dieter Dorn's well-known staging which had been used for the past 20 years. The action has been moved to more modern times, and the new production exhibits many of the same virtues and shortcomings of the previous one. There is basically one set for the entire opera, consisting of two walls with doors, all in light tones, and a large painting of a garden at the back. Props are added for the different scenes: a display of shoes in Act II and some chairs in Act III. It works well enough, in general, but it does fail in the garden scene. There really is no garden, just those walls and a large door at the back, and the misunderstandings that arise in this scene are not credible.
Conductor Constantinos Carydis led with energetic gestures and tended to go to extremes with the tempi: at times they were very fast, and at others too slow. His version of the opera is open to debate, especially allowing Marcellina to sing a Mozart lied with piano accompaniment rather than 'Il capro e la capretta'. Both the orchestra and the chorus were impressive.
Figaro was sung by bass-baritone Alex Esposito, whose performance fell below what I expected. Whether it was the stage direction or his personal interpretation, his Figaro was too exaggerated, which also made his singing unnuanced and full of open sounds.
Soprano Olga Kulchynska made a good impression in the part of Susanna, in terms both of her singing and her acting. She seems to me to have much promise.
Federica Lombardi as the Countess was the strongest member of the cast. She sang her two arias with gusto and appropriately, especially 'Dove sono'. I first heard her in the character three years ago, and this performance confirmed her quality.
Count Almaviva was played by Christian Gerhaher, whose stage performance was also too exaggerated. This affected him in vocal terms as well: he oscillated between parlando and open sounds. The best of part of his performance came with his aria in Act III.
Mezzo-soprano Solenn' Lavanant-Linke as Cherubino did well in her two arias. Anne Sofie von Otter did a fine job as Marcellina, but I did not like the decision to add a song that has nothing to do with this opera.
Manuel Günther gave life to Basilio, and soprano Anna El-Khashem did well as Barbarina. Dean Power was a good Don Curzio.
José M. Irurzun