Spain Donizetti, La favorite: Liceu Chorus and Orchestra / Patrick Summers (conductor), Gran Teatre del Liceu, Barcelona, 11 & 13.7.2018. (JMI)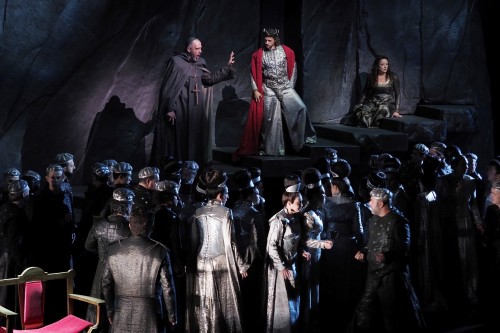 Cast:
Léonor de Guzman – Clémentine Margaine/Eve-Maud Hubeaux
Fernand – Michael Spyres/Stephen Costello
Alphonse XI – Markus Werba/Mattia Olivieri
Balthazar – Ante Jerkunica
Inès – Miren Urbieta-Vega
Don Gaspar – Roger Padullés
Production:
Director – Ariel García Valdés (original), Derek Gimpel (revival)
Sets and Costumes – Jean-Pierre Vergier
Lighting – Dominique Borrini
La favorite (in its original version) or La favorita (in Italian) is a curious case in the history of opera. It was one of the most popular operas during the second half of nineteenth century and the first half of the twentieth but has seldom been staged in the last fifty years. Although La favorite has not been done at the Liceu since 2002, it is still the fifth most performed title in the history of the Catalan Coliseum.
This is the same production that was done at the Liceu sixteen years ago. It is not particularly exciting: a single stage with a large rock in the middle. The turns of the rock evoke the different settings, and it does seem a bit ridiculous that King Alphonse sings 'Jardins de l'Alcazar' on this stony, naked stage and not in the supposed 'délices des rois Maures'. The truth is that it would be better suited to Norma than this opera. Where the production is weakest is in the stage direction: the soloists are often left to themselves, and the crowd scenes are disorganized.
The musical direction was entrusted to Patrick Summers, who was last seen at the Liceu ten years ago conducting La Cenerentola. His reading was somewhat flat, and the ballet music did not really work. It has always seemed to me that ballet music in an opera does not make sense without a dance group on stage, and there was none here.
Léonor de Guzman, the lover or 'favorite' of Alphonse XI, was played by mezzo-soprano Clémentine Margaine, who gave a fine performance: she was the best from both casts. Her voice has sufficient amplitude, and she solved all the acting challenges that the role presents. In the second cast, Eve-Maud Hubeaux was less convincing. Her voice is too small for this theatre, and at times it was hard to hear her.
Michael Spyres, Fernand in the first cast, is a good singer but his voice is too light for the part; I find him better at Rossini than at Donizetti. As Fernand in the second cast, Stephen Costello had problems with the tessitura of the role.
Markus Werba was Alphonse, but he is more impressive in Mozart roles. The young baritone Mattia Olivieri has a voice that is better suited to this character. Ante Jerkunica as Balthazar has an ample voice and gave a strong performance.
 José M. Irurzun