United Kingdom 2018 Jette Parker Young Artists Summer Performance – Music and Opera Excerpts from Offenbach, Rossini, Stravinsky, Richard Strauss and Ambroise Thomas: Noa Naamat (director), Nick Havell (lighting designer), Jo Meredith (movement director) Jette Parker Young Artists, Orchestra of Opera North / Nick Fletcher, James Hendry, Matthew Scott Rogers, Sonia Ben-Santamaria & Jac van Steen (conductors). The Royal Opera House, Covent Garden, London 15.7.2018. (JPr)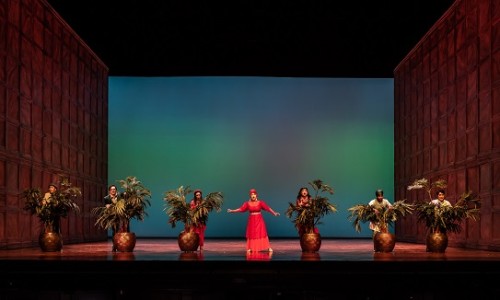 Stravinsky – The Rake's Progress, opening fanfare: Sonia Ben-Santamaria (conductor)
Offenbach – La Belle Hélène, Overture: Matthew Scott Rogers (conductor)
Strauss – excerpt from Ariadne auf Naxos
Jac van Steen (conductor)
Zerbinetta – Haegee Lee
Prima Donna/Ariadne – Sarah-Jane Lewis
Composer – Angela Simkin
Echo – Francesca Chiejina
Dryad – Aigul Akhmetshina
Naiad – Jacquelyn Stucker
Scaramuccio – Thomas Atkins
Brighella – Konu Kim
Music Teacher – Gyula Nagy
Harlequin – Dominic Sedgwick
Truffaldino – Simon Shibambu
Stravinsky – The Rake's Progress, Act III, final scene
Jac van Steen (conductor)
Anne Trulove – Francesca Chiejina
Tom Rakewell – Thomas Atkins
Father Trulove – Simon Shibambu
Keeper – Dominic Sedgwick
Thomas – Hamlet, Act III beginning
James Hendry (conductor)
Ophélie – Jacquelyn Stucker
Gertrude – Angela Simkin
Hamlet – Gyula Nagy
Polonius – Dominic Sedgwick
Claudius – Simon Shibambu
Rossini – L'italiana in Algeri, Act I finale
Nick Fletcher (conductor)
Elvira – Haegee Lee
Isabella – Aigul Akhmetshina
Zulma – Angela Simkin
Lindoro – Konu Kim
Taddeo – Gyula Nagy
Haly – Dominic Sedgwick
Mustafà – Simon Shibambu
Once again it was end of term for the Jette Parker Young Artists Programme and time for their annual Summer Performance which is as much as anything a showcase for those singers, directors and conductors who are 'graduating' in the hope that there is life after their two years working at Covent Garden. The last time I was there was in 2016 (review) one of the names I saw then was Jennifer Davis who left the Programme in 2017 and was recently catapulted into the leading role of Elsa in Lohengrin (review) when a more well-known name pulled out. There seems to be a lot of new initiatives including a Link Artist scheme for coaching and development opportunities being offered to a broader range of artists than those on the full-time Programme; collaborations with partner organisations to improve opportunities for as many young people as possible with potential to pursue opera as a vocation; and a pilot course – in partnership with the Royal Philharmonic Society and the National Opera Studio – beginning this September for 12 emerging women conductors. Although British talent was fairly well represented in this performance, these initiatives may help the JPYA Programme to encourage more homegrown talent. It has never done this as much as it probably could – and as many other countries' similar schemes certainly do – but that is a topic for another discussion and let's celebrate what we did see on this sultry London afternoon.
Within the floor-to-ceiling wood-panelled walls of Paul Steinberg's set for the current Falstaff revival and with the use of minimal props – including chandeliers, tall candelabras and some potted palms – and also by raiding the costume department, Noa Naamat staged the excerpts we saw from Ariadne auf Naxos, The Rake's Progress, Hamlet and L'italiana in Algeri with increasing inventiveness and success.
There is a lot of Ariadne auf Naxos around this summer with productions at Longborough (review) and soon from Opera Holland Park and we saw an extract bridging the end of the Prologue and the start of the Opera. Gyndebourne's recent Ariadne had the commedia dell'arte element as vaudevillians and here Naamat's were a bit similar appearing as the lovechildren of Take That with a barbershop quartet! In a creditable ensemble performance some voices were unfortunately not up to the task of riding the sumptuous outbursts of Richard Strauss's music. Impressing the most were Thomas Atkins's personable Scaramuccio, Gyula Nagy's persuasive Music Teacher and a delightfully bubbly blond bombshell of a Zerbinetta – dolled up in rose pink – from Haegee Lee.
What followed was the first of a couple of interesting extracts from operas I need to see all of in the future: firstly, Stravinsky's The Rake's Progress. It was the final scene of Act III as the faithful Anne Truelove finds Tom Rakewell in Bedlam and in his delirium, he believes he is Adonis and she is Venus. However good Francesca Chiejina and Simon Shibambu were as Anne and her father, it was Thomas Atkins as Tom who gave one of the standout performances of the afternoon. I haven't done any Wagner-talent spotting for some while, but I suspect in years to come Atkins will possibly follow his compatriot Simon O'Neill as Siegmund, Lohengrin and Parsifal and possibly other similar roles. Atkins's voice is already sufficiently virile and burnished to make the prospect of him perhaps also eventually (first?) singing Peter Grimes something to relish. He made Tom Rakewell's Tristan-like anguish riveting, though I wish Naamat had not resorted to the much-overused directorial trope of self-harm to hasten his end.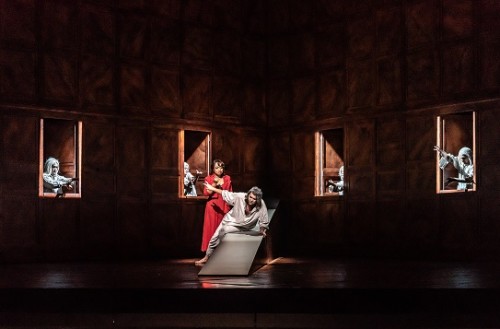 The next important discovery for me came after the interval with the opening of Act III from Ambroise Thomas's Hamlet, an 1868 French grand opera and something that has totally passed me by thus far. Hamlet has failed to kill King Claudius before learning of his collusion with Polonius, the Lord Chamberlain, in the murder of Hamlet's father. Queen Gertrude tries to persuade Hamlet to marry Polonius's daughter, Ophélie, but Hamlet refuses and wants her to enter a convent. Ophélie returns her ring to Hamlet and leaves. Gyula Nagy was an impassioned Hamlet in the monologue 'To be or not to be' and embodied all of his character's seething anger and Jacquelyn Stucker's Ophélie was particularly well-sung and had a deeply affecting emotional vulnerability.
To conclude the opera elements much fun was had by all in Nick Havell's sunlit Finale from Act I of L'italiana in Algeri. In our #MeToo world a theme of wronged women seemed to unpin all we saw, though I could be reading too much into all this! It is some typical Rossinian comic nonsense involving a lustful Turkish Bey (Mustafà), corsairs, slaves, a harem, a discarded wife (Elvira), disguises, mistaken identities, lovers reuniting (Isabella and Lindoro), etc. etc. Everyone enjoyed themselves immensely in Naamat's fun and frolics: including Aigul Akhmetshina as an imperiously regal and stilettoed Isabella; Gyula Nagy as her spineless companion Taddeo; Simon Shibambu the hot-blooded Bey; Konu Kim's puppy-doggish Lindoro and Haegee Lee's faithful Elvira. The exemplary singing of all concerned brought everything to a rousing conclusion.
What added to the particular success of this year's Summer Performance was the presence in the pit of the Orchestra of Opera North who – apologies! – sounded a lot better than the resident band can sometimes do. Several conductors were involved, with the vastly experienced Jac van Steen amongst those who are only at the start of their careers: Nick Fletcher, James Hendry, Matthew Scott Rogers and Sonia Ben-Santamaria. From the short Opening fanfare from The Rake's Progress followed by a typically jaunty Overture from Offenbach's La Belle Hélène, through all those wonderful operatic extracts the orchestral playing was of the highest standard indeed and a credit to the superb preparation of the celebratory event this year.
Jim Pritchard
For more about the Jette Parker Young Artists Programme and what is on soon at the Royal Opera House click here.