Austria Bizet, Carmen: Soloists, Prague Philharmonic Choir, Children's choir of Musikmittelschule Bregenz-Stadt, Vienna Symphony Orchestra / Antonino Fogliani (conductor), Bregenz Festival 'Spiel auf dem See', Bregenz, 31.7.2018. (CCr)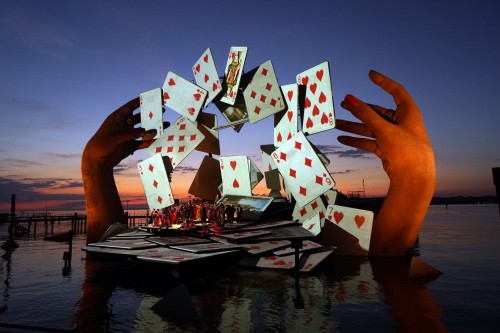 Cast:
Carmen – Lena Belkina
Don José – David Pomeroy
Escamillo – Kostas Smoriginas
Micaëla – Corinne Winters
Frasquita – Léonie Renaud
Mercédès – Marion Lebègue
Moralès – Rafael Fingerlos
Zuniga – Yasushi Hirano
Le Remendado – István Horváth
Le Dancaïre – Dariusz Perczak
Lillas Pastia – Stefan Wallraven
Production:
Set designer – Es Devlin
Director – Kasper Holten
Video – Luke Halls
Costume designer – Anja Vang Kragh
Lighting – Bruno Poet
Sound – Gernot Gögele, Alwin Bösch
Choir directors – Lukáš Vasilek, Benjamin Lack
Children's choir director – Wolfgang Schwendinger
Choreography – Signe Fabricius
Stunts choreographer – Ran Arthur Braun
Acrobatic circus – Wired Aerial Theatre
Stick around with opera long enough and you realise there is a subset of the opera experience that is all about pilgrimages – pious devotees chase their most beloved composers, or singers, or certain festivals in certain cities, perhaps even certain directors. Europe is the epicentre of these trips, Bayreuth for Wagner fans the pinnacle. Along the way, there is Bregenz in Austria, with its 'Spiel auf dem See' – the play upon the lake – the lake being Lake Constance pooling at the base of the German, Austrian and Swiss Alps. Do go to Bregenz, and pay your respects.
My God, the stage. It's so elaborate they only erect a new one every two years. This and last year's was for a production of Carmen, already reviewed in Seen and Heard and around for another 16 performances this month. There are other operas and philharmonic concerts in Bregenz for this festival, but with its 7,000-capacity tribune and a stage that emerges from the water, 20 metres high and 26 metres across, the lake-stage is the massive flagship in Bregenz's miniature fleet.
The set is this: Carmen's olive-complexioned hands, a cigarette in the one and looking achingly lifelike with details like scars and chipped fingernail polish, shuffle a deck of cards, or cast them carelessly; these cards form the backdrop and the surface of the stage, haphazard, frozen, fateful. British designer Es Devlin struck gold with her arresting set, and offers director Kasper Holten the coolest of spaces to stage the story in. So cool, I'm afraid, that often his staging is upstaged by the stage itself.
In the desultory first act and at a few points later on, this is infuriating. For one, it takes the listener a good bit of time just to settle in to the visual and aural scale of what's being presented. The orchestra are behind you, but the sound is piped in through an elaborate system of speakers in the front. The audience is given a view of Maestro Fogliani, but only on twin video screens spread far too far to either side of the stage; in between these screens are the German titles, which would be better placed above the stage, and perhaps offered in English as well. The chorus is also hidden somewhere behind you; those on the stage for crowd scenes are merely supernumeraries. The stage often dwarfs the soloists, distorting your perception of their physical singing, though you hear them phenomenally well.
In other words, staging the actual story amidst such disembodiment must be a devilishly challenging task, not least with a sun that sets not until the middle of the second act. For some reason there is no intermission – Austrians must have fussy bedtimes, or perhaps union rules prohibit working after midnight. (In Verona, the open-air sound may be inferior, but they'll serve you the full final act of Aida well after one in the morning, and then the restaurants want to sell you a good dinner afterwards.) This means that the story of Carmen has been mercilessly cut in order to usher a sold-out crowd, as if this were instead La Cenerentola, back onto their coaches before too much time has passed.
Doing so turns Carmen into a greatest hits version of itself. It intensifies the central role of Carmen to see her wreaking havoc in every scene from start to finish, but the cuts castrate the role of Don José as someone who would ache to live life straight but cede to a woman who doesn't appear even to make him happy. A hopeless addiction to an impossible woman, or a slow embrace of anarchic danger, or a dopey fellow who gets mixed up over his head – there are so many ways that the story (to say nothing of Bizet's music) would make Don José's character compelling, but neither Kasper Holten nor tenor David Pomeroy is up to the task, and the first act was the most weakly staged and sung. Pomeroy's acting was imprecise and lacked any real psychological edge, though his singing improved as the production did, and his Flower Song was full of vocal colour and pathos.
Things get better, obviously. Ukrainian mezzo-soprano Lena Belkina is a splendid, powerfully insouciant Carmen. The top of her voice is bright and full, but she has a smoky-nasal edge in the middle that helps her embody Carmen's soul. Her lowest notes don't smack as crisply or voluminously as you'd like, and her French isn't always the vehicle it should be for conveying the character's glib nastiness or freedom, but between Belkina's powerful singing, her very good acting, her remarkable confidence across a challenging set, and the concentratedness of this role, every element comes together. Belkina more than any other performer appeared to exploit being miked in the open air, sounding visceral without looking like she's working. Kostas Smoriginas sang the bull fighter with similarly easy arrogance; his voice was big and beautiful.
Director Holten does have a few cards up his sleeve: the charming 'Seguidilla' build-up is shown with Carmen bound by a rope, when of course Don José is the one left tied in her knots. There are leaps into the water, dances in and out of the water, a corpse disposed of by bandits on skiffs into the water, bandits rappelling across playing cards that somehow manage to evoke a hideout, and amongst other delightful scenes, a desperate Micaëla scaling said cards in order to find her Don José. (Micaëla was sung by Corinne Winters, whose breathing and phrasing were paltry but whose lovely vibrato and warmth improved her singing over the evening.) Not every bit of Holten's use of the surrounding water worked, or even made sense; the women of the tobacco factory scoop buckets of water meaninglessly, and it is beyond me what the Act II smugglers's scene gained in danger and excitement by heavy, clumsy rain.
Again, you must go to Bregenz to link sound and sight across space in quite this way, and no matter how excellent the speaker system is (and it really is excellent), it takes getting used to. Perhaps it was the inherent strength of the complex technological set-up that lulled the Prague Philharmonic Choir into a sense of not needing to sing with full edge and presence, but on the whole, the balance and vivacity and sheer directness of the Vienna Symphony Orchestra made Bizet sound viscerally pleasant. Peter Dorfmayr's glorious horn was one extraordinary standout moment amidst an ensemble success. Antonino Fogliani conducted with graceful tempi and spot-on dynamics.
Will your mom who loves Carmen love this production? Oh, she'll swoon! Will your children who hate opera enjoy this production? Despite themselves, yes. Will your classical music snob friend like this production? Mostly. Will your psychiatrist like this production? Not particularly, and, damn it, now he's asking you what you thought. Will your friend who's never been to an opera before, but always wanted to see Cirque du Soleil live, even though she'd never travel to Las Vegas, enjoy this production? You bet she will!
Casey Creel
For more about the Bregenz Festival click here.