United Kingdom Gilbert and Sullivan Festival [1] – Patience: University of Southampton Light Opera Society / Tim Lutton (conductor). Royal Hall, Harrogate, Yorkshire, 16.8.2018 matinee. (RJW)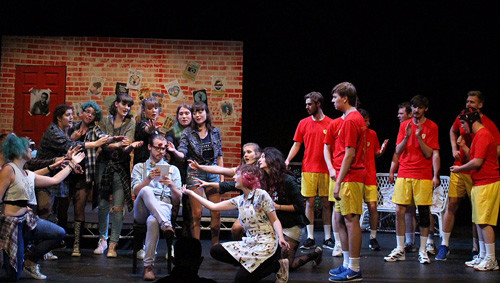 Production:
Producer – Delyth Simons
Director — Abby Pardoe
Music Directors — Liam Chan, Tim Lutton and Bridie Strachan
Creative Director — Rhona Graham
Choreographer — Clementine Khirol
Technical Director — Edmund King
Cast:
Colonel Calverley — Billy Boulton
Major Murgatroyd — Benjamin Walker
Duke of Dunstable — Barnaby Wilson
Reginald Bunthorne — Daniel Williams-Brown
Archibald Grosvenor — Tom Hudson
Mr Bunthorne's Solicitor — Domas Navikas
Lady Angela — Victoria Arnold
Lady Saphir — Rhiannon Creffield
Lady Ella — Katie Giles
Lady Jane — Martha Fooks
Patience — Amber Courage
Southampton University decided to give a novel twist to this well-known Gilbert & Sullivan comic opera. After five performances at the end of term during June in Southampton the production was brought up to Harrogate.
Set in a typical 1950s coffee bar packed with girls from many university faculties, the entrance of an earnest poet did not look out of place. Neither did the café manager, Patience, surrounded by gallons of milk for coffee lattes. The Dragoons happen to be a local rugby club of stocky men who swap military mannerisms for those of the rugby field. Zany as this transformation will seem to the reader, the setting is quite believable, the only hiccup being when the titles of Colonel and Major are given to ranks within a rugby club. The Duke sang with a nice vibrato that gave his voice an extra dimension in 'Your maiden hearts'.
The rugby colours of red and yellow fitted nicely with Lady Jane's remark about their 'Primary colours'. It is a pity that on the T-shirts their neat logo 'Dragoon Rugby Club' was a bit too small to be noticed by many in the auditorium. The Duke's comment 'Are you fond of toffee?' was neatly altered to 'Are you fond of coffee?' and made good sense in the café environs.
Patience (Amber Lodge) delighted with her 'I cannot tell what this love may be', delivered with confidence and clear, top notes. Her air of innocence was carried believably through the act. Billy Boulton as the Colonel provided strong leadership in his military numbers and the rugby team responded with well-choreographed routines. Bunthorne (Daniel Williams-Brown) made the most of his affected stances and languid moves and provided excellent mannerisms to add to the appeal of 'When you're anxious for to shine'. I also enjoyed the breezy legato in Tom Hudson's singing (Grosvenor) in 'Prithee pretty maiden'. The singing and acting were of a high standard throughout, especially the consistently energetic choruses, and I particularly liked their wide use of the acting area.
The sextet of Act I was nicely balanced and brought out Sullivan's warm harmonies. A good Act I finale was well choreographed yet missed Sullivan's music cue for rushing over to greet Grosvenor following 'They love him, horror!'. The company could not resist heading there too soon.
The orchestration was provided by wind instruments and piano (for strings). Tom Lutton's direction was good and he gave nice tempi, but during Act II the woodwind were at times heavy and tended to drown the singer; a few pp dynamics wouldn't have gone amiss. Lady Jane (Martha Fooks) was very much in charge of her crew yet I'm thinking perhaps too pretty to be 'crushed again'. Her singing was good and diction clear. The military trio sounded good together and they balanced well with each other; their uncomfortable poses brought more humour to the proceedings.
I liked the way the lighting levels dipped for the solo items yet felt that the fast switching of cues was overdone, wishing instead for the subtlety of gradual changes to follow the mood of the music.
Gilbert and Sullivan Festival [2] – Patience: Savoynet Performing Group, National Festival Orchestra / Eric Peterson (conductor). Royal Hall, Harrogate, Yorkshire, 16.8.2018.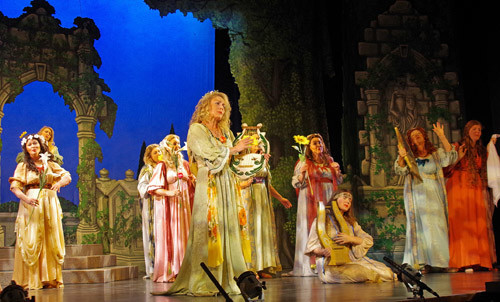 Production:
Director/Choreographer — Robert Ray
Lighting Design — David Marsden
Costume Design — Janice Donnelly and Robert Ray
Set Design — Paul Lazell
Cast:
Colonel Calverley — Tony Lowe
Major Murgatroyd — William Revels
Duke of Dunstable — Alexander Conway
Reginald Bunthorne — Martin Everall
Archibald Grosvenor — William Remmers
Mr Bunthorne's Solicitor — John Penn
Lady Angela — Julie May
Lady Saphir — Maria Zicos
Lady Ella — AIi Roselle
Lady Jane — Angela Lowe
Patience — Rachel Middle
Each year at the Festival it is a tradition that G&S lovers who support a conversational website 'The Savoynet' meet together to mount a performance after one week's rehearsal. This year their performance was exceptional and Robert Ray's production has a number of outstanding features.
Much effort had been put into the creation of costumes and it certainly paid off because the curtain went up on a Rossetti inspired tableau of maidens posing in stained glass attitudes of mossy greens and Burne Jones' dusky rusts. The stage picture was completed with authentic-looking Grecian lyres and scattered groupings. During the overture, wonderfully played and sensitively conducted by James Hendry with heightened dynamics and sweeping legato, images of Rossetti pictures were projected on a gauze that dissolved into the opening tableau — an elegant effect. The care in costume presentation was extended to the appearance of Patience since many in the audience with have recognized Gilbert's original design and pose with milk pail on hip.
The cast was strong, and the singing was of a high order throughout. Rachel Middle as Patience radiated a determined innocence and her singing of 'I cannot tell what this love may be' was delightful. I enjoyed the nicely choreographed military drill, the Colonel's 'If you want a receipt' and clarity of Bunthorne's 'Anxious for to shine'. A lovely additional dimension was brought into the 'Long years ago' duet between Patience and Angela, where a little boy and girl (Robert Hall and Phoebe Greinig) come on to play young versions of Patience and Grosvenor and mimed to lyrics in the number. A nice touch was for them to appear in identical costumes to those of their adult counterparts so that their association could not be missed. The Raffle scene was colourful and well arranged, with its sextet sung with charm. The finale was rousing and energetic though I should have liked the stage movement on sight of Grosvenor to fit with the cues given in Sullivan's music since they are quite obvious.
In Act II Lady Jane struggles effectively with her delicately modulated instrument and the scene between Grosvenor and Patience was well played. Memorable was the quintet, 'If Saphir I choose to marry' where the three military men try to partner two girls. In this and throughout the opera I liked Eric Peterson's brisk tempi and the excellence of the Festival orchestra's playing. Paul Lazell's set, partly modeled on a 1960s Peter Goffin set with its cedar trees and triangular steps was complemented nicely by the costumes. Sensitive cross lighting helped complete the picture.
Much care had obviously been taken this production by its Australian director, Robert Ray. When in 1881 Patience was moved to Carte's newly-built Savoy Theatre a re-enactment of history was included as a prologue. To prove the safety of electric lighting a lit bulb was brought on by a stagehand in front of the tabs and Carte with a muslin cloth over the bulb smashed it with a mallet to show that the cloth would not catch alight. This was convincingly demonstrated in authentic costume at the start of this Savoynet production. With many of the costumes flown in from Australia it is clear that there had been an immense amount of preparation for this one night performance; well done to all concerned for mounting such a memorable show.
Raymond J Walker