United States Debussy, Saint-Saëns, Bach, Britten, Caplet: Bridget Kibbey (harp), Chad Hoopes (violin), Grace Park (violin), Matthew Lipman (viola), Mihai Marica (cello), Green-Wood Cemetery, Brooklyn. 7.8.2018. (DS)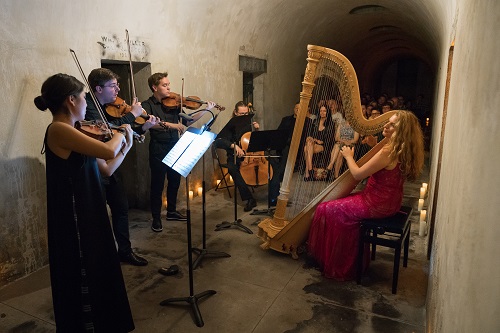 Debussy – Danses Sacrée et Profane
Saint-Saëns – Fantasie
Bach – Toccata and Fugue in D Minor
Britten – Lachrymae
Caplet – Conte Fantastique
Usually, it's a drag to discover that a thunderstorm will overtake one's anticipated evening out. But it was quite the opposite on a recent Tuesday night at sunset, when audience members hurried through the looming Gothic gates of Brooklyn's historic Green-Wood Cemetery, as lightning bolts flashed overhead.
The concert was the latest in The Angel's Share, a series presented in the dark and moody, candle-lit corridor of the cemetery's 19th-century catacombs. (The setting was worthy of any Brontë sister.)
Clad in a fitted red lace dress, Bridget Kibbey tuned her harp (explaining that it had absorbed humidity from recent storms) while the audience tiptoed to seats nestled in the ghostly, narrow passageway separating the family burial grottos of Van Rensselaer, Leary, and the like. Kibbey was soon joined by an exceptional string quartet (violinists Chad Hoopes and Grace Park, violist Matthew Lipman, and cellist Mihai Marica) for Debussy's Danses Sacrée et Profane. The results were fascinating: the strings resounded with a deep, mellow tone, unlike what might be found in a concert hall. And the catacomb space blended the ensemble's textures like no recording studio.
In Saint-Saëns' Fantasie, a duo by for harp and violin, the sonorous grandeur of this Victorian grave continued to reveal itself. Kibbey and Hoopes conquered this late Romantic showpiece with fiery artistry and perfection of technique. But in this Gothic setting, they gave Fantasie a second identity of excitable struggle and anxiousness, juxtaposed with the quietude of those departed from this world to the next.
Kibbey also paired with Lipman for Britten's Lachrymae. Lipman executed the composer's diverse variations with a command of compositional understanding, both deeply expressed and communicative. When combined with Kibbey's luscious strums, the duet resonated through the length of the eerie hallway.
Also on the program was Kibbey's own heroic version of Bach's Toccata and Fugue in D Minor, which she delivered with a plunge of gusto rivaling any organ. The whole ensemble finished with Caplet's Conte Fantastique, a tone poem from the early 20th century based on Edgar Allan Poe's The Masque of the Red Death. Unlike the frightened Prince Prospero in the story, the concert did not end with anyone's demise. Nevertheless, Caplet's dramatically gorgeous episode was nearly too perfect for this underground lair of the dead.
Daniele Sahr