France Baroque Itinéraire 2018 [4] – Bach: Amsterdam Baroque Orchestra / Ton Koopman (conductor). Église Abbatiale Saint-Cybard de Cercles, Périgord vert, France, 29.7.2018. (CC)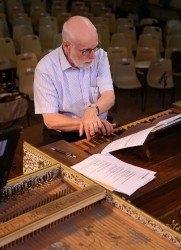 Bach – Suite No.3, BWV 1068; Brandenburg Concerto No.3, BWV 1048; Brandenburg Concerto No.4, BWV 1049; Suite No.4, BWV 1069.
And so, we arrived at the final event of Baroque Itinéraire 2018: an all-Bach concert.
With the orchestra strings arranged 5-5-2-2-1, the sound was on track for being perfect for the church (there was, in fact, a surprising heft to the lower strings). The contributions of the trumpeters to the Suites was particularly noticeable: the UK trio of David Hendry, Stephen Keavy and Jonathan Impett playing as a unit with impeccable pitching and balance – and with the odd perfectly controlled lip trill. The Orchestral Suites that framed the concert included a continuo-less and ultra-beautiful Air (on the G string, that is), and the most characterful oboes in the Fourth Suite's Bourée. Koopman has recorded these works a number of times, and the interpretations felt fully alive yet the product of full absorption: the bright, fast 'Réjouissance' from the Fourth Suite was remarkable.
It was good planning to enclose the two Brandenburg Concertos within the twin pillar of the Suites. The Fourth Concerto was an embodiment of joy in sound. Both recorders (Reine-Marie Verhagen – who we met earlier in the Festival in solo mode –and Inès d'Avena) were in ultra-communicative form with their colleagues; Catherine Manson flew in her speedy passages, but perhaps the highlight was the passage later on for concertante recorders and violin, so perfectly co-ordinated (the recorders were to Koopman's right, the violin to his left so there was a spatial component). Dynamic contrasts were superbly effected. The Third Brandenburg Concerto opened with beautifully warm string sound. Manson was superb again. This was no polite rendition: an interesting tremolando from Koopman at one point sounded like harpsichord thunder (he introduced a harpsichord glissando at the work's close, too).
It was fitting to close such a Festival with a celebration of Bach. This was Koopman and his Amsterdam Baroque Orchestra on top form. Superb performances to a packed audience spoke volumes as to the continuing success of Itinéraire Baroque.
Colin Clarke