United Kingdom Grimeborn Opera Festival 2018 – Fulham Opera's Lucia di Lammermoor: Soloists, Ben Woodward (piano) / Michael Thrift (conductor), Arcola Theatre, Dalston, London, 11.8.2018. (JPr)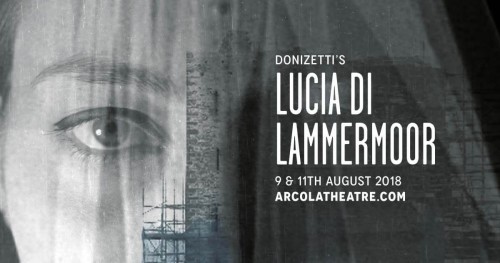 Production:
Director – Sarah Hutchinson after a production by Jim Manganello
Design and Costumes – Anna Yates
Lighting Design – Daniel Farr
Cast:
Nicola Said   – Lucia Ashton
Ashley Mercer – Enrico Ashton
Alberto Sousa – Edgardo Ravenswood
John Wood- Arturo Bucklaw
Simon Grange – Raimondo
Rebekah Jones – Alisa
James Bowers – Normanno
Fulham Opera Chorus – Kasia Andrzejewska, Patrizia Dina, Sue Low, Alice Pearson, Valerie Ketter, Ken Lewis
The Grimeborn Opera Festival advertises 'Bold new versions of classic operas. Rarely-seen and long-forgotten works. Brand new pieces from the most exciting up-and-coming composers, musicians and companies. Whether it's your first or your latest opera experience, you'll be right at home.' There seems to something for everybody willing to experience a different approach to opera and I was glad I was able to make a first visit to the welcoming Arcola Theatre in Dalston for Fulham Opera's Lucia di Lammermoor first seen in their Fulham home in 2017.
This Donizetti's opera is something I have only seen a couple of times since my first encounter with it at Covent Garden in 1985 when Joan Sutherland and Carlo Bergonzi sang Lucia and Edgardo. It is based on Sir Walter Scott's novel The Bride of Lammermoor and its original Scottish setting – depending on the edition – is either the seventeenth or early-eighteenth centuries. In short, two families, the Ravenswoods and the Lammermoors, are sworn enemies. Edgardo, a Ravenswood, has fallen in love with Lucia who is a Lammermoor– would you expect anything else? For political reasons, Edgardo needs to leave immediately for France but first – so they can marry – he hopes to resolve his difference with Lucia's brother, Enrico. Lucia tells him how impossible this is, and they exchange rings and take a sworn vow of marriage. Later, Enrico becomes politically compromised and to save the Lammermoors from ruin Lucia is forced into a marriage of convenience with the wealthy Arturo Bucklaw. (Spoiler alert) the story does not have a happy ending!
Nobody who has ever come to a Fulham Opera performance before would expect anything approaching the cut-out sets, tartan and kilts that framed my Sutherland/Bergonzi Lucia in 1985. Director Sarah Hutchinson has adapted Jim Manganello's original production for an underground studio at the Arcola Theatre which is as intimate as it can possibly be for a performance for a bel canto opera. Anna Yates's sets and costumes update what we see to relatively modern times and there are minimal props; a small square platform, a chaise longue, several covered chairs and a small china tea set with a cake – and that is about it. Strangely there were no mobile phones to be seen and people still seemed to communicate by writing letters – remember them? It might have been a good idea for Lucia to receive the fake news from Edgardo – to say he had forgotten her and taken a new lover – as a text or email!
Edgardo – looking rather like a game keeper with his flat cap – might be 'old money' compared to the 'new money' – and better dressed – Lammermoors. When we first see Lucia and her companion Alisa they seem dressed for a night out at Brentwood's Sugar Hut, famous from TOWIE on TV! Later Lucia is in street-style clothes with fashionable leggings or in a turquoise minidress or wearing Arturo's blood-spattered white shirt as she wields a large knife for her 'Mad Scene'. There was a hardworking chorus of just five (four women and one man) who filled in everywhere whether it was supposed to be a men's chorus or a mixed one. For the opera's second scene three of them stood still throughout representing a statue that reminded me of Dr Who's 'Weeping Angels'. At the end the whole cast sat still for the very final scene to represent Edgardo's ancestors at his family's graveyard. The most potent scene was the wedding scene – that had many memorable moments – culminating in Lucia being forced into a white dress and beneath a duvet as the preening Arturo gets ready to consummate their marriage.
The soloists were at a disadvantage with the small size of the performing space and the immediacy of the audience who were sometimes less than a metre from them. They still had to sing out using well-trained techniques more appropriate for a larger venue. Vocally it was more can belto than true bel canto singing, and though some singers were undoubtedly better than others nobody let the side down and everyone was committed 100% to the success of the evening. The running time of about two hours of music would suggest some modest cuts, nevertheless, Ben Woodward valiantly played what there was on an upright piano. It could not hope to do full justice to Donizetti's soundworld that originally utilised a glass harmonica for the 'Mad Scene'. As the performance went on it seemed to matter less and less, for me, that we were only hearing a piano so that is to the credit of Woodward, artistic director and co-founder of Fulham Opera. Michael Thrift wielded a baton though I was uncertain what this added as for most of the time the singers had their backs to him, but perhaps I was missing something here.
As the circumstances in which they were singing was not ideal I will resist forensically examining the individual performances. Nicola Said seems a delightful singer with her laser-bright top notes and hers was a nuanced, tensely eerie – and very bloody – 'Mad Scene'. She had by this point elicited much sympathy for her plight especially in our current #MeToo world. Ashley Mercer made Enrico into a thoroughly nasty piece of work and sang with a laidback Machiavellian style. Simon Grange's brought gravitas and a concerned mien to the chaplain Raimondo. John Wood gave Arturo – the husband Lucia is forced to marry and who she murders on their wedding day – considerable presence and his tenor voice seems to have some encouraging potential. As Enrico's 'military advisor' (as the programme described him) James Bowers isn't given much to work with by Donizetti and he sang sturdily. Given even less to do, Rebekah Jones caught the eye and ear as a caring Alisa.
Lucia di Lammermoor is a 'big sing' not only for the soprano but also for the tenor and Alberto Sousa showed that the opera's final moments – because of his impassioned two-part aria – doesn't have to be an anticlimax after Lucia's mental unravelling. Sousa had been the ardent lover and then suitably passionate and despairing about his lost love. In the end he made the tragedy of what we had seen as much Edgardo's as it was Lucia's.
Jim Pritchard
For more about Fulham Opera click here.
For more about the Grimeborn Opera Festival click here.