United Kingdom Company Wayne McGregor, Autobiography: Sadler's Wells, London, 26.7.2018. (JO'D)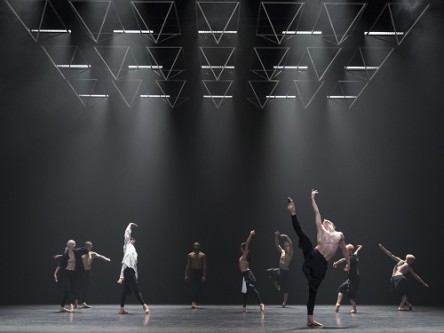 Dancers:
Jordan James Bridge, Rebecca Bassett-Graham, Travis Clausen-Knight, Louis McMiller, Daniela Neugebauer, Jacob O'Connell, James Pett, Fukiko Takase, Po-Lin Tung, Jessica Wright
Production:
Concept, Direction and Choreography – Wayne McGregor
Music – Jlin
Set Design and Projection – Ben Cullen Williams
Lighting Design – Lucy Carter
Costume Design – Aitor Throup
Dramaturg – Uzma Hameed
Autobiography Algorithm – Nick Rothwell
Autobiography (2017) is the first work by Company Wayne McGregor on which the writer and director, Uzma Hameed, has collaborated as dramaturg. This might explain its polished appearance and occasional but significant resemblance to Obsidian Tear (2016) and Woolf Works (2015), ballets created by Wayne McGregor, with Uzma Hameed as dramaturg, in his post of Resident Choreographer at The Royal Ballet.
If you read the programme notes, you will know that Autobiography shows sequences of choreography, created with the dancers, using elements from the choreographer's life: personal memories, poems, art and music. The sequences are selected in a different order for each performance by an algorithm based on McGregor's genetic code.
Titles projected at the start of each sequence say '1) avatar', '7) traces', '4) knowing', etc. At the performance I attended, however, the piece ended on a fittingly valedictory note. In a half-light and to gentle music, dancers come forward one by one or in pairs to face the audience before leaving the stage for the last time. This is very like the final section of Woolf Works (which has also been about a life) when the dancer who is Virginia Woolf prior to her suicide stands facing the audience. The similarity to the all-male Obsidian Tear comes in an earlier sequence that is a mini-Obsidian Tear.
In details of the choreography, too, Wayne McGregor seems to have brought much from the 'classical' dance company he has been associated with since 2006 to the 'contemporary' dance company he founded in 1992. Autobiography still contains the very flexible necks and shoulders, the bodies that collapse on themselves, the predilection for the 'six o'clock' extension. Yet alongside these are ballet's delicate jumps and leaps, its tours en manège, intimations above all of its port de bras.
Wayne McGregor's works for The Royal Ballet have been described by dance critic, Clement Crisp, as 'alien fatuities' and by former Birmingham Royal Ballet director, Peter Wright, as 'a dangerous distortion of classical ballet'. Yet even at The Royal Ballet, since 2015, Wayne McGregor's movement style has appeared less alien, less distorted, less personal. Autobiography which is, in part, about the choreographer looking back over the forty-eight years of his life, sees the 'classical' seeping in to the 'contemporary'.
'Dance doesn't have to be the priority,' Wayne McGregor once said. As a choreographer, he has often seemed as interested in costume, lighting and digital effects as in dance, and to the detriment of dance. Autobiography has its metal grid of inverse pyramid-shapes, designed by Ben Cullen Williams, hanging above the stage. But it is a grid that can be raised and lowered, swiftly and dramatically. It enhances rather than intrudes. The same is true, this time, of Lucy Carter's lighting and the (much-applauded) panoply of sound created by the electronic musician, Jlin.
For Obsidian Tear, a piece lasting twenty-nine minutes, seven fashion designers were employed. In Autobiography a single designer, Aitor Throup, uses variations on a theme of black, white and flesh colour to bring the different sequences together. The final variation shows some of the dancers almost naked, as if the garments they had worn as strong, supple avatars of Wayne McGregor in different stages of his life could be shed, transcendentally, as this version of an autobiography comes to an end.
John O'Dwyer