United Kingdom Grimeborn Opera Festival 2018 – Mark-Anthony Turnage, Greek: The Kantanti Ensemble / Tim Anderson (conductor), Arcola Theatre, Dalston, London, 15.8.2018. (RD)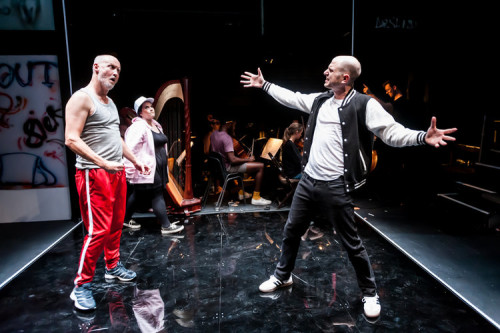 Production:
Director – Jonathan Moore
Design – Baśka Wesołowska
Lighting Design – Matt Leventhall
Cast:
Edmund Danon – Eddy
Philippa Boyle – Mum
Richard Morrison – Dad
Laura Woods – Sis/Wife
The Edinburgh Fringe may grab the laurels as the most famous and offbeat August hot ticket, but south of Watford Gap it would be hard not to put in a claim for Grimeborn.
This festival, whose 2018 Lucia di Lammermoor from Fulham Opera has already been praised by Jim Pritchard (review click here), will climax on Friday 24-Sunday 26 August with a compact version of Cavalli's Serse (Xerxes) by Ensemble Orquesta. They triumphed last season with Philippe Quinault's Armide and you don't get much rarer than that. Since its founding by Mehmet Ergen in 2007, a vital part of Grimeborn's whole ethic has been to revive and polish up overlooked or neglected opera repertoire. Hurrah.
Meanwhile following its launch with a freshly thought out The Rape of Lucretia from the highly intelligent and daring young German-born director, Julia Burbach. Grimeborn has served up a timed-to-the-minute 30th anniversary tribute to Mark-Anthony Turnage's opera/music theatre extravaganza Greek.
It was devised in conjunction with adapter/director Jonathan Moore, who staged the first version in 1988 and returned to produce this tight new London East End offering of an East End opera. For Steven Berkoff, to whose 1980 stagework the opera pretty faithfully sticks – famously shifts the action from chilling mythological Thebes to in-yer-face, 'you got a problem?' North/East London's Tufnell Park – not a million miles from the once rough urban backstreets of Dalston, where this festival's splendid theatrical and operatic base, the Arcola Theatre is to be found.
Berkoff – it's in his nature – is determined to be challenging and outrageous – the script is littered with expletives and general cursing – but his updated take on Oedipus Rex is as compelling and almost poetic as his wonderful handling, say, of Oscar Wilde's Salome (with him as a salivating Herod). Greek is not exactly a tale you would take your granny to, but Turnage and Moore relish, and rightly, the calculated and extremely funny offensiveness of this obscene retelling.
Turnage's cool dramatic sense has been seen, it is worth mentioning especially at this time, in his sombre and/or jarring four-act World War I Olivier award-winning opera The Silver Tassie, commissioned by ENO for the Millennium to a libretto by Amanda Holden based on Sean O'Casey. Greek draws breath at some key moments, but under the visibly and audibly proficient conducting of the Kantanti Ensemble by Tim Anderson, the 18-player orchestra (violinless: the violist and leader – Anna Growns – was on top, which had the effect of mellowing the score rather impressively – came across from their minute rear cubbyhole as crisp as a bell: always on the ball and almost constantly on the hoof. It's thrust and bustle nearly all the way.
Actually, Turnage uses the percussion (Tom Daley, a name to conjure with) to fine effect but with a degree of restraint. Three cellos, and a bevy of woodwind (including use of all three flute types. i.e. including alto flute and piccolo) produced a welter of mysterious and eerie, or at the other end shattering and ear-bashing, sounds that let one know this story isn't a picnic. Christian Blex, a real rising name and exciting new talent as a conductor, was Moore's assistant, and the fruits of both of their work on the full array of players and swingers were patently obvious. I should have mentioned the four brass by now – not least, perhaps, the two horns (Tom Pollock, Adam Howcroft) for whom Turnage writes rather beguilingly and at times mesmerisingly; and his use of harp to create atmosphere on the crucial – and fatal – journey was truly appetising.
Talking of Andersons, one should of course acknowledge Julian Anderson and Frank McGuinness's full-sized opera Thebans (ENO 2014, a co-production with Theater Bonn), which contrives to cement together elements of all three of Sophocles' Oedipus plays – Oedipus Rex, Oedipus at Colonus and (to a degree) Antigone – some disliked the compaction – into one miraculous and utterly convincing whole.
Equally, one should applaud the Royal Opera House for sticking its neck out with fresh and rare stagings – Hindemith's Mathis der Maler, Pfitzner's Palestrina, Martinů's The Greek Passion¸ Szymanowski's King Roger, and, of course, Enescu's massive Edipe.
Edmund Danon was the very opposite of Roland Wood's stolid Mycenean-era warrior-type in Anderson's version. Slim, lithe, frenetic, almost autistic, nerves so on edge that he put our nerves on edge, he was definitely an Eddy. However, whereas the triple chorus (hugely effective, and with great presence) could effectively fill out the neon-square lit minuscule Arcola stage, when Eddy was soliloquising he was, logically enough, usually on his own. It seemed a bit bald. He might have gained from some eye-catching background (apart from a black-clad band): there was a bit of playing around with a side TV screen, not particularly effectively or consistently employed: might a tree, say have been permissible in Tufnell Park? Actors need something to act round, even though Stratford's RSC Swan Theatre admittedly copes OK with an often empty apron stage.
Danon delivered a lot, and really proficiently, at the three-sided audience, yet one never felt he quite connected. In Oedipus, of course, since Athenian Theatre of Dionysus days, it is our job to watch his arrogance, his bullheadedness, his decline, his crippling uncertainty, his self-destruction. The Attic masks created a gap between protagonist and performers and the gracefully curved audience.
If I had a criticism of the opera, and probably the play too, it would be, apart from the failure here even to give masks to the busty two-headed sphinx (wonderfully and grotesquely sung by Philippa Boyle and Laura Woods) that Greek rushes too many of the cruxes. There was some stage business with a baby, but the death of Laius passed almost unnoticed, the Sphinx's question was, well, underwhelming (though Eddy's cocky reply was terrific). The duetting with 'Wife' (no 'Jocasta') was tender almost to the point of classic mid-19th century opera (or indeed modern Musical). Turnage can do the corny, as well as the jazzy, when he wants to.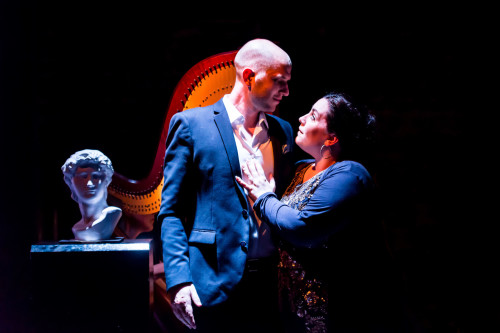 This Greek, with all its offensiveness spooned in, has been praised, and rightly, for many qualities: 'compelling; stylish, meticulous, watchable, engaging, outrageous'; for simmering anger and even for 'spiky tenderness (now there's a coinage). We were deafened at times; dazzled by the quite fabulous choreography of the chorus; touched by the amusing screwed-up, forever shifting faces of Boyle (Mum, and much more), the forceful delivery of Woods, and the wonderful, almost impish visual leadership of the sleek Morrison (Dad-plus). We were even moved when the 'adoptive' Dad and Mum (Sophocles' Polybus and Merope), so tender to the baby, resurface to spill the beans about 'Swollen-foot's real birth (no Messenger, Shepherd or Tiresias at the usual Sophoclean key points).
It's chip butty opera, of course, but the whole experience is a dazzling, staggering achievement, and in a way helped push forward (as Maxwell Davies' music theatre pieces did) the concept of what British opera could be. I took my nephew, who had never been to an opera. I think he was a bit aghast and nonplussed, but he tells me he'd definitely risk it again. I told him to try Puccini – any Puccini.
Roderic Dunnett