United Kingdom  Grundy & Sullivan, Haddon Hall: Soloists of the National Gilbert and Sullivan Company, National Festival Orchestra / Andrew Nicklin (conductor). Buxton Opera House, Derbyshire, 2.8.2018. (RJW)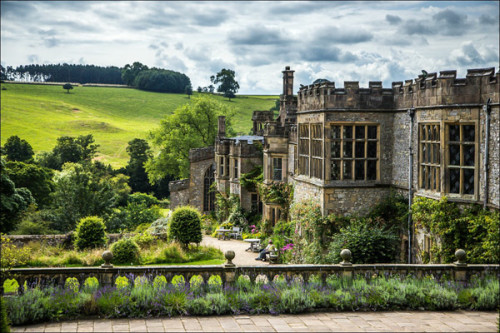 Cast:
John Manners –  Nicholas Sales
Sir George Vernon –  Donald Maxwell
Oswald –  David Menezes
Rupert Vernon –  Richard Suart
The McCrankie –  Bruce Graham
Dorothy Vernon –  Rachel Harland
Lady Vernon –  Katherine Marriott
Dorcas –  Bee Bradley
Production:
Director – Sarah Helsby-Hughes
Choreography –  Jackie O'Brien
Lighting – David Marsden
Scenery – Paul Lazell
This rarely heard comic opera and interesting performance is the first professional production since its D'Oyly Carte touring performances finished in 1899. It is worth mentioning that the opera's complex plot underwent changes following the initial London run. Grundy's book relates to the historical elopement of Dorothy Vernon with John Manners after her father Sir George Vernon objected to their association, a protestant marrying a catholic. As Grundy wished to introduce a chorus of Puritans to add an element of comedy, the action was moved forward a century. Improvements to Grundy's 'Olde English' text were deemed necessary for modern audiences and so a revised libretto was assembled in 1993 by David Eden and Martin Yates of the Sir Arthur Sullivan Society. The lyrics are generally left unaltered, but a reordering of certain numbers makes good sense; Act I flows well and advances the plot with ease. Act III is the least successful in providing good continuity yet the update is still an improvement over the original.
The prologue with a 'behind the scenes' chorus was nicely presented with a static cross-lit chorus behind a gauze that lifted in time for a well-choreographed opening dance to take place. This is one of Sullivan's best tunes of the opera and runs into a song by Dorcas and a charming madrigal. A scene for Oswald and Dorcas which originally followed is moved to Act III and Oswald's song 'Come simples and gentles' is re-assigned to John Manners (Nick Sales) to allow him an early entrance and provide uplifting stage business. His charisma comes across in his well-sung song, 'Sweetly the morn doth break' and later in the duet with Dorothy (Rachel Harland). They acted with conviction and looked well in their roles to prepare for a planned elopement. As might be expected Donald Maxwell was ideal in his role of Sir George and he was well supported by Katherine Marriott (Lady Vernon) who later gave a tender rendering of 'Queen of the Garden'.
An arrival of Cousin Rupert Vernon (a subdued version of the arrival of the Duke of Plaza Toro perhaps?) with accompanying trio of puritanical disciples carried more impact that I was expecting. This was brought about by the ideal casting of comedian, Richard Suart. These droll characters provided a good contrast in both character and appearance from that of the residents of the Haddon estate. Comedy really develops when a member of their band from a Scottish Isle arrives in Highland dress with bagpipes. Bruce Graham (an original D'Oyly Carte singer) as McCrankie builds up a good on-stage rapport with Richard Suart to lighten up the proceedings. The plot resolves itself economically in text to a happy-hereafter ending where the estranged Dorothy and her husband John Manners are accepted by Sir George in preference to Cousin Rupert as Dorothy's intended, especially since the King has consented that estate be held by Manners.
The production boasts excellent costumes, wigs and properties to authenticate the historical framework of the opera within an appropriate setting by Paul Lazell. Good use is made of large stone casements, lit within to provide an inviting glow during the storm in which the puritans are drenched. The sequence of storm music is long and because of this the lightning strikes might have been used more sparingly, with care not to spill on the borders. The thunder and rain helped the atmosphere.
Sarah Helsby Hughes has thought sensitively about the production and her staging is attractively layered. The inset scene benefits from its tapestry backing and the concept works well. (Perhaps the scene where Sir George's soliloquises over the loss of his estate to Rupert could have had tighter lighting to lose the surrounding set, but one has to remember that with different operas playing each night of the week compromises have to be made.)
In Ian Smith's on-stage address, mention was made of important fact that Festival management has not ignored the minority interests of the Savoyards by professionally presenting the full canon of G&S operas, Utopia Ltd and The Grand Duke included (with amateur versions of Thespis thrown in), but now one with Sullivan's different partnership. Sadly a sponsor for this opera pulled out unexpectedly so it was good to see that there was a respectable house at Buxton for this solo performance. There will only be one further opportunity to see this rarity in Harrogate in two weeks' time at the Royal Hall on 17th August.
Raymond J Walker