United States Tanglewood [7] – The Bernstein Centennial Celebration at Tanglewood: Audra MacDonald (host), Boston Symphony Orchestra joined by musicians from the New York Philharmonic, Vienna Philharmonic Orchestra, Israel Philharmonic Orchestra, Tanglewood Music Center Orchestra, Pacific Music Festival and Schleswig-Holstein Musik Festival / Christoph Eschenbach, Keith Lockhart, Andris Nelsons, Michael Tilson Thomas, John Williams (conductors), Koussevitzky Music Shed, Lenox, 25.8.2018. (RP)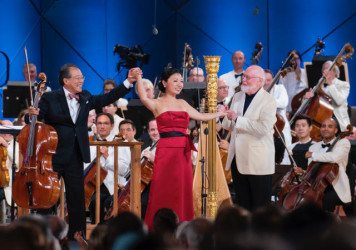 Program:
Bernstein – Overture to Candide [Andris Nelsons (conductor)]; Movement I Phaedrus; Pausanias from Serenade after Plato's 'Symposium' [Midori (violin), Christoph Eschenbach (conductor)]; 'Kaddish 2' from Symphony No.3: Kaddish [Nadine Sierra (soprano), Women of the Tanglewood Festival Chorus, Keith Lockhart (conductor)]; Meditation No.3 for cello and orchestra from Mass [Kian Soltani (cello), Christoph Eschenbach (conductor)]; Selections from West Side Story [Isabel Leonard, Jessica Vosk, Tony Yazbeck, Tanglewood Festival Chorus, Joshua Bergasse (choreographer), Michael Tilson Thomas (conductor)]
Mahler – 'Der Schildwache Nachtlied' from Des Knaben Wunderhorn [Thomas Hampson (baritone), Andris Nelsons (conductor)]; Finale from Symphony No.2 in C minor ('Resurrection') [Nadine Sierra (soprano), Susan Graham (mezzo-soprano), Tanglewood Festival Chorus, Andris Nelsons (conductor)]
Copland – Finale from Appalachian Spring [Michael Tilson Thomas (conductor)]
John Williams – 'Highwood's Ghost, an Encounter for Cello, Harp and Orchestra' [Yo-Yo Ma (cello), Jessica Zhou (harp), John Williams (conductor)]
It is part of Tanglewood lore that when Bernstein was on the podium Mother Nature cooperated. One of the few times that the fabled Bernstein Weather failed to materialize was on 19 August 1990, his final appearance here, when he led the Boston Symphony Orchestra in a program of Britten and Beethoven. Photographs show people on the Lawn huddled together trying to shield themselves from the wind and rain. On 25 August 2018, the100th anniversary of his birth, the weather was glorious and, as the evening progressed, a full moon shone brightly.
Charles D. Baker, Governor of the Commonwealth of Massachusetts, had proclaimed it Leonard Bernstein Day. He was born Louis Bernstein in Lawrence, MA, the son of Jewish parents Jennie and Samuel Joseph Bernstein, a hairdressing supplies wholesaler who had immigrated from Rovno, Ukraine. The father only yielded to his son's wishes to pursue music as a career once he had seen him conduct the New York Philharmonic in New York's Carnegie Hall.
Two hours before the concert, traffic was already backed up on the country roads that lead to the Tanglewood Music Center, and all the choice spots on the Lawn were taken. By concert time there was hardly a splotch of green to be seen on the vast expanse. The Shed had been sold out long before. The people that spilled out of the cars and buses defied any preconceived notions of who goes to classical music concerts in 2018.
There were people in fancy dress attending dinners and receptions before and after the concert. I spotted six young Chinese, wearing T-shirts, shorts and flip flops, sitting on newspapers without jackets or sweaters. The vast majority, however, came prepared for the evening chill and were enjoying picnic suppers, occupants of what many consider to be the best seats in the house.
The stage was just as crowded as the BSO was joined by members of other organizations with which Bernstein had long relationships: the New York Philharmonic, Vienna Philharmonic, Israel Philharmonic and Tanglewood Music Center Orchestra, as well as players from the Pacific Music and Schleswig-Holstein Musik Festivals. Sharing the podium with Andris Nelsons, the current music director of the BSO, were Christoph Eschenbach, long affiliated with the Schleswig-Holstein Festival founded by Bernstein in 1987, Bernstein protege Michael Tilson Thomas and the award-winning film composer and long-time director of the Boston Pops, John Williams, as well as his successor, Keith Lockhart.
A host of talent appeared, some of whom had performed with Bernstein, others who had never met the man. Violinist Midori was only fourteen when she performed his Serenade (1954) at Tanglewood with Bernstein conducting in a performance that was hailed as technically perfect in spite of the fact that she kept breaking strings and played on three different instruments. Cellist Kian Soltani, winner of the Schleswig-Holstein Musik Festival's 2017 Bernstein Award, wasn't even born in 1990.
The first half of the concert was all Bernstein; a sampling of works that showed his breadth as a composer. First up was the brilliant, effervescent Overture to Candide (1956), which under Nelson's baton not only glittered but sang. Midori reprised the first movement from the Serenade, one of his most lyrical orchestral works scored for solo violin, harp, string orchestra and percussion, playing with the beautiful tone and elegant musicianship for which she is known.
Soprano Nadine Sierra sang the second Kaddish from his Symphony No.3 (1963), her voice sublime and serene in the gentle setting of the Hebrew prayer that ends in a universal plea for peace. Soltani performed Meditation No.3 from Mass (1977) with Eschenbach conducting. This exciting young cellist fiercely negotiated the jagged music lines with the same pristine tone and intensity as he did the melodies floating above transparent accompaniments that only Bernstein could have composed.
Could it be a Bernstein celebration without music from West Side Story (1957)? It's a safe bet that everyone in the audience knew every word and note of music – The Jets and the Sharks, edgy and cocky, vying for control of their turf, Tony Yazbeck's passionate, prayer-like 'Maria', Broadway star Jessica Vosk teaming up with opera diva Isabel Leonard for 'A boy like that – I have a love' and the soaring strains of 'Tonight'. If he had only composed this one work, Bernstein would still have been one of the most important composers of the twentieth century.
The second half of the program featured works associated with Bernstein the conductor. Thomas Hampson, one of Bernstein's Mahler singers of choice, sang 'Der Schildwache Nachtlied' from Des Knaben Wunderhorn with Nelsons conducting. Hampson's baritone is still fresh and vibrant, and he gave full voice to the complex emotions of the song in which militaristic trumpet calls and drum rolls alternate with the tender music of love and a home far away.
Thomas returned to conduct the Finale of Copland's Appalachian Spring. Copland headed the composition faculty at Tanglewood for 25 years and his ashes were scattered on its lawn after his death, just weeks after that of Bernstein, his former student, champion and lifelong friend. The Shaker tune 'Simple Gifts' that Copland worked into the movement speaks of an earlier, idealized America, and on this warm summer evening, its crystalline strains were a soothing balm.
The only new work on the program was Williams' Highwood's Ghost, commissioned by Nelsons and Yo-Yo Ma to commemorate the Bernstein Centennial and premiered by the Tanglewood Music Center Orchestra a week earlier. It was inspired by a story Bernstein told about a ghost sighting in Highwood, a house on the Tanglewood grounds. For this performance Ma was joined by the BSO's principal harpist Jessica Zhou. Bernstein had introduced Ma to President John F. Kennedy and the world in 1962 during a benefit concert at the White House that celebrated the importance of creative expression in the United States of America.
The final piece on the program was the Finale from Mahler's 'Resurrection' Symphony with Sierra and mezzo-soprano Susan Graham, who had performed in Mahler's Third Symphony the prior evening. (See review.) Bernstein's highly personalized reading of the symphony, which was the first major work that he conducted with the BSO in 1948, was hailed as 'one of the musical touchstones of our time'. Nelsons unleashed the musical forces of the masses of instrumentalists and singers on stage in a triumphant, transcendent finale to end all finales.
The show was not quite over, however. Audra McDonald, who had moderated the evening with just the right mix of awe-shucks wonder and wit, stilled the audience by singing the words 'There's a place for us'. The other singers took up the song, but the final verse was sung by everyone on stage including Yo-Yo Ma. The look on his face as he sang the final 'Somehow' will be with me always.
Rick Perdian