United Kingdom PROM 56 – Mozart and Bruckner: Benjamin Grosvenor (piano), BBC Symphony Orchestra / Sakari Oramo (conductor), Royal Albert Hall, London, 24.8.2018. (AS)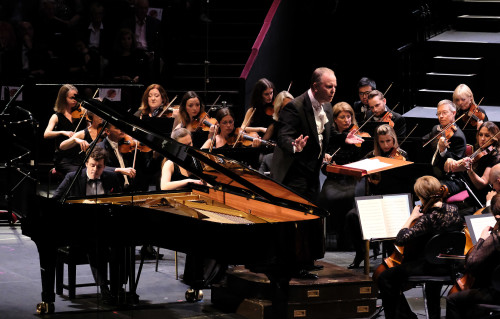 Mozart – Piano Concerto No.21 in C, K467
Bruckner -Symphony No.5 in B flat minor (Haas/Nowak edition)
It is not uncommon for a Mozart piano concerto to be programmed as the item to begin a concert containing a long Bruckner symphony, and it is a combination that works quite well.
Oramo conducted a nicely shaped introduction to the concerto, and Grosvenor responded with some mercurially fleet playing, bright, charming and technically on a high level. It wasn't a response that dug deeply into the music, but no matter, since it was satisfying in its own terms. And that is how the performance proceeded. No deep-thinking ruminations, but pleasant, stylish, accomplished music-making that gave much pleasure. An exception was the first-movement cadenza by Wilhelm Kempff, a noted twentieth-century pianist and composer, who should have known better than to have created such an out of style contribution to the work.
It's difficult to dissociate the music of the slow movement from the Elvira Madigan film in which it featured so strongly, not only because of the film itself, but because the music achieved a popularity denied to the outer movements of the concerto. So much so that in the old days when people went to shops to buy records they would refuse to purchase the complete work and only wanted to have the middle movement.
Grosvenor's performance of this movement differed from the famous Géza Anda recording featured on the film soundtrack, in that it was far less inward, far less a search for the music's presumed inner meaning. Instead it was a pleasantly played interlude, tastefully ornamented at some points. In line with the rest of his performance, Grosvenor gave a lively, uncomplicated and agreeable account of the concerto's finale. His encore performance of Rachmaninov's 'Lilacs' Op.21 No.5 was delightfully warm and poetic.
Some admirers of Bruckner's symphonies find the Fifth Symphony to be singularly problematic. It certainly seems a work that is very different from all the other mature symphonies, denser in construction, more apparently episodic and rather lacking in the long-limbed melodic lines often to be found elsewhere in the composer's symphonic output. What it does seem to need is a strong hand at the tiller, a controller who has the ability to see the long picture and bring together material that seems to be somewhat disparate, though of course Bruckner generally likes to use contrast as a means of heightening tension and expression.
At once Sakari Oramo seemed to be aware of what was needed. The mysterious, quiet, slow opening of the work was cleverly unfolded, and when the full orchestra soon burst forth it did so in a magnificently sonorous but disciplined fashion. And as the movement proceeded Oramo showed great skill in pacing the different elements of the music in a fashion that drew them together satisfactorily. Not least he showed that he is a master of those moments when Bruckner demands a pause: his timing of those brief lengths of silence was just right.
The slow movement poses its own particular problems for a conductor, since there is an underlying contrast of triple and four-in-a-bar rhythms. Again, Oramo kept a clear line throughout, and progression through the changing moods of the movement seemed quite natural. Perhaps he didn't prevent a feeling that the opening material of the Scherzo comes back at least once too often, but he did his best to keep the momentum going between it and the music of the movement's other sections.
The finale may well be the most difficult movement for the conductor, since episodic contrasts seem to proliferate even more than before, but here Oramo's timing and pacing were again impressive, and he made good use of his final release from care in a triumphantly blazing end of work climax.
Alan Sanders