United Kingdom Prom 57 – On the Town (Music by Leonard Bernstein, Book and Lyrics by Betty Comden and Adolph Green) concert performance: Soloists, Students from ArtsEd, London Symphony Orchestra / John Wilson (conductor), Royal Albert Hall, London, 25.8.2018. (JPr)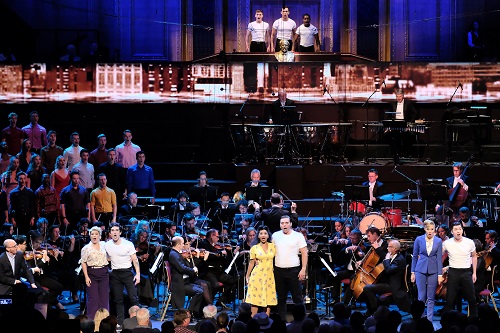 Cast included:
Nathaniel Hackmann – Gabey
Louise Dearman – Hildy
Nadim Naaman – Ozzie
Celinde Schoenmaker – Claire de Loone
Fra Fee – Chip
Siena Kelly – Ivy Smith
Barnaby Rea – First Workman/Judge Pitkin
Claire Moore – Madame Dilly
Kerry Shale – Narrator
Martin Duncan – Stage Director
There has been lots written about Leonard Bernstein in his centenary year by many more knowledgeable than myself and all I can add is to publicise again an anecdote about one of recorded music's great missed opportunities. The celebrated British tenor Alberto Remedios – who is sadly no longer with us – impressed Bernstein once when he was singing in America and some years later he wanted him to sing Tony in his recording of West Side Story and just told the record company to get the tenor with the Spanish name – and they hired José Carreras! The rest is history including the subsequent, difficult to watch, documentary about that recording where Bernstein doesn't come out of it very well in his treatment of the Spanish tenor he had actually got.
Bernstein is one of the most widely performed composers of the twentieth-century – and never more so than this year of course – and his compositions close the gap between classical and popular music. The energy in what he wrote is something we more often associate with jazz, and there often are some very memorable melodies and always a great theatrical flair; most notably in his scores for the musical stage, such as, this 1944 On the Town. Although it developed from his music for Jerome Robbins's ballet Fancy Free, On the Town does not really seem to have been as successful as its reputation might have you believe. It is a very simple story of three sailors on 24hour shore leave to explore the delights of New York and to 'hook up' with some girls. It is surprisingly licentious for its time and very tuneful, with the young Bernstein's blend of Stravinsky, Prokofiev and Mahler doing full justice to Betty Comden and Adolph Green's lyrics. MGM's money for the movie rights paid for the original stage production but Stanley Donen's 1949 film – with its cast led by Gene Kelly and Frank Sinatra – replaced much of Bernstein's score and all but four of the songs because it was all 'Too avant-garde'! I am grateful to David Benedict's programme note for this information and must add that I have seen no version of On the Town before. My only experience is seeing 'New York, New York' from that film many, many, times in various compilation programmes.
I must say what a worthy tribute this was to Bernstein. It was a pleasure to be in the company of such a talented ensemble of singers and musicians. In any interviews I have seen conductor John Wilson comes over as knowledgeable and quietly spoken, but on the podium, he always seems more like the André Rieu of – often disinterred – musicals, yet without the hair or the violin! He does like to put on a show and here he was supported by an excellent cast (bolstered by a chorus of ArtsEd students) all with superb American accents, a high-octane semi-staging – in clothing hinting at the 1940s – from the experienced Martin Duncan and the outstanding musicianship of the London Symphony Orchestra. Notable was some virtuosic contributions from guest leader John Mills's violin, Philip Cobb's trumpet, Howard McGill's sax and Elizabeth Burley at the piano. On the Town was broadcast live on BBC Radio 3 and BBC Four, so anyone can still see it for a total of 30 days via the BBC Proms website, so it might be possible to see for yourself how good this was.
A lot of thought had gone into this presentation – but it could have been even more memorable. There should have been some simple choreography for – at least one of – the dance interludes to make them seem less interminable, regardless of how evocative they were of a bustling daytime city or its bluesy nightlife. I suspect the original book was shorn of much of its dialogue that could have helped 'flesh out' what we were seeing. There was a narrator (Kerry Shale) who seemed to be missing a script and did little but sit on the side of the stage, say an occasional scene-setting sentence, or shout out 'Calling all cars!'.
Sailor Gabey, played by Nathaniel Hackmann, becomes enamoured with the fantasy of 'Miss Turnstiles' Ivy Smith – from the subway poster he has seen of her – and devotes the few hours he has to finding her. He eventually tracks Ivy down and discovers she is a 'cooch dancer' at Coney Island. Siena Kelly's Ivy was winning and likeable and Hackmann is someone now to look out for in future because of an eloquent voice that is somewhat reminiscent of Howard Keel. He made his soliloquy 'Lonely Town' a real high point of the show.
Though channelling Bernadette Peters – a famous Hildy of a past generation – Louise Dearman made her portrayal of the libidinous sailor-abductor absolutely her own, stealing nearly every scene she was in and giving wonderfully seductive renditions of 'Come Up to My Place' and 'I Can Cook, Too'. As Claire De Loone(!) the anthropologist studying early man and someone who can't keep her academic hands off one of the sailors – Nadim Naaman's muscle-bound Ozzie – the Amazonian Celinde Schoenmaker was like a praying mantis eager to mate and then devour the male of the species. The plot has their first amorous encounter ending with the demolition of a dinosaur's skeleton. At the centre of the Royal Albert Hall's row of LED screens a silhouette of such an exhibit amusingly fell apart to Bernstein's illustrative music. This was another area where this staging was lacking. Too little use was made of these screens other than just to hint at some appropriate visual imagery, often in sepia, but sometimes in garish primary colours. Celinde Schoenmaker got to lead one of the sublime songs the movie omitted, the melancholy ballad 'Some Other Time'.
Another to make a strong impression is Fra Fee as Chip, the sailor who Hildy ensnares, and I must give a special mention to the splendid Claire Moore as the bogus, drink-sodden, singing teacher Madame Dilly. Barnaby Rea's distinguished bass voice brought more authority to Claire's middle-aged, cuckolded and indifferent fiancé, Judge Pitkin, than his character, who says he 'understands' her predilections, probably deserved. However, at the start we see Rea as the First Workman singing 'I Feel Like I'm Not Out of Bed Yet' and – mindful of all the furore over the recent Proms West Side Story – isn't that something someone of a rather different heritage should have sung?
My final word goes to the brilliant students from ArtsEd who had a significant part to play throughout. They had been very well prepared and seemed to be having the time of their lives. Kudos to Casey Al-Shaqsy, Shem Hamilton and Nadia Johnson who stepped out for more prominent moments in the spotlight. The latter, especially, was an endearingly sneezy Lucy Schmeeler.
Jim Pritchard