United Kingdom PROM 34 – Walton, Copland, Britten and Barber: Sally Matthews (soprano), BBC Philharmonic Orchestra, /Juanjo Mena (conductor), Royal Albert Hall, London, 8.8.2018. (AS)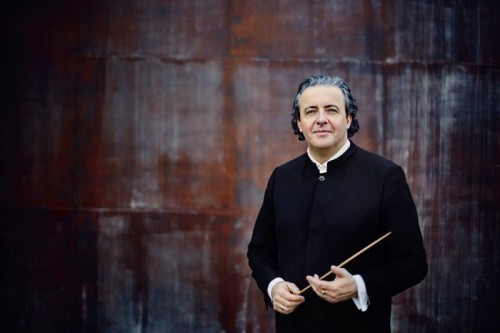 Walton – Overture, Portsmouth Point
Copland – Connotations
Britten – Les illuminations, Op.18; Four Sea Interludes from Peter Grimes, Op.33A
Barber – Antony and Cleopatra – Two Scenes
This interesting programme was the last to be conducted by Juanjo Mena as the BBCPO's Chief Conductor. He departs after seven years of solid and successful achievement.
Two of the works, the Copland and the scenes from Barber's opera, were receiving first performances at the Proms. In the case of Connotations, this is perhaps surprising, since the work caused a lot of controversy when first performed. It was written for the inaugural concert in the newly opened concert hall within Lincoln Center in 1962 and might justifiably have possessed a quality of outgoing celebration. Instead, Copland wrote one of his toughest and most uncompromising orchestral scores, using a form of 12-note serial technique. Tough though it may be, it is still distinctively the work of Copland in its use of pungent rhythm, its sharp, brilliant orchestration and its confident, assertive energy. In one movement, with five contrasted variations on basic material initially stated, it works very well, though the third, moderately paced episode seems too long for its substance, or at least it did in this otherwise efficient performance: here there were outbreaks of fidgeting and coughing that usually indicate that music is losing its audience's interest.
Samuel Barber's 1966 opera Antony and Cleopatra, with a libretto by Franco Zeffirelli adapted from Shakespeare's play, was also written for another opening within Lincoln Center, in this case the new Metropolitan Opera House. It was not a success; the blame being laid on Zeffirelli's over-fussy production.
Barber rescued two scenes sung by Cleopatra, and these were memorably recorded by two of the opera's original performers, the soprano Leontyne Price and the conductor Thomas Schippers. It was difficult to banish their performance from one's memory when listening to Sally Matthews's singing. Juanjo Mena brought out the music's lusciously dramatic neo-romantic qualities well, and Matthews' strong soprano voice was expressive, passionate even, but her delivery lacked the last ounce of communication, partly because she seemed slightly more involved with the rise and fall of the music than the specific dramatic content of the texts.
Britten's Les illuminations was also only a partial success. Sometimes the playing of Britten's score (for strings only) was a little inexact, and while Matthews again sang with plenty of power and conviction, her rather strong, quite rapid vibrato caused top notes to become a little shrill, and in fast-moving sections it sometimes caused notes to be insufficiently and individually defined, Furthermore, her pronunciation of Arthur Rimbaud's pungently agonised French text left something to be desired.
The concert had begun with Walton's first published work, his Portsmouth Point Overture. The programme helpfully reproduced the Thomas Rowlandson etching that inspired this piece, neatly described by the note as 'a slice of colourful, rowdy, alcohol-lubricated life on an eighteenth-century quayside'. This piece is surely a masterpiece not only of rhythmic contrasts and brilliant orchestration but of compressed sonata form construction, and it's a pity that it is played much less than it used to be. Mena's performance, alas, was just a bit too hasty, so that the work's sharp rhythms and precise scoring became rather blurred, the players obviously not feeling comfortable through having to play at such a rate.
Mena's envoi to his orchestra took the form of the Four Interludes from Britten's opera Peter Grimes. This produced the best playing of the evening. The opening 'Dawn' potently evoked the atmosphere and the reserves of power awaiting the full awaking of daytime; in 'Sunday Morning' the swinging brass and clashes of tonality within the orchestra were brilliantly realised; the dark menace of 'Moonlight' came across vividly, and the final 'Storm' raged furiously.
Alan Sanders