Germany Munich Opera Festival 2018 [8] – Wagner, Götterdämmerung: Bayerische Staatsoper Chorus and Orchestra / Kirill Petrenko (conductor), Nationaltheater, Munich, 27.7.2018. (JMI)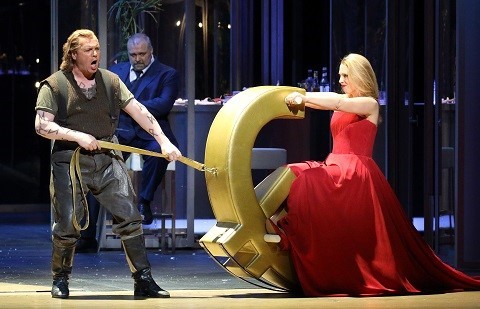 Cast:
Brünnhilde – Nina Stemme
Siegfried – Stefan Vinke
Hagen – Hans Peter König
Alberich – John Lundgren
Gunther – Markus Eiche
Gutrune – Anna Gabler
Waltraute – Okka von der Damerau
Norns – Okka von der Damerau, Jennifer Johnston, Anna Gabler
Woglinde – Hanna-Elisabeth Müller
Wellgunde – Rachael Wilson
Flosshilde – Jennifer Johnston
Production:
Direction – Andreas Kriegenburg
Sets – Harald B. Thor
Costumes – Andrea Schraad
Lighting – Stefan Bolliger
Munich's Wagner Tetralogy has come to a spectacular and perfect end. I have rarely seen such a spontaneous and enthusiastic reaction in an opera house as the one that took place here. Everything worked remarkably, but there were two real heroes: Kirill Petrenko and Nina Stemme.
The production is the well-known one by Andreas Kriegenburg which premiered here in June 2012 under Kent Nagano. I wrote about it again three years ago with Kirill Petrenko conducting. (review)
What can one say about Kirill Petrenko's leadership? Impressive, magnificent, exciting…one runs out of superlatives, especially for the final act. Today, for me, no other conductor can be ranked higher. Emotion has been always present in his conducting, and he has also shown that he is a real anti-divo. He refused to stand apart from his musicians to be honored by the public, and Nina Stemme almost had to pull him out of his position on stage to receive his well-deserved and thunderous ovation. The orchestra was once again magnificent, and I must also highlight the performance of the chorus.
Nina Stemme stood out as Brünnhilde in one of the best performances I have ever seen from her. Her Immolation Scene was something to be remembered for a long time. Power and emotion were always present in her singing as one can expect from debatably the best Brünnhilde of today and one of the greatest in history. The audience gave her a thunderous ovation at the end, with everyone standing up as if moved by a spring.
Stefan Vinke was a Siegfried who could cope with the difficulties of the role, and was at his best in Act III. His voice does not have the brightness of a couple of years ago, but he is still an admirable Siegfried.
Hans Peter König's voice has been reduced considerably in recent times. Markus Elche did well as Gunther in terms both of singing and acting, and the same can be said of Anna Gabler as Gutrune.
Okka von der Damerau was an excellent Waltraute, singing with emotion and much more impressive than she was as Erda in Siegfried. She was also the First Norn, and perfect in the role.
Baritone John Lundgren did well in the part of Alberich, and the Rhine daughters were nicely interpreted by Hanna-Elisabeth Müller, Rachel Wilson and Jennifer Johnston, who doubled as the Second Norn.
The theatre was fully sold out, and the final ovations lasted for some 25 minutes.
José M. Irurzun