United States Roger Waters/Julien Bilodeau, Another Brick on the Wall: Soloists, Members of the Cincinnati Symphony Orchestra / Alain Trudel (conductor), School for Creative and Performing Arts, Corbett Auditorium, Cincinnati, Ohio. 31.7.2018. (RDA)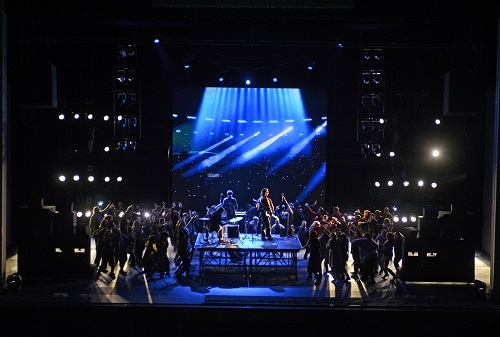 Cast:
Pink – Nathan Keoghan
The Mother – France Bellemare
The Wife – Caroline Bleau
Vera Lynn – Reilly Nelson
The Father – Jean-Michel Richer
The Teacher – Brandon Scott Russell
The Prosecutor – Michael Young
The Judge – James Eder
Production:
Concept and Stage Direction – Dominic Champagne
Stage Director – Suzanne Crocker
Scenic Designer – Stéphane Roy
Costume Designer – Marie-Chantale Vaillancourt
Lighting Designer – Anne-Catherine Simard-Deraspe
Original Lighting Designer – Étienne Boucher
Video Designer – Johnny Ranger
Video Programmer – Olivier Ouellet
Sound Designer and Numeric Orchestration – Louis Dufort
Props Master – Madeleine Saint-Jacques
Theatrical Advisor – Normand Baillargeon
Wig and Makeup Designer – James Geier
Chorus Master – Henri Venanzi
Choreographer – Oğulcan Borova
In 2017, French-Canadian composer Julien Bilodeau took the music and text of The Wall, a rock opera by Julien Waters of Pink Floyd, and went to work on an operatic adaptation. Now, a year after its premiere in Montreal, Bilodeau and several collaborators, in his words, '…have had to take two steps back and improve it.' The results were presented in Cincinnati's Music Hall in July.
Another Brick on the Wall is a huge undertaking. Its sizeable cast of eight principals and a massive chorus sings and acts with gigantic visuals behind them. There are undertones of social protest in the text, as well as in the images projected onto the set. Themes of alienation, drug use, war, political repression, and countless others are visited throughout the show, which lasts two-and-a-half hours. Against that backdrop, the troubled (and troubling) story of Pink is told in a series of hallucinatory scenes in which the central character is buffeted by society; he is either embraced or spurned by friends and family, who become either healing or toxic influences in his harrowing journey.
The cast and chorus were exemplary. As Pink, the wonderful baritone Nathan Keoughan did most of the heavy lifting throughout the evening. France Bellemare and Jean-Michel Richer as the parents, CCM grad Brandon Scott Russell as the Teacher, Caroline Bleau as The Woman, Cincinnati Opera Young Artists Reilly Nelson and James Eder as Vera Lynn and The Judge, respectively, and Michael Young as The Prosecutor — each and every one were faultless.
The music comes from a number of worlds. My ears picked up hints of Philip Glass minimalism, Kurt Weill cabaret gestures, and occasional Mahlerian outbursts. As such the score might please some, but annoy others. In Montreal, rock purists dissed it, denying its 'rock-ability'. Nevertheless, in the Cincinnati audience, some rose to their feet at the end, which indicates a collective expression of approval.
From me, Another Brick on the Wall gets earnest wishes for a long life in the contemporary opera repertory. And Cincinnati Opera's Artistic Director Evans Mirageas gets heartfelt thanks for his courage in programming not one but two contemporary works in this just-concluded season.
Rafael de Acha