United Kingdom Gilbert & Sullivan Festival [4] – The Pirates of Penzance: Soloists of the National Gilbert and Sullivan Opera Company, National Festival Orchestra / Andrew Nicklin (conductor). Royal Hall, Harrogate, Yorkshire, 19.8.2018. (RJW)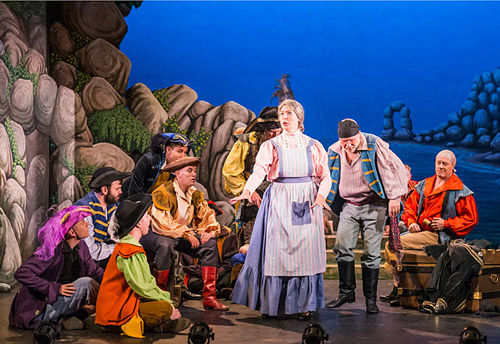 Production:
Director — Richard Gauntlett
Choreographer — Danielle Dowsett
Wardrobe — David Morgan
Lighting Design — David Marsden
Scenic Designer — Paul Lazell
Cast:
Major General Stanley — Richard Gauntlett
Pirate King — Eddie Wade
Samuel — Stephen Godward
Frederic — Nicholas Sales
Sergeant of Police — Matthew Kellett
Mabel — Ellen A Willlams
Edith — Jennifer Parker
Kate — Stephanie J Poropat
Isobel — Alexandra Hazard
Ruth — Mae Heydorn
A new introductory passage to the start of the Overture made me wonder if we were in for a Papp version but a well-played conventional overture followed.
The Cornish rocky seashore opened with a rendering of 'Happy Birthday' to Frederic as he is released from his indentures. The scene is effective with nice groupings and Samuel found sitting on a treasure chest, knitting. Ruth (Mae Heydorn) explains clearly and with conviction the mix-up of getting Frederic apprenticed to a Pirate instead of a Pilot because she is hard of hearing. I did wonder how the bevy of General Stanley's daughters could be surprised at discovering Frederic when they thought themselves alone because two of them have previously peeped round the rocks prior to their entrance. Their stage routines are excellently conceived and use their parasols effectively. Meanwhile Mabel sitting on a rock is absorbed in her book and ignores the girls' activity until they rebuff the advances of Frederic. Mabel's waltz aria is superbly sung with soaring top notes by Ellen Williams.
The interaction between the Major and Pirate King works well but I don't like a stage character stepping out of their 'world of make-believe' to communicate with the conductor — comic opera is not panto. Danielle Dowsett's new stage routines for the chorus were fresh and the activity surrounding 'I'm telling a terrible story' gave interest. 'Hail Poetry' revealed the full strength of the company in a glorious rendering and the Act I ended with energy.
The setting for Act II in Paul Lazell's gothic ruins of Tremorden Castle with misty blues and the daughters in nightgowns huddled round their father was effective. The double chorus, 'Tarantara', was well sung and the Sergeant of the Police, of modest height, commanded with the usual insecurity. The Paradox trio by Frederic, Ruth and the Pirate King had good stage presence and was nicely sung. A balletic 'Sighing Softly' had the police concealed behind broad branches and within a costumed cow. At the end of the number the rear end of the cow stood up with udders dangling that brought unexpected amusement.
The performance was strong in delivery of Sullivan's delightful music and energy in the acting.
Raymond J Walker