United States Tanglewood [2]- Bernstein, Sibelius: Soloists, Boston Symphony Orchestra / Bramwell Tovey (conductor), Koussevitzky Music Shed, Lenox, 4.8.2018. (RP)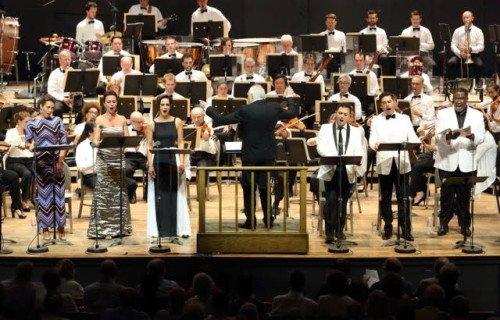 Bernstein – Songfest
Soloists: Nadine Sierra (soprano),  Isabel Leonard and Kelley O'Connor (mezzo-sopranos), Nicholas Phan (tenor), Elliot Madore (baritone) and Eric Owens (bass)
Sibelius – Symphony No.2 in D, Op.43
With Songfest, my personal commemoration of the Bernstein Centennial is all but complete. My quest has been to experience those big works from the 1970s that never found much critical or popular acceptance: A Quiet Place, Mass, Songfest. I thought of them as giant birds, almost incapable of flight, but have reassessed works that I only knew from recordings, none more so than Songfest.
Songfest is Bernstein at the height of his powers, setting works by poets who span the American experience, from Anne Bradstreet, a Puritan who crossed the Atlantic Ocean in a wooden ship, to Julia de Burgos, the twentieth-century Puerto Rican poet. It ends with a hymn to the eternal as captured in Edgar Allan Poe's 'Israfel', a poem about the angel to be found only in the Koran, 'whose heartstrings are a lute, and has the sweetest voice of all God's creatures'.
That's a lot to pack into some 40 minutes of music, but Bernstein did it with aplomb. Songfest opens with a Copland-like brass fanfare, but that was just to get your attention. What follows is fresh and fascinating music full of the beautiful, soaring melodies, energetic rhythms and scintillating orchestrations that were his trademark. Most of all, they are the sounds of America.
To give voice to the words and music, Tanglewood assembled a sextet of singers who rank among the finest of the day and also represent today's America, ethnically and racially. Musically that's immaterial (I'm sure it was in the hiring too), but the visual impact was potent. Just take a look at the illustrious cast of singers that Bernstein handpicked for the premiere to see how times have changed.
The singers brought a sassiness to the performance that got to the very soul of Songfest, ranging from soprano Nadine Sierra's sensuous singing in 'A Julia de Burgos' to the profound, as Eric Owen's majestic bass gave voice to Walt Whitman's 'To What You Said'. Sentimentality was added by mezzo-sopranos Isabel Leonard in the setting of Conrad Aiken's 'Music I Heard with You' and Kelly O'Connor in Edna St. Vincent Millay's 'Sonnet: What lips my lips have kissed…' (purportedly the composer's own personal favorite).
There was frisson too, as when Leonard joined baritone Elliot Madore in the powerful duet that juxtaposed Langston Hughes' 'I, Too, Sing America' and June Jordan's 'Okay 'Negroes''. Earlier Madore had sung the wonderful string of words 'A car upon the counter moved among the licorice sticks and tootsie rolls' from Lawrence Ferlinghetti's 'The pennycandystore beyond the El'. And, of course, there was humor, provided by tenor Nicholas Phan in 'Zizi's Lament', a poem by Gregory Torso, one of the youngest writers of the Beat Generation.
That brief flash of brass in the opening measures of Songfest was perhaps less of a tease than a foreshadowing of what was to come in Sibelius' Symphony No.2. It also linked to the centennial commemoration as Bernstein conducted a performance of it with the Tanglewood Music Center Orchestra, made up of the TMC's young instrumental Fellows, in 1986. Tanglewood isn't just a summer concert venue, it is one of the world's great training grounds for young musicians.
Bramwell Tovey led a majestic, monumental performance of this surefire crowd pleaser. It's one of those rare works that was popular from the start and has remained so. The symphony is a long series of climaxes spanning across four movements that leads to a triumphant conclusion. Each phrase, however, was meticulous shaped, building upon the layers of sound that Sibelius combined to such brilliant effect.
The brass and solo tympani feature prominently throughout but dominate the Finale. As the last notes resounded through the hall, the audience jumped to its feet. Tovey's first order of business was to bid the brass and tympanist to stand and acknowledge the thunderous ovation. It wasn't all for them, but a fair share of it was.
Rick Perdian