TEN NEW DEBUSSYS PROJECT CELEBRATES DEBUSSY'S CENTENARY
 Venue: St. Saviourgate Unitarian Chapel (York) – Saturday 1 September 2018, 7.30PM
Marking the centenary of Debussy's death, on Saturday 1 September the York Late Music Concert Series presents Ten New Debussys, an evening of new music inspired and framed by works by the French composer.
Highlighting the theme of the whole 2018 York Late Concert Series, which aims to explore contemporary music and its relationship with the 20th century repertoire, at the core of the recital are ten premieres, including five Late Music Series new commissions. The new pieces are all approximately five minutes long, all beginning with a minute of a Debussy solo piano piece. They then audibly develop the music away from their 20th century inspiration, and into each contemporary composer's own soundworld. The programme is topped and tailed by music by Debussy.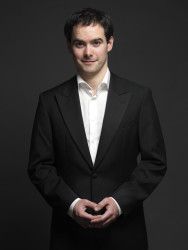 Bringing to life the new compositions, as well as the concert's 20th century frame, is acclaimed interpreter of contemporary music British pianist James Willshire, who is currently involved in the Debussy 2018 project, presenting complete cycles of Debussy's solo piano music throughout the year across the UK.
The contemporary composers involved in the Ten New Debussys project are both established figures and rising stars, and half of them are women, following Late Music Series' 2017 successful commitment to deliver a season featuring 50% of female composers and performers. Names include, among others: Belize-born British composer Errollyn Wallen – who was made MBE in 2007 and was the first black female composer to have her music performed at the PROMS in 1998; Robin Holloway, whose Fifth Concerto for Orchestra was also premiered at the PROMS in 2011; Welsh composer and flautist Lynne Plowman, the winner of the British Composer Award in 2013 for her first opera Gwyneth and the Green Knight; Late Music Series Artistic Director David Lancaster; 2016 Paul Hamlyn Foundation Award recipient Irish composer Ailís Ní Ríain; Michael Parkin – one of the founders of York's contemporary music organization Soundpool, devoted to promoting new music and delivering educational projects throughout Yorkshire; and Chinese composer and pianist Jia Chai, currently a member of the Contemporary Music Research Centre in York.
Running under various names since 1984, the yearly York Late Music Concert Series features performances of music from all parts of the contemporary spectrum, ranging from the accessible to the experimental. From March to October, the season presents 8 evening and a selection of lunchtime events, with an informal atmosphere, including commissions by internationally renowned composers and programming of concerts by top performers, accompanied by education outreach activities and pre-performance talks. Also, part of the series is a one-day immersive exploration of a specific aspect of new music, which in 2018 is a Piano Day on Saturday 1 September, focusing the subject of 20th century piano. Ten New Debussys is the culmination of the Piano Day, which starts with lunchtime and afternoon programmes of pianos studies from different times and places (music by Ligeti, Chopin, Richard Rodney Bennett, Steve Crowther and Anthony Adams among others) performed by pianist Kate Ledger.
Steve Crowther, Late Music's Concert Programmer, said: 'We are very excited about our contribution to the centenary events for Debussy. Debussy, along with Stravinsky and a very few others, is the soil from which much 20th and 21st century music grew. That being so, the idea of asking a diverse range of living composers to start with music actually written by Debussy himself and then taking it into their own soundworlds seems both appropriate and an interesting and unusual compositional challenge. We are greatly looking forward to hearing the results.'
For further info and tickets please visit:
http://www.latemusic.org/event/james-willshire-piano-ten-new-debussys/.
For further info on the York Late Music Concert Series and on the 2018 season: http://www.latemusic.org.