United Kingdom St Petersburg Ballet Theatre's Swan Lake: Soloists and Artists of St Petersburg Ballet, Orchestra of English National Opera / Vadim Nikitin (conductor). London Coliseum, 23.8.2018. (JPr)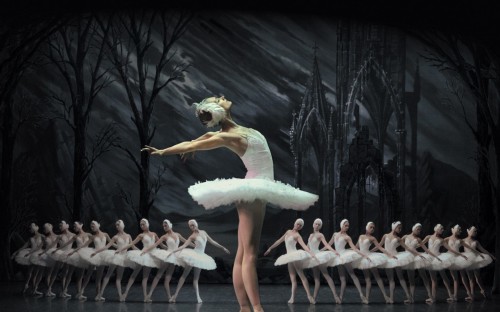 Cast included:
Odette/Odile – Irina Kolesnikova
Prince Siegfried – Denis Rodkin
Rothbart – Dmitriy Akulinin
Jester – Sergei Fedorkov
Pas de Trois – Mikhail Tkachuk, Olga Pavlova and Yelyzaveta Barkalova
In 1964, when Rudolf Nureyev undertook his own version of the ballet for the Vienna Opera House – which I memorably once saw him dance in – he typically fleshed out the Prince's role, and most significantly, focussed on his psychology. Nureyev was a graduate of the Vaganova Ballet Academy which was celebrated in the lavish Swan Lake programme and, for him, the Prince was melancholic, and his woman/swan was his unattainable fantasy. Twenty years later in Paris he took this one Freudian step further and everything was just in Siegfried's head and the story played out in his dreams. Regardless, both versions had irredeemably tragic endings (here Odette and Siegfried live happily ever after). This is just meant to highlight that there have been many different approaches to the famous fairy-tale ballet which, as recently as earlier this year, the choreographer Liam Scarlett failed – so far – to resolve (click here) with his disappointingly cluttered and confused new version for the Royal Ballet. A highlight for me was back in 1981 when Boston Ballet, brought their current Swan Lake to London for that year's Nureyev Festival with the 'evil' Von Rothbart as a cuddly owl. Those of a certain generation will remember – his lookalike – a teatime TV puppet called Ollie Beak!
I have much sympathy for audiences – some of whom are coming to the ballet for the first time – needing to have a simple story, told simply. It is a matter of taste and how 'precious' the individual is about such matters. This Swan Lake is neither the worst nor the best you will see and – despite all the performances of the ballet I have seen over a few decades – I was impressed by the St Petersburg Ballet Theatre's unflaggingly committed, technically accomplished, dancing and the straightforward storytelling of their version. There is little current information about the production though it appears to be based on the 1895 Petipa/Ivanov revival, as well as, Konstantin Sergeyev's subsequent revisions in 1950 and is a 1996 restaging (according to my review in 2015 click here).
The season is built around the St Petersburg Ballet Theatre's leading dancer, Irina Kolesnikova. She does not appear at every performance and there are a number of guest stars enhancing a roster of dancers who – on this showing and despite it not being in the first rank of Russian ballet companies – seem suitably gifted and talented. Allowance must be made that this is essentially a constantly touring company and therefore the sets and costumes are more than adequate. The designs have a cut-price Peter Farmer-ish look to them, flat and two-dimensional, yet not so different from what was seen recently at Covent Garden. There was even a well-deserved round of applause when the curtain rose on the atmospheric mist-shrouded setting for the final lakeside act. The swans are in flattering tutus and Rothbart (the swirling Dmitriy Akulinin) looked like – as he is supposed to – a scenery-chewing, wing-flapping, maleficent sorcerer and, thankfully, not an owl. It was the lighting that left a lot to be desired and, for instance, twilight came much too quickly in Act I and every time Rothbart was on stage it demanded a lurid red glow.
Swan Lake – in nearly every production I have seen – always takes too long to get going so thank goodness for the Russian tradition of the Jester. (Actually the 'jester' was there in Liam Scarlett's recent Swan Lake but because of British balletomane sensibilities he was in the guise of the Prince's best friend, Benno.) Anyway, Sergei Fedorkov's amorous antics and high-octane cartwheels, jumping, twirling and other acrobatics made Act I go by a lot quicker than it sometimes does. There has not been a dancer like Fedorkov in any UK ballet company since Wayne Sleep. The Pas de Trois was danced reverentially, although the refined Yelyzaveta Barkalova caught the eye here and later as a 'Big Swan'.
Now in her late-thirties there is much that could be made of Irina Kolesnikova's age and the fact that she has been dancing Odette/Odile for a long time. However, in the 2010s – like male movie stars – female (and male) ballet dancers do not age as they once did. Kolesnikova was rather too strong as Odette and I always prefer a more limpid, otherworldly, approach. Nevertheless, the arch of her neck, her supple back and languid arms allowed her to shape and sculpture her lines impressively, though her feet noticeably lacked the trembling petits battements that should – I suspect – be there and which can be very affecting. Credit must go to the well-drilled and perfectly in sync corps de ballet who framed both 'white' acts. After some spirited national dances, Kolesnikova's eyes, as Odile, said it all; she was out to get her man and knew just how to do it. This Odile was the ultimate sexual predator, and Prince Siegfried her unwitting prey. She is, of course, Odette's deceptive doppelgänger and I am sure I saw a sneer on her face as her undulating arms mimicked hers in Act I. The bravura 32 fouettés were dazzlingly executed at a frantic tempo and were a credit to Kolesnikova's self-belief as a dancer.
Irina Kolesnikova and Denis Rodkin (Prince Siegfried) were well-matched in height and made an attractive pairing without any searing chemistry that I could discern. Rodkin was respectful of the production despite the Prince remaining something of a cypher and the reasons for his unhappiness being totally ignored. Rodkin's dancing looked as though it could have had much more oomph than he was prepared to give it. Perhaps he didn't want to outshine Kolesnikova with his solos? He was the epitome of elegance throughout, displaying effortless pirouettes and jumps which were light, airy and landed incredibly softly.
On the downside, the frequent stops in the action for dancers to gain the audience's acclamation for what they had just seen became rather wearing. Though to end on a positive note, Tchaikovsky's glorious score was played for all its worth by the impeccable Orchestra of English National Opera and forthrightly conducted by Vadim Nikitin who never for one moment seemed to indulge his star dancers.
Jim Pritchard
For more about the St Petersburg Ballet Theatre's Swan Lake at the London Coliseum click here.