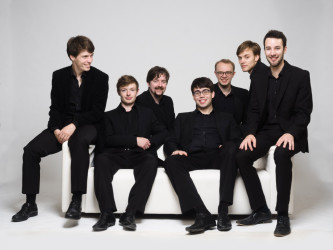 Owain Park talks to Geoffrey Newman 
Few young British choral ensembles have climbed more readily into audiences' affections than The Gesualdo Six, led by 24-year-old Owain Park. Formed in 2014 for a performance of Don Carlo Gesualdo's Tenebrae Responsories for Maundy Thursday at Trinity College Cambridge, and along with Park, it features a handpicked group of England's finest young consort singers: Guy James and Alex Chance (countertenors), Joseph Wicks and Josh Cooter (tenors), Michael Craddock (baritone) and Samuel Mitchell (bass).
The Gesualdo Six is already celebrating the release of its first CD for Hyperion, English Motets, and is quickly moving to international tours: a seven-concert tour of Canada (just completed) and, currently, a European outreach to the Netherlands and Poland. While the group originally concentrated on Renaissance repertoire (Byrd, Tallis), their joy in performing contemporary pieces (Ligeti) has become apparent, and leader Owain Park is himself an established composer.
This interview with Owain Park was done at the time of their July concert in Vancouver. Then I commented (review): 'The consort summons a particularly firm and cohesive sound, impeccably balanced from top to bottom, mixing enviable precision with an (often) sensual glow. There was not a weak link within the singers, and each of their solo efforts were estimable'. The fact that the ensemble has achieved this in just over four years is remarkable, and it made the prospect of tracing their quick evolution all the more intriguing.
GN: You had your debut engagement in Cambridge singing Gesualdo in 2014, and everything seemed to take off immediately. How exactly did this occur?
OP: When the group first came together just over four years ago to explore Gesualdo's Tenebrae Responsories for Maundy Thursday, something very special happened. Bound together by this stunning and unusual music, and having the opportunity to sing one-to-a-part, it turned out to be a truly memorable experience. We had such an enjoyable time and found out just how much we liked rehearsing and performing together. We haven't looked back since!
GN: A central force in all this was your association with Cambridge University?
OP: Yes, we were all students (or recent graduates) of Cambridge and, coming from different choirs around the university, everyone could bring their expertise into a melting pot of ideas. Being in Cambridge also gave us the opportunity to rehearse and give concerts for free and, as we were all at a similar stage in our careers, there was a lot of goodwill within the group. We had the time to explore new repertoire and find the right types of colours and sound to make our performances engaging. We continued to perform a lot in Cambridge before going on the road for our first Summer Tour: ten concerts in nine days.
GN: But the personnel of The Gesualdo Six has now changed somewhat.
OP: For the initial concert, I simply asked six singers that I already knew well to come together and perform. Three are still with the group and, while it has been sad to lose colleagues (sometimes to ensembles such as The King's Singers and Voces8), we have been fortunate to find three fine replacements from Manchester, London and Oxford. They have slotted right in and contributed significantly to our shared musical and social understanding. While we are not all Cambridge alumni anymore, I think that through a combination of practice and experience, the group is sounding better than ever.
GN: You must be developing great synergy: you have been giving concerts at a tremendous pace.
OP: We have found tours especially to be extremely useful – intensive periods in which to get under the skin of the music and think in new ways about the text and interpretation. Over the next six months, we are debuting in several European countries, so it is an exciting opportunity for the ensemble to grow and develop even further.
GN: You moved very quickly from Gesualdo to a much wider repertoire, yet presumably there is very special place in your heart for this great master?
OP: Yes, Gesualdo's writing is some of the most experimental and ambitious of the Renaissance period. Unshackled by the demands of religious institutions or financial sponsors, he could be harmonically very adventurous, so much so that his pioneering compositions were sometimes seen as incompetent by contemporaneous musicians. The composer's surviving music explores such a vast range of human emotions, and wrenching guilt and devotional sorrow are regularly juxtaposed with his naturally playful Italian 'madrigalian' style.
GN: An ensemble of six vocalists can achieve notable transparency in Renaissance works. Do you feel there are merits in performing these works with 10-12 singers (Tallis Scholars, Stile Antico) or a very large group (King's College)?
OP: There is an intimacy that can be achieved with just one voice per part – perfect for pieces like Byrd's 'Ne irascaris, Domine' that were likely written for single voices originally. Of course, a magical sound can be created with multiple voices per part singing very softly, so I think each type of scale can be made to work well in its relevant context. We have long admired the work of Stile Antico, greatly enjoying their performances, CDs and programming. Several members of Stile have been to our concerts, and it is always wonderful to speak to them about our performances, learning from them and developing our own unique style. Naturally, we are also influenced by the Tallis Scholars, and listen widely to ensembles who perform out of the UK for their different approaches to the repertoire we sing.
GN: I can't help wonder if you think there is some difference in what these Renaissance works mean to this generation's young as compared to, say, what Sir David Willcocks and Stephen Cleobury might have thought at Cambridge in the years after the war?
OP: Our 'English Motets' programme definitely contains music written in response to certain universal hardships and, whilst one can always draw inspiration from extra-musical events, I think the music still speaks to this generation's young in a way that can both transcend and clarify our reality. Thinking back to when the music was written, it was one of the most turbulent periods in English history. Composers were obliged to write in the musical style of the moment, and it is fascinating to discover what they came up with. Tallis was particularly skillful at reinventing his works in response to the shifting religious requirements; the musical quality remains absolutely consistent, even while his style changes dramatically. The recusant Byrd gave voice to the plight of Catholics in England through many of his compositions, utilising his royal favour to escape punishment for his beliefs and, in doing so, wrote some of the most enduring and powerful music of the era.
GN: You also have shown an interest in singing very modern contemporary pieces. Has this interest been there from the beginning? How far has it developed?
OP: Our initial focus was definitely on Renaissance composers, and we performed Gesualdo, Byrd and Hassler in our first concerts. Quite early on, however, we began to explore modern works by Ligeti, Paweł Łukazsweski and Joanna Marsh, often pairing them with Italian madrigals on similar themes. Our Composition Competition cemented our love for performing new music; we received over 170 entries from around the globe, and continue to perform submitted works, including a rather delightful piece by American composer Sarah Rimkus, 'My heart is like a singing bird', setting a text by Christina Rossetti. We will soon be launching a second Composition Competition, premiering the winning piece at the Cadogan Hall in March 2019.
I always enjoy programming Nonsense Madrigals by Ligeti, as invariably several members of the audience will make a point of telling us at the end of a concert that these were their favourite pieces, despite not looking forward to hearing them! As a composer, it's wonderful to be able to programme works for this group, and we've sung several pieces of mine including 'Fantasia on English Children's Songs', which always raises a few smiles, and 'Sequence: In Parenthesis', which is a very reflective work. It uses musical quotes from David Jones's poem 'In Parenthesis' in a dream-like fantasia with spoken words from a narrator, usually placed in the pulpit.
GN: Young singers often just want to 'sing' – yielding a desirable freshness and spontaneity. As director, how do you see your group's balance between precision/discipline and individual expressivity?
OP: For our first concerts, I was solely conducting, but now there is more of a balance; for pieces such as folksongs and lighter music, it makes sense for all the singers to interact and react on the spot. In the serious pieces, we have agreed that having a conductor to shape the phrasing and overall interpretation is preferable. It certainly helps for modern works such as Ligeti's Nonsense Madrigals, which are fiendish. I definitely think that having the drive and determination to perform and explore new repertoire has pushed our overall ensemble coordination forward – while giving us much more scope for interesting programming. Undoubtedly, we aim to create the right mix of discipline and freedom in any of our concerts and, so far, audiences seem to react well however we choose to perform.
GN: It is a great success story for you to get your first Hyperion recording so quickly.  How did this actually arise?
OP: We put ourselves on the best footing by engaging the services of two of the leading choral recording specialists, Adrian Peacock and David Hinitt, and by recording in Trinity College Chapel, a venue well known for its excellent acoustics. It was indeed fortunate that Simon Perry, Director of Hyperion Records, took the time to listen to the disc in its early form and ultimately decided to release it. Plans are underway for two discs to be released in 2019, so we will now set about searching for the relevant funding to make this project come to fruition.
GN: This was your first tour of Canada, with seven concerts in total.  I am sure there are few substantive differences between singing in English churches vs. Canadian ones, but perhaps you can say something about what you liked about Canadian attitudes and audiences.
OP: Having enjoyed touring Canada on previous occasions myself, when the opportunity for an international tour presented itself Canada was the obvious cultural destination. I knew there would be an appetite for the music we were presenting, but we were bowled over by the reception – the very strong audience numbers and the fact we received a standing ovation at every concert. It was wonderful for me to return to places I'd visited before: Ottawa, Toronto, Niagara-on-the-Lake and Elora; and similarly exciting for us all to visit new places, particularly Vancouver and Victoria. Plans are already in the making for a return in 2019 – so watch this space…
Geoffrey Newman
Previously published in a slightly different form on http://www.vanclassicalmusic.com.