United Kingdom BBC PROM 33 – Musgrave and Brahms: Golda Schultz (soprano), Johan Reuter (baritone), BBC Symphony Chorus, BBC Symphony Orchestra / Richard Farnes (conductor), Royal Albert Hall, London, 7.8.2018. (AS)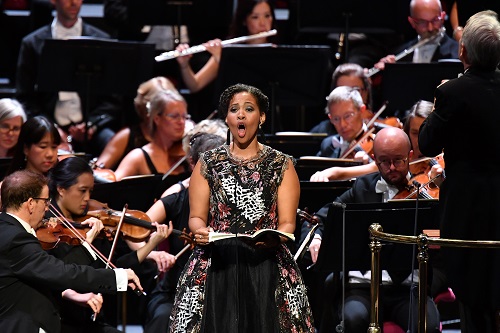 Musgrave – Phoenix Rising
Brahms – Ein Deutsches Requiem, Op.45
Having sat through and reviewed two fairly dire contemporary pieces this Proms season, it was a pleasure for me to hear Thea Musgrave's almost contemporary work Phoenix Rising (it was written in 1997 and first performed by Sir Andrew Davis and the BBCSO at the Royal Festival Hall in February 1998). Inspired by a sign featuring the legendary Phoenix bird outside a coffee shop in Virginia, the score falls into six continuously played sections that depict the dramatic phases in the reincarnation of the mythical bird from the ashes of its previous self. The music is pungently expressive in varied moods that move from depicting initial chaos and despair, then the triumph of rebirth and the eventual achievement of a state of serenity. The quality of musical invention is unflaggingly imaginative and Musgrave's handling of the orchestral forces is masterly. For once in a newish work, the percussion section is not blatantly used but very judiciously adds piquant colour to the already luminous textures. And there is a touch of humour when at a certain point the timpanist gives up a struggle to dominate opposing brass forces and storms off the platform.
In a way Musgrave makes no concessions to her audience, since some of the music is pretty tough and unyielding, but somehow she manages still to make it attractive and easily assimilable. If only some of her younger colleagues possessed similar skills. Richard Farnes presided calmly and efficiently over his sometimes turbulent forces. The composer, who recently celebrated her 90th birthday, was present in the audience and stood to acknowledge what was clearly genuinely warm and appreciative applause.
It came as something of a surprise to learn that the first Prom performance of Brahms's German Requiem was given under Sir Malcolm Sargent as recently as 1965. Some of us who love Brahms's music can find this work to be less than appealing in the wrong hands: it is easily possible to make it sound grey and dour. But not on this occasion, since Richard Farnes was very alive to the need to avoid muddy textures and turgid rhythms. In fact, his direction was exemplary. He responded acutely and unerringly to the music's changing moods; his management of its natural ebb and flow was very skilled and he controlled his choral and orchestral forces immaculately through a clear, communicative but totally unfussy conducting technique.
The constitution of the BBC Symphony Chorus is unbalanced. A tenor section of 18 voices cannot compete with 48 sopranos. Moreover, there were times, especially in the opening chorus, when some of the sopranos were reaching for high notes and not quite getting there. As a whole, however, the chorus sang with good discipline and skill. Johan Reuter's two solo contributions were adequate in expression rather than inspired, and his voice (heard live at least, but probably not in the BBC Radio 3 transmission) rather lacked sufficient power. In her one brief contribution, however, Golda Schultz's fine voice floated beautifully and eloquently into the vast auditorium.
The hero of the evening was undoubtedly Richard Farnes, making a notable Prom debut. I hope he will experience many happy returns!
Alan Sanders