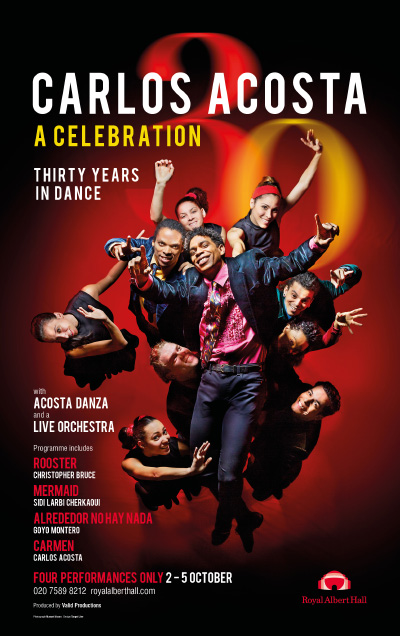 CARLOS ACOSTA – A CELEBRATION THIRTY YEARS IN DANCE
The Royal Albert Hall Kensington Gore, Kensington, London SW7 2AP
2, 3, 4 and 5 October 2018 at 7.30pm
FOR SEEN AND HEARD INTERNATIONAL'S REVIEW CLICK HERE 
TICKETS
Website: click here
Box Office: 020 7589 8212
Internationally renowned Carlos Acosta is delighted to announce the repertoire that he will be performing, alongside his company Acosta Danza, for four special performances only at the Royal Albert Hall from 2nd to 5th October.
In a celebration of thirty years as a professional dancer, these performances mark Acosta's return to the London stage following retirement from classical ballet in 2016.
The repertoire will include the UK premieres of Christopher Bruce's Rooster including songs recorded by The Rolling Stones and Alrededor no hay nada by Goyo Montero, together with Sidi Larbi Cherkaoui's critically acclaimed Mermaid, and a reworked version of Acosta's Carmen full of Latin influences and accompanied by a live orchestra.
Acosta will also be returning to movie theatres soon in a new feature film inspired by his life story entitled Yuli with screenplay by Paul Laverty and directed by Iciar Bollain.
CARLOS ACOSTA – A CELEBRATION THIRTY YEARS IN DANCE
Mermaid
Performed by Carlos Acosta and Marta Ortega
Choreography – Sidi Larbi Cherkaoui
Assistant Choreographer – Jason Kittelberger
Music composed by Woojae Park and Sidi Larbi Cherkaoui with additional music by Erik Satie
Lighting – Fabiana Piccioli
Red dress by Hussein Chalayan
Sidi Larbi Cherkaoui is an Associate Artist at Sadler's Wells, who is well-known for his interest in different artistic and cultural practices. Following the inclusion of Faun into the Acosta Danza repertory, Cherkaoui was keen to explore another mythical creature for the company, prompting the idea of the mermaid.
Instead of recreating the image of a mermaid literally, Cherkaoui places contemporary dancer Marta Ortega in pointe shoes. Like a fish out of water trying to walk on dry land, or a stranger in unknown territory, the mermaid looks for help and guidance – which comes to her in the guise of Carlos Acosta.
For Mermaid, Cherkaoui works with long-term collaborator, the multi award-winning lighting designer Fabiana Piccioli. The music, made in collaboration with Woojae Park, takes inspiration from the traditional Korean songs of the sea, creating an ethereal and moving landscape for the dancers.
Alrededor no hay nada
Performed by Acosta Danza Company
Choreography – Goyo Montero
Assistant Choreographer – Ivan Gil Ortega
Music composed by Joaquin Sabina and Vinicius de Moraes
Lighting – Goyo Montero
In April 2015, by invitation from Carlos Acosta and Acosta Danza, Goyo Montero restaged his choreography Alrededor no hay nada which formed part of the ballet evening Benditos Malditos, initially based on El Día de la Creación which was designed for the Ballet Nacional de Cuba.
Deeply rooted within the Latin-American reality, Alrededor no hay nada reflects Goyo Montero's personal dedication to the voices of poets, songwriters and composers such as Joaquín Sabina and Vinícius de Moraes.
Rooster
Performed by Carlos Acosta and Acosta Danza Company
Choreography – Christopher Bruce
Assistant Choreographer – Steven Brett
Songs recorded by: The Rolling Stones including Little Red Rooster, Lady Jane, Not Fade Away, Paint it Black, Ruby Tuesday, Play with Fire and Sympathy for the Devil.
Lighting design – Tina MacHugh (realised by Christina R. Giannelli)
Costume designer – Marian Bruce
Rooster is a celebration of the music and times of some of The Rolling Stones' most iconic tracks, the 1960s and '70s.
Choreographer Christopher Bruce says of Rooster: 'In my teens and twenties I lived with these songs. I have taken eight tracks and linked them with themes present in the lyrics. Taking Little Red Rooster as my starting point, I have created preening cockerels that symbolise the stylish but chauvinistic young men of my youth. Meanwhile, for the most part, the women look on with ironic amusement at the male posturing. The result is something of a battle of the sexes.'
Carmen
Performed by Carlos Acosta and Acosta Danza Company
Choreography – Carlos Acosta
Music – George Bizet (arr. Schedrin)
Design – Tim Hatley
Lighting – Peter Mumford
Don José falls in love with Carmen and sacrifices everything to be with her. When Carmen becomes infatuated with the treador Escamillo she loses interest in Don José, whose love quickly turns to violent jealousy. Don José tracks Carmen down and murders her.
Georges Bizet's Carmen is one of the most powerful operas ever written. Its gorgeous melodies have secured the opera's hold on the popular imagination – Escamillio's Toreador Song, Carmen's Habanera. Don José's Flower Song and many passages for orchestra and chorus are among the most widely known pieces of Western classical music. This melodic richness, combined with a searingly dramatic story adapted from a novella by Prosper Mérimée, has made Carmen attractive bait for choreographers: figures as diverse as Marius Petipa, Roland Petit, Alberto Alonso, Mats Ek and Richard Alston have all been drawn to this tale of jealousy and desire.
Carlos Acosta now presents his own adaptation of Bizet and Mérimée's story. In his new version, the story's universal and timeless themes are laid bare in a sparse and powerful setting.
For more information about Carlos Acosta click here.