Germany Bayreuth Festival 2018 [6] – 'Wagner für Kinder', Der Ring des Nibelungen: Soloists, Brandenburgisches Staatsorchester Frankfurt (Oder) / Azis Sadikovic (conductor), Probebühne IV auf der Parkseite des Festspielgeländes, Bayreuth, 31.7.2018. (JPr)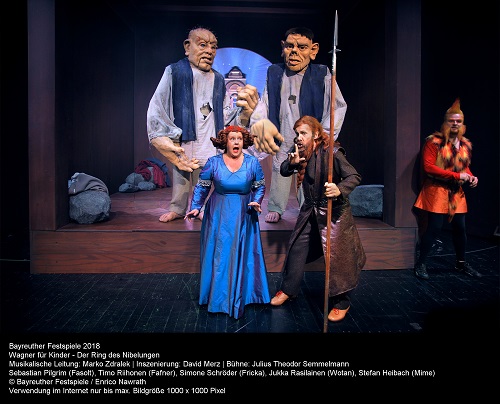 Singers involved: Jukka Rasilainen with Stefan Heibach, Paul Kaufmann, Christiane Kohl, Daniela Köhler, Armin Kolarczyk, Marieke Mohr, Sebastian Pilgrim, Timo Riihonen, Simone Schröder, Vincent Wolfsteiner and Ji Yoon.
Production:
Version – Katharina Wagner and Markus Latsch
Musical adaptation – Marko Zdralek
Staging – David Merz
Stage design – Julius Theodor Semmelmann
Dramaturgy – Ruth Asralda
Lighting design – Peter Younes
Four years to the very day since I was last in Bayreuth at the right time for one of the 'Wagner für Kinder' (Wagner for Children) performances at the start of the annual Bayreuth Festival I was able to see this year's Der Ring des Nibelungen. Katharina Wagner began this series in 2009 aimed at bringing children aged 7-12 years into opera and introducing them to the work of Richard Wagner. Initially there was approximately 60 minutes from a Wagner opera; dealing with its core themes and ideas and attempting to convey the most important elements. First was Der fliegende Holländer (2009), Tannhäuser (2010), Der Ring des Nibelungen (2011), Die Meistersinger von Nürnberg '(2012), Tristan und Isolde (2013), Lohengrin (2014) and Parsifal (2015). In the 2016 season, The Flying Dutchman started the second cycle of children's opera with Tannhäuser once again in 2017.
For 2018 it was The Ring of the Nibelungen once again – in a version from Katharina Wagner and Markus Latsch with David Merz's staging and Julius Theodor Semmelmann's stage designs – lasting overall about 110 minutes and needing a short interval. It has come a long way from that original 60-minute idea! There are 10 performances and this year a special closed one for the young patients of the main sponsor, the 310Klinik. There are always high calibre casts, recruited from soloists of the Bayreuth Festival past and present. As an orchestra, the Brandenburgisches Staatsorchester Frankfurt (Oder) has been a partner for all of the project's ten years. An essential element is that young people are directly involved in the stagings themselves. Putting on the operas involves the Hochschule für Musik Hanns Eisler Berlin in cooperation with the Fair Play Foundation and the costumes this year are again a result of the annual competition. The students' winning designs being professionally adopted for the productions and the schools involved in 2018 were from Duisburg-Marxloh: the Elly-Heuss-Knapp-Gymnasium, Herbert Grillo-Gesamtschule and Grundschule Sandstraße. There is also a long-standing partnership with the Theaterakademie August Everding München, where other students create the masks. Sets were built at the workshop of the Saarländischen Staatstheater Saarbrücken. Tickets for the performances are free and sell out almost instantaneously but for those who miss out – or want to relive what they saw – a 'Wagner für Kinder' DVD quickly becomes available and you can get something for all the operas in the series so far.
The basic set was a large cube that was something of a 'Box of Delights' with the outline of Yggdrasil, the world ash tree, on the front and it opened up for the various different scenes we saw. As for the music what we heard was the bloodiest of bleeding chunks, but it was all remarkably well played by the small orchestra conducted by Azis Sadikovic. Even at midday everyone sang out fully and no one coasted.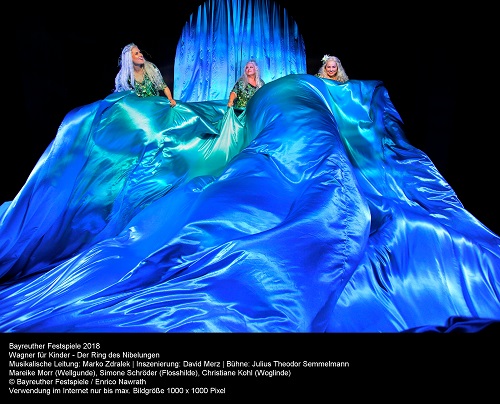 Alberich (Armin Kolarczyk) steals the gold through a satin-blue billowing 'Rhine' that had been protected by three blonde Rhinemaidens looking remarkably like Katharina Wagner. Freia (Ji Yoon) was in gold, there was a fiery looking Loge (Stefan Heibach), a wonderfully shrewish Fricka (Simone Schröder) and a put-upon Wotan (Jukka Rasilainen). Much reminded me of a British pantomime with lots of 'have you seen?' and 'it's behind you'. Rasilainen (Wotan) got to sing part of 'Vollendet das ewige Werk' to remind everyone what a fine singer he is. A wonderful moment in Das Rheingold – for children of all ages – was when Alberich became Kermit-like and appeared atop the set. Wotan appeals to the audience whether he should give up the ring for Freia and the truth of Alberich's curse – that whoever owns it will die – is quickly seen as the truly giant Fafner kills his brother (offstage). At about 40 minutes this part of the Ring was the most substantial we saw.
Unsurprisingly during Die Walküre the fact that Sieglinde (Christiane Kohl) is Siegmund's brother is never mentioned and is just Brünnhilde's brother who is the hero to get the ring back for Wotan. Siegmund is seen being chased by Sieglinde's ogre-ish husband, Hunding (Sebastian Pilgrim). Vincent Wolfsteiner as Siegmund sang 'Waffenlos fiel ich in Feindes Haus' and his cries of 'Wälse' rattled the walls of the warehouse-like rehearsal studio. Siegmund claims his sword from a huge tree trunk but Fricka isn't happy and demands he must die and this happens surprisingly violently for a children's opera. After some impressive 'Hojotohos' Daniela Köhler's Brünnhilde must be left to sleep surrounded by a fire so only someone who knows no fear can rescue her. This is her punishment because she has disobeyed Wotan by attempting to save her brother. There was a wonderful ring of fire and Wotan got to sing some of his Farewell as the Magic Fire Music atmospherically led us to the interval.
Everything now races headlong to the finish. Initially there was a wonderful set for Siegfried which was all tangled tree trunks and a washing line with a rubber chicken! Siegfried is shown as completely guileless and relishing his fight with something monstrous. The Woodbird (Ji Yoon) was like an oversized blue toy parrot and warns Siegfried of Mime's treachery and – in this version – Mime (Paul Kaufmann) survives to be shooed away. The Woodbird tells Siegfried about the sleeping Brünnhilde. Perhaps what we then saw had fallen victim to our current #MeToo world because surely Siegfried should have kissed Brünnhilde awake – but would that have been sending the watching children a wrong message? She just woke up and was united with Siegfried very quickly and it was on to Götterdämmerung.
There was now a gloriously diabolical portrayal of Hagen that was worthy of a full staging in the Festspielhaus. Timo Riihonen has impressed this year in small roles in Lohengrin, Die Meistersinger and Parsifal and is a name to look out for in the future. There was some more resounding singing from Vincent Wolfsteiner as Siegfried forged his sword and a reverberating Ruf (Call) from Riihonen's Hagen. The storytelling seems to have unraveled somewhat as we go through the operas: Brünnhilde gives up the vital information about how Siegfried – who has been coaxed away from her – can be killed. Siegfried is quickly dispatched, and Hagen claims the ring. (Sadly, the Germans have no pantomime tradition, so the villainous Hagen is not vociferously booed in the way he would be in Britain!) We hear all of the Funeral Music (again splendidly played) and the happy Rhinemaidens get their gold back as Köhler's Brünnhilde gets some closing lines from her Immolation Scene. Alberich has never been far away and as the doors of the set close for the final time he sneaks back in. So perhaps the story is an endless one and is ready to begin all over again?
In conclusion, although the fate of the gods and some of the other characters is uncertain – unlike most good fairy-tales – few appear to have survived to live happily ever after and I would have liked an epilogue giving the children a moral to learn from what they had seen and to take away with them.
Jim Pritchard
Jim Pritchard's other reviews from the 2018 Bayreuth Festival can be found by clicking here.