United Kingdom BBC PROM 31 – Bernstein, Gershwin, Ives: Inon Barnatan (piano), Minnesota Orchestra / Osmo Vänskä (conductor). Royal Albert Hall, London, 6.8.2018. (CC)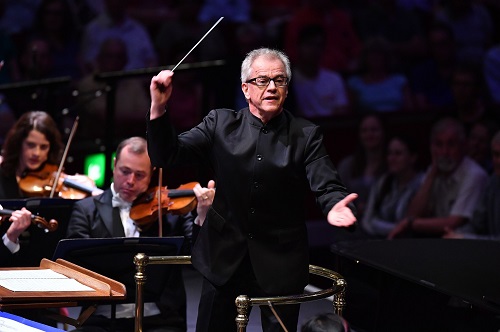 Bernstein – Candide, Overture
Gershwin – Piano Concerto in F
Ives – Symphony No.2
On the eve of their flight to South Africa for a five-city tour, the Minnesota Orchestra paid a welcome visit to South Kensington in an all-American programme. The repertoire (except the orchestral encore, of which more later) was bread and butter for the Minnesotans; but one wondered what Vänskä would make of it.
The trademarks of Vänskä's conducting were certainly all present and correct. Detail was remarkable in all pieces, and it was that attention coupled with a true structural awareness that enabled Ives' score to shine. First, though, came an ultra-together, tight and light Bernstein Candide Overture. The antiphonal violin placement worked well here (cellos next to the firsts with double-basses behind) but what really impressed was the sophistication – this was never raucous.
The Gershwin Piano Concerto was given a fabulous performance from Inon Barnatan. I enjoyed Barnatan's Wigmore recital of Barber, Franck and Bach in January (review); rather more than an 'Emperor' late in 2017 (review). Pianistically, this Gershwin Piano Concerto topped both, to the extent that after an opening that felt under-tempo and a touch jaded from Vänskä, Barnatan raised the bar significantly. Barnatan's first solo could have been played in a smoky bar with a bourbon perched within his reach; only the arrival of clean staccato before the re-entrance of the strings brought us back to a more disciplined space. Any review would be incomplete without mention of the impeccable jazz trumpet solos of Manny Laureano in the central panel; the way Laureano placed the low notes was as thrilling as his lip-glisses were seductive. One tiny slip aside, this was some of the cleanest trumpet playing to have come my way in many a moon. How fascinating to hear Barnatan's response, more 'straight' and yet seemingly, in context, the perfect complement. The finale found its dynamism in Vänskä's insistence on rhythmic exactitude; just occasionally, though, it felt a little away from the New York bustle. The encore was one of Earl Wild's seven Virtuoso Etudes  – the one on 'I Got Rhythm', which brought a predictable and deserved cheer from the Proms audience.
Finally, something of a rarity, even at the Proms. Ives' Second Symphony (completed 1902, premiered 1951!) was first played here only as recently as 2006. On that occasion it was played by the Pittsburgh Symphony and Leonard Slatkin, replacing an indisposed Andrew Davis. The symphony has everything one would hope for from Ives: popular tunes abound; a fugue to open; a rebellious, asynchronous side-drum; powerful inward rumination and even grace juxtaposed with raucous cacophonies. The bright first violins in that opening fugue contrasted well against the growly double-basses, the sound positively aglow at times; the tonal cadence, when it came, was simply beautiful. The Adagio cantabile, the third movement (of five) included a gorgeous prayer for solo cello (Anthony Ross) and flutes while the movement as a whole was perfectly disciplined and, indeed, shaded. Ives' characteristic jollity was present in this performance, but what really came across that, for Vänskä, Ives is not just about daring juxtapositions; the weight of emotion and the lyricism was there too. A superb performance.
The performance showed the Minnesota Orchestra to be on fabulous form, a step above even the first half. An encore was demanded and received. On the eve of that tour to South Africa that will celebrate the 100th anniversary of the birth of Nelson Mandela, the Minnesotans offered an arrangement of 'Shosholoza' (a miners' hymn sometimes known as South Africa's second national anthem) by the Finn Jaakko Kuusisto that includes the orchestra singing as if their lives depended on it. It went down a storm here in Kensington; I imagine it will slip down even better in South Africa.
Colin Clarke