United Kingdom Pause (programme devised by Daniel Pioro): Scottish Ensemble, Daniel Pioro (solo violin), Jonathan Morton (artistic director & violin). Assembly Rooms, Edinburgh, 14.9.2018. (SRT)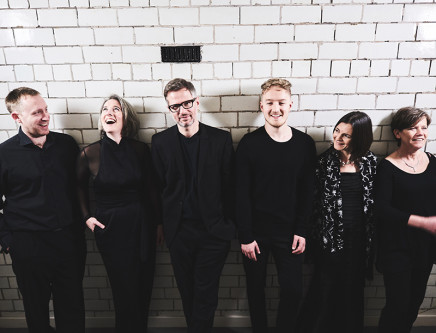 Programme included music by Oliveros, Biber, Handel, Glass, Cage, Gregson, Sørensen
Dr Guido Orgs & Dr Richard Holloway (speakers)
I'm a big fan of the Scottish Ensemble. A small scale string orchestra, their programmes are exciting and hugely inventive, and I've been wowed by both their playing and their originality many times in the past. This evening just didn't work for me, though.
On paper it was a fascinating idea. Pause was billed as an evening exploring how music works and how it impacts our minds, and the musical programme was curated by Scottish Ensemble violinist Daniel Pioro, who had also lined by a scientist (Guido Orgs) and a theologian (Richard Holloway) to explore their different takes on what music does to us and for us. Great idea, and the playing was super too. I loved the warmth and phenomenal richness of Caroline Shaw's Punctum that opened the programme, the strings radiating all the warmth of Vaughan Williams at his most pastoral, and dissolving into a quotation of a Bach Passion chorale that was both moving and surprising. Their arrangement of Handel's D major sonata (by S.E. double-bassist James Manson) worked beautifully, and they had all the sparkle of a ceilidh band in their final number by Rune Tonsgaard Sørensen.
The concept didn't really hang together, though, partly because the subject of the talks mostly seemed to be pretty isolated from the music they were playing. For example, if the Shaw was chosen to illustrate the effect that surprise has on the brain then it wasn't explained, and Sørensen's Shine No More didn't seem to be much more than a jolly ending. Furthermore, Orgs' and Holloway's discussions were more about what we don't know than what we do. Music might have evolved as a way of finding a mate… but maybe it didn't. It might be a way for us to commune with the divine… but maybe it isn't. I guess that's the nature of the topic, but I'd have loved to hear a bit more from Orgs when he talked about the impact that music has on the brain, something he talked about a little but illustrated only very briefly.
Daniel Pioro himself was the musical star of the evening, giving a dazzling solo performance of Glass's Knee Play 2, and providing two stunningly beautiful arrangements of ancient sacred music, an Indian raga and a Gregorian chant. I wasn't convinced by Pauline Oliveros' 70 Chords for Terry, though, an improvisatory piece where no notes are written down and the orchestra follows instructions instead. I also had no sympathy with including Cage's infamous 4'33", the biggest example of Emperor's New Clothes in music, despite what its advocates say.
Having an audience question-time killed the concert's ending, too, dragging things out with pretty banal observations that had me checking my watch. All told, I'd have enjoyed this evening a lot more if the music had been there without any words.
Simon Thompson