United Kingdom BBC PROM 71 – Berlioz: Joyce DiDonato (mezzo-soprano), Antoine Tamestit (viola), Orchestre Révolutionnaire et Romantique/Sir John Eliot Gardiner (conductor), Royal Albert Hall, London, 5.9.2018. (CS)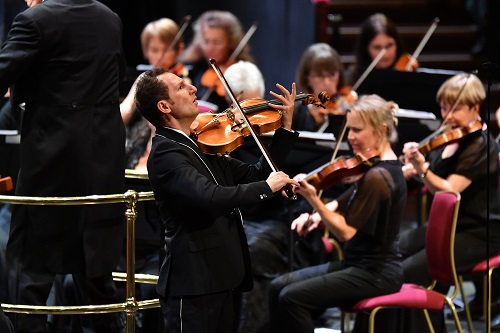 Berlioz – Le Corsair, Overture; La mort de Cléopâtre; 'Royal Hunt and Storm' and Dido's death scene, from The Trojans; Harold in Italy
One diva, two tragic queens and one death.  I'll get the 'oddity' about this splendidly theatrical Prom presented by Sir John Eliot Gardiner and the Orchestre Révolutionnaire et Romantique out of the way first.  This Dido did not die.  Though the full text of the Carthaginian Queen's Death Scene which closes Berlioz's monumental opera The Trojans was printed in the BBC Prom programme, this queen pulled short of mounting the pyre, stabbing herself with Aeneas's sword and prophesising an auspicious destiny for her people under Hannibal's heroic leadership.
I do not know whether Joyce DiDonato and John Eliot Gardiner intended to perform the Queen's tragic demise but, in the event, the almost full bar of silence that Berlioz notates at the close of the aria in which Dido bids farewell to her city and nation prompted rapturous applause from the Proms' audience, and this brought the first half to a, perhaps precipitate, end.
Still, we could not complain that we had not been surfeited with glorious music-making.  DiDonato was every inch the noble queen, announcing her forthcoming fate with dramatic dignity as the sparse instrumentation painted a tragic canvas for her final moments.  DiDonato knows how to use every shade, tint and glint of her wonderfully sumptuous mezzo-soprano, and here she climbed with tremendously controlled tension through the heightening chromatic rise, propelled by urgent double bass pizzicatos, and then offered a nerve-soothing release as the melody fell gracefully.  Flashes of intensity dissolved into resigned quietude, then flamed again, the queen's passion burning despite her acceptance of death.  Dido's Air of Farewell was magically lyrical, promising peace at last, as the contrast between the thick coils of the low bass clarinet and the light gleam of the high solo voice opened up vast vistas of the world awaiting the queen.  Addressing the stars, DiDonato dared to whisper her memories of past nights of ecstasy and rapture; an exquisitely gentle rise of a major sixth closed her declaration, "ma carrière est finie!" [my career is ended], but despite the sentiment of her words, it seemed as if the note would float on, eternally.
Before that, DiDonato had embodied the Egyptian Cleopatra with similarly magnificent presence and emotional power.  Eliot Gardiner summoned intimations of the Queen's violent passions in the turbulent orchestral introduction but, once summoned from the wings by this restless prelude, Cleopatra's opening recitative was remarkably centred and self-composed – "So it is done!  My shame is beyond doubt."  Eliot Gardiner pressed through her growing indignation that she, the last Ptolemaic monarch, has been treated with such disdainful affrontery, and DiDonato pushed her low chest register hard to convey the queen's regal righteousness.  Her memories of past loves and glories were suffused with pathos but not sentimentality, as the lucidity of the instrumental textures created dialogues and foregrounded details that prevented the queen's solipsism from overwhelming her reflections.
The theatrics of her rhetorical self-questioning were enhanced by dramatic string interjections, but the Meditation imposed a sombre composure, built up from the low strings' quiet but insistent pizzicato heart-beat.  Explosions of royal fury, fear and fire broke out, complemented by swirling strings and stabbing outbursts from the woodwind and brass.  Then, accompanied by shadowy low brass chords, DiDonato let her mezzo fade to the merest thread, the line never broken or wavering, flaring occasionally with near-hysterical excitement and horror, then waning, weakened by the fatal asp, then unstable, her failing life-pulse conveyed by slowing flutter of the double basses.  As the strings' tremolando uttered the final spasm of death, so DiDonato stood motionless, her eyes seeking heaven, her lips slightly parted as if in search of a breath that remained elusive.
This was marvellous vocal theatre.  And, I don't think I've ever seen an orchestra show as much evident admiration and pleasure in applauding their soloist.  But, the Orchestre Révolutionnaire et Romantique themselves deserved rich applause for their playing in the 'Royal Hunt and Storm' scene from The Trojans and in the concert-opening overture, Le Corsaire, glowed with dynamism, colour and animation.  The Hunt began with a brooding air, gradually acquiring a spine-tingling vitality which exploded into a wild gallop and thunderous timpani-tempest, through which the hunters' horns – rich saxhorn flourishes from either side of the stage – called to each other with heroic gusto.  Not to be outdone, the female string players provided the wordless chorus's brief interjections!  At times it felt as if the horse might bolt, but Eliot Gardiner brought things back to heel, though the tension was not allowed to flag as Anneke Scott's wonderfully mellow horn solo quelled the firmament.
The concert had begun with an astonishing eruption of excitement and zest, the orchestra – at least, all who could – rising to their feet for a breakneck whirl through the over-active kinetic and pictorial flights of Berlioz's imagination: one could imagine brigands, wild beasts, scenes of great beauty – a fairy-tale of endless magic and adventure.  After so much drama, a 'viola concerto which isn't' –composed at the suggestion of Paganini but then angrily rejected by him because technical virtuosity had been supplanted by poetic delicacy – seemed unlikely to equal the theatrical heights of the first half, but viola player Antoine Tamestit had other ideas.
In his Memoirs, Berlioz described Harold in Italy: 'My intention was to write a series of orchestral scenes, in which the solo viola would be involved as a more or less active participant while retaining its own character. By placing it among the poetic memories formed from my wanderings in the Abruzzi, I wanted to make the viola a kind of melancholy dreamer in the manner of Byron's Childe-Harold.'  Our soloist proved just such a wandering artist, initially nowhere to be seen, then appearing aloft, evidently consumed with true Romantic sehnsucht in which unfulfilled yearning is both an anguish and an exquisite pleasure – and which is its own satisfaction.
Tamestit descended wistfully to the platform, his dreamy introspection occasionally broken by spells of enchantment and engagement with, first, harpist Gwyneth Wentick and then, in glorious duet, Anneke Scott.  He roamed around the orchestral ranks, sometimes slipping from view, sometimes coming to the fore to project his complement to the orchestra's musical journey with soft warmth tinged with a tang at the top, and some grittiness below.  As the orchestra stood once more for the riotous Brigands' Orgy, he vanished, only to return when called by the three solo string players who had assembled at the top of the platform and required a viola to complete their dulcet quartet.  What might have been whimsical was in fact captivating – on this occasion, listeners to BBC Radio 3 really did miss out.  And, how fortunate we are that Berlioz, who loved the tone and timbre of the viola, chose the instrument as the solo voice to accompany Marguerite's ballad, 'The King of Thule' in his Huit Scènes de Faust of 1828-9, for it made the perfect encore to bring together the evening's two soloists.
Claire Seymour