United Kingdom Puccini, Tosca: Soloists, Chorus and Orchestra of Opera North / Anthony Hermus (conductor), Leeds Grand Theatre, Leeds, 22.9.2018. (JL)
Cast:
Floria Tosca – Giselle Allen
Mario Cavaradossi – Rafael Rojas
Baron Scarpia – Robert Hayward
Cesare Angelotti – John Savournin
Spoletta – Rupert Charlesworth
Production:
Director – Edward Dick
Set designer – Tom Scutt
Costume designer – Fotini Dimou
Lighting designer – Lee Curran
There are those who find Puccini's operas emotionally over the top, the work of an emotional sadist who enjoys manipulating his audience. La bohème and Madama Butterfly are supreme examples of the tear-jerking genre while Tosca, written between the two in 1899, is a flat-out blood and thunder horror/thriller/tragedy. Probably the best way to cope with delivering the latter is to give it over the top treatment, and this is what Opera North does with the force of a metaphorical belly punch.
The casting of Giselle Allen, Rafael Rojas and Robert Hayward in the lead roles in this new production was welcome news, for these powerful singer/actors were sure to give high octane, emotionally convincing performances.  The staging offers a perfect context for their efforts, being striking yet avoiding unnecessary distraction from the passion of the drama: no fuss, no clever business, no impenetrable symbolism.
The setting is transferred from Napoleonic era Rome to an undefined modern day and country where we are confronted with some of the hottest topical themes of our times, notably that of men in power abusing their positions for sexual gain, politically motivated assassination, institutionalised torture and so on. On top of that there are the ingredients of raging jealousy, revenge, tragic suicide and, of course, love. These themes have been the stuff of serious opera since its invention around 1600 but rarely have they been presented with more sickening power as in Tosca and Edward Dick's brilliant production does it more than justice.
The curtain rises to reveal a church interior where Cavaradossi is painting a Madonna. A cupola hangs above, its shape appearing in all three acts. In a few thumping chords Puccini sets the tone. When the escaped prisoner Angelotti (John Savournin) runs in to hide and later engages with Cavaradossi he darts about in a way that suggests another form of nervous tension. When Tosca, a sunglassed celebrity opera singer, arrives to meet Cavaradossi she proves very quickly that she is not an easy lover. Giselle Allen succeeds in suggesting the various facets of a complex character: aggressively jealous, petulant, sensuous, needy, vulnerable yet loving, and her voice can cope with all that is demanded of it including teeth-jangling high-note screeching. This would normally be a negative judgment, but she is fulfilling Puccini's score directions that sometimes ask for 'shouting' for dramatic effect. She can act silently too. At the end of Act II – when Tosca knifes Scarpia to death – a lesser composer might bring the curtain straight down. Puccini though was a fan of dumb shows and mime, and he stays on with a wonderfully subdued orchestral passage, a lull after the storm, allowing Tosca to wonder distractedly around shocked at her own deed, and then in an act of guilt she places candles by the dead man's head and a crucifix on his chest. It is a masterstroke, movingly and silently conveyed by Allen.
Scarpia, the man with the power, appears towards the end of Act I as part of public celebrations that give an opportunity for chorus with children to blast out a Te Deum with extraordinary sonic force in a stock Puccini finale.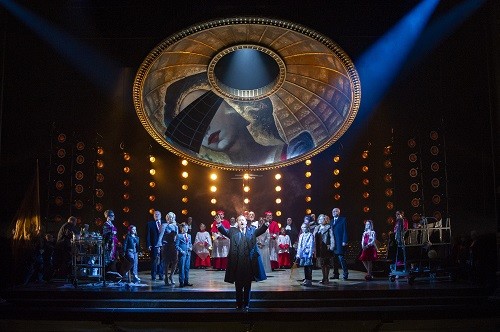 But Scarpia has already revealed his triple mission of capturing Angelotti, getting rid of Cavaradossi and homing in on the sexual possession of Tosca.
Act II is where Robert Hayward as Scarpia comes into his own. Having sung a Wotan for Opera North that brought out the compassionate side of the God and played a pompously righteous Jokanaan he here proves that he can do the opposite. What makes his Scarpia particularly chilling is that he is a recognisable human being who happens to be a man of power and influence in possession supreme manipulative skills who will not let scruples get in the way of what he wants. Set in his bedroom, he blasts out his personal manifesto, arms outstretched standing on the bed. In a nutshell: I set out to get what I want and when I've had it, I discard it. This is Puccini's nod to Iago's famous creed in Verdi's Otello. When Tosca arrives, part of his blackmailing is to show her Cavaradossi being tortured in another room on his laptop. Like any efficient counter intelligence man, he has things wired up for CCTV and his black-gloved security men wired for sound with suitable earpieces as part of their adornment. His subsequent attempts to rape Tosca are acted out with alarmingly violent physicality.
Act III is a darkened castle where the cupola has been turned up on its side to become a imprisoning wall in front of which lies a chained Cavaradossi. Rafael Rojas is a man of physical presence in possession of a rock sold tenor voice that gives the impression it could cope with anything thrown at it. In Act I his passion showed but by now he is broken. His final meeting with Tosca brings about a slow revival stoked by the fires of love. Rojas and Allen's scenes together prove them to have voices of well matched tone and power exercised with perfect balance. At the final affirmation of their love – when one might expect a full-blown duet complete with soaring orchestral accompaniment in the style of La bohème – they join hands to face the audience and in another innovative Puccini masterstroke blast out their feelings in unison with no accompaniment at all. It is powerful stuff.
At the denouement, Cavaradossi is bound for his execution, kneeling and blindfolded with armed men surrounding him in an Isis style webcammed execution. A chilling reference.
As for the orchestra, Anthony Hermus's conducting is outstanding, matching all of Puccini's demands: nuanced phrasing, strong dynamic contrasts, brutal rhythm, delicate textures. Above all there is the energy and pace that drives the whole show along.
This is the most powerful Tosca I have seen:  a violent, brutal expression of human behaviour at its worst. It is one of the most popular operas in the repertoire. A chastening thought. Discuss.
John Leeman
After performances in Leeds Tosca tours to Newcastle, Hull, Nottingham and Salford. For more information click here.