Sweden Puccini,  Madama Butterfly: Soloists of Gothenburg Opera,  Gothenburg Opera Chorus, Gothenburg Opera Orchestra / Henrik Schaefer (conductor), Gothenburg Opera main stage, 1.9.2018. (NS)
Cast included:
Madame Butterfly, Cio-Cio-San – Karah Son
Suzuki – Katarina Giotas
Kate Pinkerton – Ann-Kristin Jones
Pinkerton – Aaron Cawley
Sharpless – Daniel Hällström
Goro – Daniel Ralphsson
Prince Yamadori – Åke Zetterström
The Bonze – Ivan Dajic
Yakusidé – Daniel Hayes
Imperial Commissioner – Thomas Jönsson
Registrar – Herbjörn Thordarson
Butterfly's mother – Anna Blylods
The child – Alan Zackariassen Kassell
Butterfly's father (silent role) – Xi Sun
Dancer – Kyoko Matsumoto
Production:
Director – Yoshi Oïda
Set design – Tom Schenk
Costume design – Thibault Vancraenenbroeck
Lighting design – Fabrice Kebour
When Yoshi Oïda's production of Madama Butterfly was premiered in Gothenburg in 2016 it was the first time the Brescia version had been performed in Sweden. Compared with the standard version the libretto is more blunt in showing Pinkerton's disdain for the Japanese and brings out the contrasts between the cultures. Mr Oïda, an 85-year-old who was a teenager when Japan was under American occupation and was later a member of Peter Brook's theatre group, has made a thoughtful and above all beautiful and poetic interpretation.
The set centres on a raised tatami floor, with bonsai and a Japanese water feature in front giving an impression of the house's garden. The paper screens and furniture are all carefully authentic. A particularly poignant detail is how the screens have been patched with newspapers by Act II, showing the poverty that Pinkerton's abandonment has left Butterfly in. To the sides of the central area is a modern metal construction with stairs and a metal bridge over the top of the set, which is used both for lighting (with paper lanterns, naturally) and for choreography. The lighting was sensitive and kind to the costumes, which together produced beautiful scenes such as when the chorus (previously sitting on the sides wearing black) put on colourful clothes and join Butterfly as she makes her first entrance in her stunning wedding kimono. The chorus were also spellbinding in a beautiful 'Humming Chorus' where they were joined onstage by a solo violinist.
One effect of choosing the Brescia version is that the minor characters get larger roles, in particular Kate Pinkerton. Ann-Kristin Jones was a moving Kate Pinkerton, the timbre of her mezzo suggesting barely-controlled emotion as she saw with her own eyes the misery her husband had caused and promises to care for Butterfly's son as if he were her own. Butterfly's family did a good job in making Pinkerton feel awkward without meaning to, and Ivan Dajic was a terrifying Bonze. Daniel Ralphsson brought out the slipperiness and amorality of Goro very effectively, both in his singing and in his movements onstage.
Katarina Giotas was an excellent Suzuki, both as a vocal pairing with Karah Son's Butterfly (their 'Flower Duet' in particular was divine) and as an actor in representing the dignity and loyalty of Suzuki. Her devastation when she saw Pinkerton's American wife and understood what was about to happen was profoundly moving. Daniel Hällström was every bit as good as Sharpless, his warm baritone capturing the many nuances of his part. Mr Hällström was at his finest in Act II, where he was a touching foil to Butterfly's eager hopes. This together with his acting convincingly showed Sharpless' maturity and kindness, a contrast to Pinkerton's naivety and self-centredness.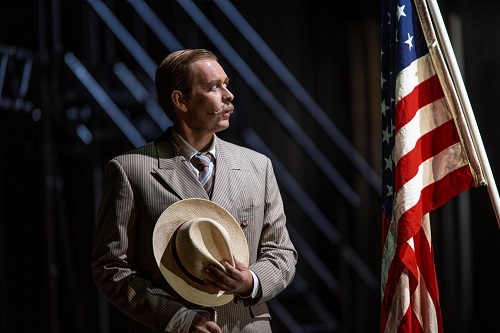 Aaron Cawley captured these aspects of Pinkerton's character well without going beyond them to straightforward malice, which is not Mr Oïda's interpretation of the role. Mr Cawley's sometimes hard-edged tenor gave voice to this casual colonialism very effectively but at least in the beginning of Act I didn't give the impression of a man who Butterfly would fall in love with. This may have been opening night nerves however, as their long duet ending Act I sounded genuinely affecting. Pinkerton's tortured remorse in Act III was also vividly sung.
Karah Son was tremendously moving as Butterfly. In acting terms she had poise and dignity that beautifully demonstrated Butterfly's resilience, and made the bleakness of her final betrayal all the more profound. This also showed in a musical interpretation that held back from histrionics and instead was moving on a deeper level. In her final aria 'Tu? Tu? Piccolo iddio!' her voice was searing in its emotional intensity without ever going to extremes in dynamics – indeed the final words 'Gioca, gioca' were sung quietly like a prayer; the most quiet but also most profoundly moving ending of Butterfly's part that I have ever heard. This skill in interpretation was delivered in a soprano that had lyrical colours but dramatic expansion on the high notes with no sign of strain, in particular in 'Un bel dì vedremo'. No hard edges here!
What united the soloists and the direction in this production was a willingness to let the story be told through Puccini's music, which has an emotional directness that is rarely matched. Henrik Schaefer's conducting brought out a transparent sound that supported the singers without competing with them. Rubato was used sparingly but he was daring – and effective – in lengthening some pauses, and judged the dramatic climaxes perfectly. This production speaks just as powerfully to experienced operagoers as it does to newcomers – don't miss it!
Niklas Smith
Playing until 4 October. For tickets and more information click here.