United Kingdom Various  composers, The Fairey Band: Garry E. Cutt (conductor), Methodist Church, Park Street, Lytham, 22.9.2018. (MC)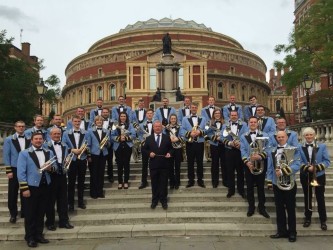 Programme:
Famous British Marches – arr. Gordon Langford
Labour and Love – Percy Fletcher
Sunshine of Your Smile – Lilian Ray – arr. Frank Bryce – cornet solo: Steph Wilkins
Guide Me, O Thou Great Redeemer – William Williams & John Hughes
Blue Rondo à la Turk – Dave Brubeck – arr. Kevin Edwards
One Day in Your Life – Samuel F. Brown III – arr. Alan Fernie – tenor horn solo: Rachel Neil
I'll Walk with God – Nicholas Brodzsky – arr. Goff Richards
Spitfire Prelude – Sir William Walton – arr. Michael Antrobus.
Pater Noster – Becky Lundberg – flugelhorn solo Lucy Cutt
Death or Glory – Robert Browne Hall
The Day Thou Gavest Lord is Ended – attributed Revd. Clement Scholefield – arr. Philip Wilby
Grandfather's Clock – Henry Clay Work – arr. George Doughty – euphonium solo: Adam Bokaris
Jeanie with the Light Brown Hair – Stephen Foster – arr. Elgar Howarth
The Lost Chord – Sir Arthur Sullivan – arr. Gordon Langford
Crown Imperial – Sir William Walton – arr. Frank Wright
For the last two years I have seen renowned Fairey Band at Park Street Methodist Church, Lytham and as promised it returned to help the church celebrate its 150th anniversary. Since its last visit to Lytham, The Fairey Band has represented England at the prestigious 2018 European Brass Band Championships in Netherlands and in October will compete in National Brass Band Championship at Royal Albert Hall, a competition it has won nine times. Founded in 1937 by employees at Fairey Aviation Works in Stockport, Cheshire like other bands it now recruits players from a much wider geographical area. Thanks to its proximity to the Royal Northern College of Music, Manchester – with its international reach for students – The Fairey Band includes players from overseas.
Presenting fifteen works this wasn't just a concert of classic 'lollipops', the Lytham audience was treated to a well-balanced programme of new and old works, some arrangements of traditional hymns and classical works together with original works for brass band. The concert got off to a rousing start with Gordon Langford's arrangement of Famous British Marches a medley that included British Grenadiers, The Men of Harlech and Rule Britannia. Although audiences won't generally be familiar with test pieces Fairy Band naturally likes to play works written especially for brass band. One such example Labour and Love a tone poem by Percy Fletcher which in the custom of test pieces, the solos were set alongside dramatic outbursts from the band with all sections blending together gloriously. Standing out Lilian Ray's ballad Sunshine of Your Smile featured recent band recruit Steph Wilkins with a sincerely played cornet solo with beautiful intonation. Clearly going down well with the audience and notable for its driving rhythms Dave Brubeck's Blue Rondo à la Turk the jazz standard in its guise for brass band recalled the upbeat character of the earlier dance band era. Sam Brown's One Day in Your Life was made popular in recent decades by pop superstar Michael Jackson. Conspicuous in this exposed romantic ballad for its attractive tone was Rachel Neil's tenor horn solo.
Opening the second half of the concert was William Walton's Spitfire Prelude from the film The First of the Few performed magnificently, brilliantly evoking the heroic drama of flying spitfires during the Battle of Britain. Written by talented band member Becky Lundberg Pater Noster (Our Father) the flugelhorn solo was delivered most effectively by Lucy Cutt, achieving her high notes skillfully. To his surprise one of the percussionists who is an aspiring conductor was invited by Garry Cutt to take the baton for Death or Glory by Robert Browne Hall a piece that was used in the film Brassed Off. It's another rousing work that shouldn't be played loud at home for fear of disturbing the neighbours. A special highlight was the arrangement of Henry Clay Work's Grandfather's Clock with its challenging euphonium solo which the cool and assured Adam Bokaris played flawlessly, displaying significant sensitivity and a lovely light vibrato. Cutt concluded the concert with one of my favourite works, Walton's stirring march Crown Imperial used for the coronation of King George VI given in a sparkling arrangement aptly displaying the impressive unity of the band. Communicating his warm personality music director Garry Cutt gave a helpful introduction to each work and conducted with assurance from the first work to the last.
Arrangements of film music often work successfully for brass band with John Williams and James Horner scores being exceptional recent examples. It would have been good to have heard a medley of themes from say James Bond films by John Barry; maybe next time. Fingers crossed that Fairey Band's visits to Lytham on the Fylde Coast have now become a regular event.
Michael Cookson