United Kingdom Liszt, Cowton, Pook, Lest We Forget: Artists of English National Ballet, English National Ballet Philharmonic / Gavin Sutherland (conductor), Sadler's Wells, London, 20.9.2018. (JPr)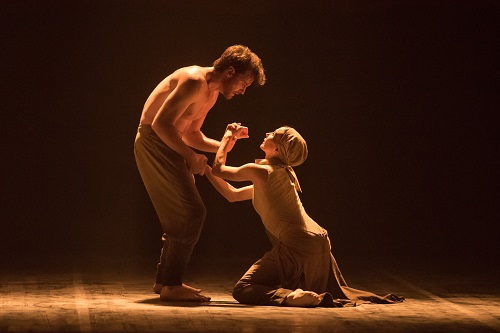 No Man's Land
Choreography – Liam Scarlett
Music – Franz Liszt (excerpts from Harmonies poétiques et religieuses)
Solo piano – Julia Richter
Alina Cojocaru, Isaac Hernández
Erina Takahashi, Fabian Reimair
Crystal Costa, Aitor Arrieta
Second Breath
Choreography – Russell Maliphant
Music – Andy Cowton
Alina Cojocaru & Junor Souza
Dust
Choreographed – Akram Khan
Music – Jocelyn Pook
Tamara Rojo, James Streeter & Fabian Reimair
In 2014 this triple bill – of especially commissioned pieces – marked the centenary of the outbreak of the Great War and was first put on in the Barbican Theatre; it was revived in 2015 at Sadler's Wells and now is back there again to commemorate the passing of 100 years since the end of the conflict. Ismene Brown's considered introductory essay reveals its true horrors by stating: 'After four years of ferocious international warfare from one end of Europe to the other, nine million soldiers were dead, five million civilians dead from starvation or disease, and another 21 million people injured. But in victorious Britain, celebration was sober. A million of the dead were from these islands, leaving little but grief in torn families and communities – the Kaiser's militarism had been defeated at a huge price.'
This is now the third time I have seen this triptych and coming up with something unique to write is virtually impossible. I can start with the fact that what did not have 'quite the impact of that April 2014 première' (review click here) on the second occasion is also true now as it seems to have been partially diluted even further, though how 'the current excellence of the English National Ballet under Tamara Rojo's increasingly inspired direction was evident throughout this performance' remains as true now as it did in 2014 and 2015! Once again, the problems persist – as I have written before – of how the Liam Scarlett and Russell Maliphant works quickly run out of things 'to say' to us. They are never less than interesting of course, but, I suggest, will prove more time-limited than Akram Khan's remarkable Dust. This is – in my humble opinion – a modern masterpiece that I hope we will often see again in coming years. The problem with both Scarlett and Maliphant is that they have given us viscerally engaging openings, but after troubling reflections on separation and loss they drift too soon into quasi-romantic pas de deux that just seem tacked on to what has gone before. Akram Khan's Dust also ends with a duet, but this seems to be a summation of all that has come before. The man leaves the woman and goes 'over the top' and this is a haunting image that reminded me of the conclusion of Blackadder Goes Forth when everyone is wished good luck as they do much the same only to die in a hail of machine gun fire. Akram Khan's Dust and how that comedy series ended are among the greatest depictions of the horrors of armed conflict it is possible to experience in visual art.
I cannot add much to what I wrote in earlier reviews of Lest We Forget with many of the same dancers and will limit my reflections of this worthy revival.
Liam Scarlett's No Man's Land and its dramatic Liszt score – played by soloist Julia Richter and the always splendid English National Ballet Philharmonic under Gavin Sutherland – fittingly celebrates the tireless work of the 'Canaries', women who packed explosives into bullets and shells, and whose hands were turned bright yellow because of the powder. Jon Bausor's designs shows us a munitions factory and battlefield and men trudge to war and leave the women behind to work. Early on the women clutch the men from behind with their arms seemingly like the straps of back-packs, and this is emblematic of the 'burden' of men (or women) going to war because of those they have left behind. All three central couples were excellent, but it is Alina Cojocaru and Isaac Hernández who catch the eye in their duet before the curtain falls. Cojocaru – who it must be admitted is a class apart from those around her – brings real emotional depth to the recently bereaved woman reliving her memories of dancing with her loved one: the moments when she turns to grasp him, but he is no longer there – think Giselle Act II – are heart-wrenching.
The central piece is Russell Maliphant's Second Breath. (I have recently seen his interesting work on the current Nureyev documentary in cinemas and I will be reviewing this shortly.) For the opening on a gloomily lit bare stage we are in no man's land and we see dancers swaying and eerily recreating the mood of John McCrae's poem 'In Flanders fields the poppies blow'. As Andy Cowton's score – replete with disembodied voices – builds to its crescendo dancers repeatedly rise and fall, are hoisted and tumble down, in a way that is also reminiscent of the slow-mo credits at the end of that final Blackadder episode. The conclusion is an anguished duet – the remarkable Cojocaru and impressive Junor Souza – to Dylan Thomas emotively intoning his Do Not Go Gentle into That Good Night.
Like Scarlett's opener, Akram Khan's Dust puts women centre stage. But, where Scarlett's work is – by his own admittance – 'rooted in the classical vocabulary', Khan's demands on ENB's dancers is from an entirely different language and East now meets West. It began with Fabian Reimair performing some squirming, tortured contortions and then unites two lines of roughly-clothed people memorably creating repeated waves of slinky arm movements and there is a sense of a community 'standing' together. At one point they all clap their hands generating the clouds of dust of the title and we are reminded of Scarlett's 'Canaries' in the following Kathak inspired ensemble work for the women after the men leave up the no-man's-land slope of Sander Loonen's dimly-lit setting. I can repeat what I wrote before, how 'The gut-wrenching tragedy of war and its effect on individuals, couples and even nations can rarely have been better expressed without the use of the spoken word.' Though words there indeed are in Jocelyn Pook's stunning score, and the repeated chanting of a soldier – who was not to know he did not have long to live – saying 'We're here because we're here because we're here …' will haunt your dreams for nights to come.
Dust ends with a deeply expressive pas de deux for Tamara Rojo and James Streeter which they began with foreheads touching as if it were a duel and not a duet. They part and reunite, time and again, before the man goes to war and submits – as I have described above – to his fate. I doubt Rojo and Streeter could be bettered, and they show a real human connection during this climax to Dust. Rojo is performing less and less these days but shows here how much she still has to offer to the dance world and long may we continue to see her on stage.
Despite some minor reservations about Lest We Forget the entire company were outstanding and if you have not seen this triple bill I urge you to go to Sadler's Wells. If you have seen it previously, well why not go again?
Jim Pritchard
For more about ENB click here.