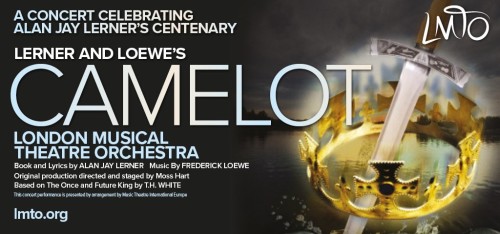 London Musical Theatre Orchestra presents
Lerner and Loewe's
CAMELOT
AT THE LONDON PALLADIUM
FOR SEEN AND HEARD'S REVIEW CLICK HERE
7.30pm on Saturday 6th October 2018
STARRING 
DAVID THAXTON, SAVANNAH STEVENSON, CHARLES RICE and CLIVE CARTER, with MATTHEW MCKENNA,
CELINDE SCHOENMAKER, EMMANUEL KOJO, OLIVER SAVILE, RAPHAEL HIGGINGS-HUMES and SAM SWANN

London Musical Theatre Orchestra is proud to announce casting for their forthcoming concert version of Camelot at the London Palladium.
The London Musical Theatre Orchestra is the world's only professional orchestra dedicated to performing musical theatre repertoire. LMTO produces spectacular concerts of musicals in major London venues with a full orchestra and world class soloists. The orchestra is formed of musicians who love musicals – most of whom are established professionals, but a quarter of whom are always young developing professionals.
Lerner and Loewe's majestic Camelot, winner of four Tony Awards, returns to the West End for the first time in over thirty years. Packed with some of musical theatre's best songs, LMTO's concert version with full orchestra will celebrate the centenary of Alan Jay Lerner's birth at the West End's favourite theatre, the London Palladium.
The role of Arthur will be played by Olivier Award-winner David Thaxton (Passion / Les Misérables / Jesus Christ Superstar), Guenevere will be played by Savannah Stevenson (Wicked / Aspects of Love / Follies), and Lancelot will be played by internationally renowned opera star Charles Rice (Mozart's Requiem / The Barber of Seville / Candide).
Sam Swann (Jekyll & Hyde / Mr Selfridge / Vicious / Wendy & Peter Pan) will play Mordred, Clive Carter (Mamma Mia: Here We Go Again / Oklahoma! / Priscilla, Queen Of The Desert / We Will Rock You / Into the Woods) will play both roles of Pellinore and Merlyn, Nimue will be played by Celinde Schoenmaker (Barnum / The Phantom of the Opera / Les Misérables), Matthew McKenna (Sunset Boulevard / Starlight Express / We Will Rock You / Legally Blonde / The Phantom of the Opera) will play Sir Dinadan, Sir Lionel will be played by Emmanuel Kojo (Girl From the North Country / Show Boat / The Scottsboro Boys), Sir Sagramore will be played by Oliver Savile (Wicked / LMTO's State Fair / The Phantom Of The Opera) and Raphael Higgins-Humes (Lion King / Motown The Musical / Matilda The Musical) will play Tom of Warwick.
The LMTO Chorus includes: Jake Byrom, Elissa Churchill, Charlotte Clitherow, Ed Court, Emma Fraser, Lee van Geelen, Erin Hair, Daniel Hall, Adam Hepworth, Matthew McDonald, Emma Oliver, Cameron Potts, Lydia Shaw, Rosie Williamson, Lizzie Wofford and Thomas Wright.
The London Musical Theatre Orchestra is conducted by founder Freddie Tapner, who said: 'I'm extraordinarily excited to have this sensational cast join LMTO at the London Palladium for Camelot, led by Olivier Award-winner David Thaxton and Savannah Stevenson. I'm particularly thrilled to introduce opera star, Charles Rice, to musical theatre fans – I know you'll fall in love with his voice, just as we did at LMTO HQ when we found him. Camelot hasn't been seen in the West End for 30 years, and we can't wait to share this glorious score with you on Saturday 6th October.'
Tickets for Camelot are on sale now.
This much-loved musical brings the legend of King Arthur to vivid life with an extraordinary score and book based on T.H. White's novel The Once and Future King. When Guenevere falls for Lancelot, one of the Knights of the Round Table, Arthur's loyalties and beliefs are tested, and the fate of his beloved Camelot hangs in the balance.
Camelot includes the songs 'If Ever I Would Leave You', 'How To Handle A Woman', 'The Lusty Month of May' and 'Camelot'.
What the press have said about The London Musical Theatre Orchestra:
'Musical Theatre Heaven'  ★★★★★ The Stage
'The most exciting new force on the London theatre scene.'  ★★★★★ MusicalTheatreReview       
 'A sensational show.'  ★★★★★ BroadwayWorld.com               
'…highly entertaining and a superb demonstration of the brilliance and beauty of Bernstein's music.' ★★★★★BritishTheatre.com
 'Rousing, emotional and yet still fabulously funny – one of the best nights out I've had at the theatre this year. I simply cannot wait to see what LMTO will do next.' ★★★★★ West End Wilma
 '…another resounding success for the LMTO.' ★★★★ LondonTheatre1                                 
'A magical musical machine… deliver performances at the very top of their game.' ★★★★ BritishTheatre.com  
'…punchy, energetic, and totally fresh' ★★★★★ Musical Theatre Review
CREATIVE TEAM
Conductor – Freddie Tapner
Director – Shaun Kerrison
Sound Designer – Simon Sayer for Autograph
Lighting Designer – Mike Robertson
Orchestra Leader – Debs White
Executive Producer – Clive Chenery
FOR FURTHER INFORMATION AND BOOKING DETAILS GO TO WWW.LMTO.ORG
Date – Saturday 6th October
Venue – London Palladium Theatre, 8 Argyll Street, London, W1F 7TF
Time – 7.30pm (2:30 hrs – including 20-minute interval. Doors open at 6.30pm)
Price – £18 – £84
Box office – https://lwtheatres.co.uk/whats-on/camelot-in-concert/
Box office tel – 020 7087 7755
Information – www.lmto.org/whats-on/camelot/