United Kingdom Verdi, La traviata:  Soloists, Chorus and Orchestra of Welsh National Opera / James Southall (conductor), Wales Millennium Centre, Cardiff, 21.9.2018. (GPu)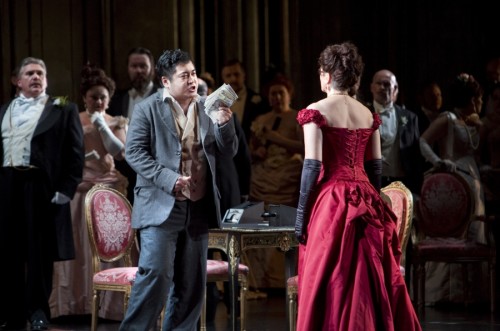 Cast included:
Violetta Valéry – Linda Richardson
Alfredo Germont – Kang Wang
Giorgio Germont – Roland Wood
Flora – Rebecca Afonwy-Jones
Annina – Sian Meinir
Baron Douphol – James Cleverton
Marquis of Obigny – Philip Lloyd Evans
Doctor Grenvil – Martin Lloyd
Gaston – Howard Kirk
Production:
Director – David McVicar
Revival director – Sarah Crisp
Designer – Tanya McCallin
Lighting designer – Jennifer Tipton
Choreographer – Andrew George
Revival choreographer – Colm Seery
Chorus master – Thomas Blunt
After the ferocious power of David Pountney's new production of Prokofiev's War and Peace, which premiered last week (review click here) this revival of David McVicar's 2009 production of La traviata, perhaps inevitably, initially felt somewhat tame. Everything – orchestral playing, the singing of chorus and soloists was thoroughly competent – but without the desirable spark, that frisson that lifts things above the high standards one expects as a norm in professional productions nowadays. Looking back at the end of the evening, I think that the problem in Act I was that neither Linda Richardson (Violetta) or Kang Wang (Alfredo) has the kind of presence that dominates a busy stage, commanding attention throughout, even when silent. Both, though, have good voices – I was particularly taken by Kang's gleaming (and very Italianate) tenor. Both were much more convincing in the more intimate scenes in Acts II and III, in which the production had its own kind of power.
One of the virtues of McVicar's production is the way in which it makes clear, even to an audience ignorant of the opera, that the love of Alfredo and Violetta will not 'succeed', thus investing all the action with an acute poignancy. This is already implicit in both music and text, but McVicar reinforces it in a couple of striking ways. Before a note has been sung, we see though a black gauze men in overalls who seem to be valuing the furniture in an uninhabited house, as if preparing for a sale, and a young man (if we know the opera we assume it to be Alfredo, if we don't we soon realise that it was him, once the action proper begins) trudges, in a desolate manner, across the front of the stage. When we can see the stage more clearly it is evident (though not I suspect from all parts of the theatre) that the floor of the set contains flat tombstones. All this means, in effect, that all the action, all the hopes and fears expressed in the opera are 'framed' (both temporally and spatially) by death – it isn't quite to borrow the Beckettian phrasing a case of 'they give birth aside of a grave, the light gleams an instant, then it's night once more' (Waiting for Godot) but the message is essentially the same. Given all this, the 'jollity' of the party/ball in Act I seems altogether forced, a rather desperate attempt to forget the truths of love and death – truths that Acts II and III will expose altoo painfully – something which McVicar's production registers well.
This production was originally a co-production between WNO, Scottish Opera, Gran Teatre del Liceu (Barcelona) and Teatro Real (Madrid). It was premiered by WNO in September 2009 and has been revived on a number of occasions since. I have now seen it some 3 or 4 times, most recently in 2014 (review click here). Linda Richardson also took the role of Violetta on that occasion and what I felt about her performance then was pretty much the same as I felt this time round, so please forgive me if I quote myself briefly. I wrote then that she 'came into her own in the later stages of the opera, [being] utterly believable and genuinely moving'. Her cry of 'È tardi' in Act III, when she has read to herself (and us!) the letter from Germont senior, with its promise that father and son would visit her, was savagely heart-rending. Kang Wang, as I suggested earlier, possesses a lovely Italianate lyric-tenor voice. Still young, the mini-biography in WNO's programme tells one that he is 'a third-year member of the Lindemann Young Artist Development Program at the Metropolitan Opera'. He is clearly still developing as a performer, but vocally he is already impressive. However, as yet, he largely acts though his voice alone (which he does very well). He is worth going out of one's way to hear already, and his future progress will surely be well worth following. Roland Wood was a fine Germont père, authoritative without lacking humanity or being stiffly moralistic. Wood brought out very well the character's realization that his initial judgement of Violetta was a gross over-simplification.
The strings (in particular) of the WNO orchestra did justice to Verdi's superb orchestral writing (on which I recommend a fine essay by George R. Martin 'The Orchestration of La traviata', in Martin's Aspects of Verdi, 1988). James Southall conducted with a clear and consistent sense of purpose and never seemed seriously at odds with the onstage action, being sensitive to what the cast needed. As I have said on previous encounters with it, this is not a production that offers any fresh revelations, but it allows this tightly-constructed (in terms both of Verdi's music and Piave's libretto) opera to tell its very powerful story with pleasing clarity and to move a theatrical audience as it should. As I left the hall, I overheard a lady say (with a sob in her voice) 'it's dreadful that she dies like that'.
 Glyn Pursglove