Switzerland Bizet, Carmen: Soloists, Chorus of the Grand Théâtre Geneva (Chorus master: Alan Woodbridge), Maîtrise du Conservatoire populaire de Musique, Danse et Théâtre (Direction: Magali Dami),  Orchestre de la Suisse Romande / John Fiore (conductor), Théâtre des Nations, Geneva, 10.9.2018. (AL)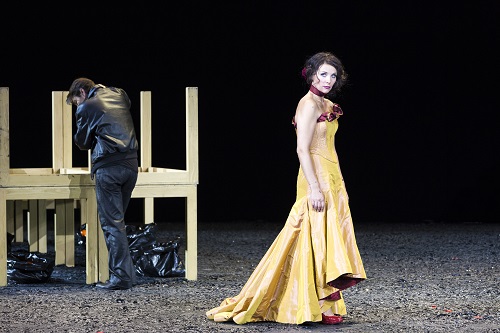 Cast:
Carmen–Ekaterina Sergeeva
Don José – Sébastien Guèze
Escamillo – Ildebrando D'Arcangelo
Micaéla – Mary Feminear
Mercédès – Héloïse Mas
Frasquita – Melody Louledjian
Le Dancaïre – Ivan Thirion
Le Remendado   – Rodolphe Briand
Zuniga- Martin Winkler
Moralès – Jérôme Boutillier
Lillas Pastia – Alonso Leal Morado
Production:
Director – Reinhild Hoffmann
Design and Costumes – Andrea Schmidt-Futterer
Lighting designer – Alexander Koppleman
Carmen is the world's most loved and well-known opera ever written. It has all you want: catchy tunes, subtle ensembles, refined orchestration, dramatic and fun passages, gorgeous chorus writing, and unlike some other operatic works, the story has depth and offers genuine character development. But yesterday's opening night of the 2018 – 2019 season at Geneva's Grand Théâtre also reminded us what a demanding and difficult work it can be to perform.
Central to the issue was the anonymous production. Reinhild Hoffmann is better known for her work as a choreographer and whilst there are certainly a few places where dancing matters in a Carmen, much was missing. Her Personenregie was disappointing. There were few insights, little personality. Two dancers prowled the stage, representing Eros and Thanatos, Love and Death, but their minimal interventions contributed little.  As a whole, the singers were left alone and there was little overall concept.
Settings were minimal with one back black curtain and 25 Ikea tables. There is nothing wrong with minimalism, even with Carmen, and Peter Brook has shown how much focus one can get from a bare stage in his famous reinvention of the work. But this was a disappointing production.
Musical matters were mixed and one should always remember that first nights are always somewhat restrained. John Fiore, who has regularly conducted opera in Geneva, proved again to have control and authority. Tempi were swift and served the drama. There was a steady pulse that kept the music moving. Attention was paid to balance, which was achieved with care. The Grand Theâtre pit only allows for reduced forces, so that the brass was slightly heavy at times, but the orchestra contributed positively.
The chorus, usually one of the strengths of the Grand Théâtre, was somewhat off on this opening night. Voices sounded tired and the singing lacked nuance. It was good, however, to be in francophone Switzerland and hear the words pronounced with clarity. The same was true for the children's chorus, who in addition to good French and on-pitch singing seemed to genuinely enjoy being on stage.
In the title role, Ekaterina Sergeeva impressed with the sheer quality of her voice. The sound she produced was huge and she had beautiful dark colours in the lower register. She definitely looked the part but was more at ease in the dramatic moments than in the love scenes. Her phrasing in 'L'amour est enfant de bohème' lacked seductiveness, but much of this was understandable nervousness on a first night in a major role.
By her side, Sébastien Guèze may have lacked projection at first but found genuine dramatic strength and was truly brilliant in the jealous outburst of Act III.
Everyone was waiting for Ildebrando D'Arcangelo, whose reading of Count Almaviva was a highlight of last year's Le nozze di Figaro. Even though Escamillo's part is lower than the Count's, the celebrated singer came across with authority and swagger. Mary Feminear cut a sympathetic Micaéla with a lovely singing line in the Act I duo with Don José. In the very difficult Act 3 aria (as with her Nanetta in Falstaff a few years ago) she was more at ease in the middle register than the top notes.
Smaller parts were well cast on the whole, with singers with strong command of French. Special mention goes to the Mercédès of Héloïse Mas, who will sing Carmen later in the run, and the Frasquita of Melody Louledjian. Significantly, the cards trio had genuine dramatic flair and the beloved quintet had a pleasant pulse. Markus Winkler was a strong Zuniga.
Many minor things will definitely be adjusted in further performances and will bring out the best in the singers but, alas, the production may stay as it is, namely below what one has learned to expect from the Grand Théâtre.
This season will mark the return of the Grand Théâtre to its original restored building next to the Parc des Bastions. This will be in February and Wagner's Ring will be performed three times. There will however be many reasons in the meantime to go back to the Théâtre des Nations with The Beggar's Opera in the wandering William Christie/Robert Carsen production, Mussorgsky's Boris Godunov in the 1869 original version, Donizetti's Viva la Mamma! and several recitals by the likes of Piotr Beczala and Luca Pisanori.
Antoine Lévy-Leboyer