United States Festival O18 [3] – Ne Quittez Pas: Soloists / Christopher Allen (music director & pianist), Opera Philadelphia, Theater of the Living Arts, Philadelphia. 22.9.2018. (RP)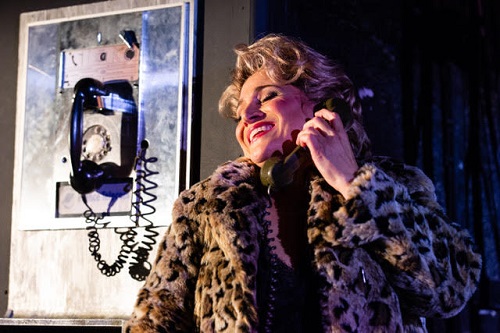 Cast:
Elle – Patricia Racette
Le Jeune Homme – Edward Nelson
Paul – Marc Bendavid
Elizabeth/Lise – Mary Tuomanen
The Owner – Ames Adamson
Production:
Director – James Darrah
Production Designer – Tony Fanning
Costumes – Chrisi Karvonides
Lighting – Pablo Santiago
Sound – Robert Kaplowitz
Wigs & Make-Up – David Zimmerman
There are three reasons to get to one of the remaining performances of Opera Philadelphia's Ne Quittez Pas: Patricia Racette's riveting performance as Elle in Poulenc's La voix humaine; the exciting young baritone Edward Nelson singing some of the French composer's greatest songs while stripped to the waist and blindfolded with his hands tied behind his back (okay, only part of the time); and pianist Christopher Allen's ability to hold it all together despite whatever was transpiring on stage, all the while playing magnificently.
James Darrah's premise for 're-imagining' La voix humaine is to provide context to Elle's seemingly desperate situation and insights as to who is on the other end of the phone. It's generally left to the audience's imagination to fill in the gaps, but there are also practical considerations to consider when mounting the opera. Chiefly, how does one make a full evening's performance of this 40-minute work featuring a soprano whose only prop is a telephone. A prologue was the answer.
The action is set in 1979, or maybe 1980, in a Parisian night club that has seen better days, as has Elle, a cabaret singer down on her luck. Ames Adamson, the owner of the club, harrumphs around after the show, shouting that she either shapes up or ships out. The pianist stays in the club after it's shut up for the night, but soon opens the door to let in three revelers, a young man whom he knows, portrayed by Nelson, and a brother/sister team performed by actors Mary Tuomanen and Marc Bendavid; the latter is prone to reciting extended passages from Cocteau. The young man must obey the siblings' every command.
The sensibilities – androgyny, cross-dressing, sadism, incest and a soupçon of nihilism – were more akin to Stanley Kubrick's A Clockwork Orange than John Travolta in Saturday Night Fever. Cocteau and Poulenc don't really transfer well to the latter era: too much depravity and desperation, rather than wit, irony, sensuality and ennui. Everything was in French which somehow lent a cinematographic feel, perhaps enhanced by a bird's-eye view of the action from my perch high in the balcony where I could see everything.
Before the ribaldry commenced, Allen played Poulenc's Intermezzo No.3 in A flat major, one of his most charming and evocative works. He then accompanied Nelson in some of Poulenc's most exquisite songs from his cycles Banalités and Chanson gaillardes, with the singer in all sorts of positions and situations. Just imagine the concentration that it took, but Nelson sang with sensitivity throughout, his youthful, rich baritone capturing the delicate nuances of the songs.
Elle seemed to be from an earlier era, with Racette in a leopard-skin coat atop a lacy black negligee reminiscent of a sultry Simone Signoret. Darrah doesn't connect the dots, but the inferences were clear. The young man is on the other end of the line, and Elle is desperate to speak with him. Surprisingly, she actually has very little to say.
Racette was cajoling and kittenish when talking to him, exasperated when someone else butted in on the party line or the phone just went dead. I understood the urge to have her move about, but she would have commanded total attention just sitting on a bar stool. (No landline had a cord that long.) Fearless in her transversal of the role, Racette took risks vocally and dramatically that had me holding my breath.
Did it work? The prologue was too long by a mile, and it didn't help that it was hotter than hell in the theater. Nonetheless, it got me thinking. In Ne Quittez Pas, Elle was an updated Marschallin bidding adieu to a younger lover. It was unlikely that another like this young man was going to come her way again. No wonder she didn't want to get off the line. But most importantly, these three fine artists performed Poulenc's music with style and taste. That's what made it work.
Rick Perdian